"If the Government does not listen to us, we must raise our voice"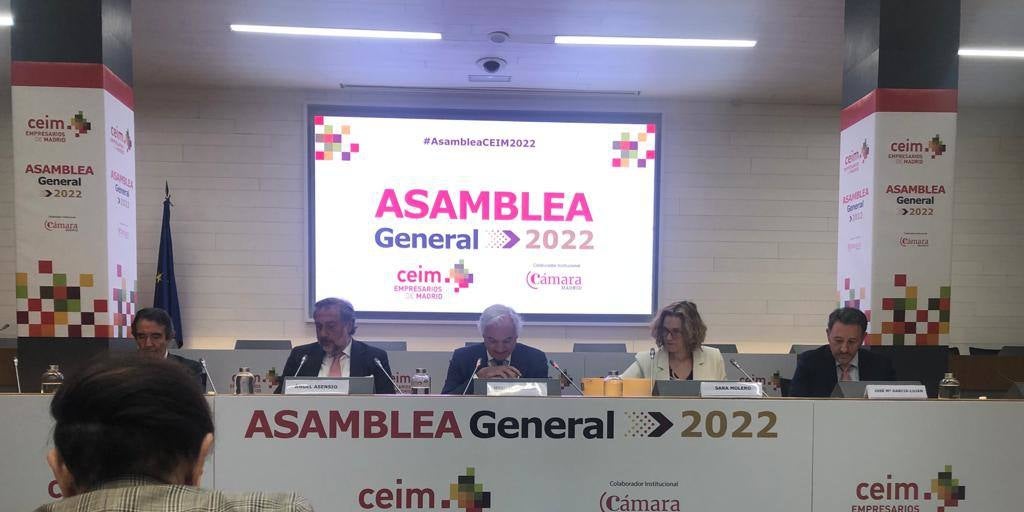 Susana AlcelayMadrid Updated: 06/21/2022 14:24h
Save
RELATED NEWS
The relationship between the Government and businessmen is going through a critical moment. The inflationary spiral suffocates business while costs multiply, some of them the result of unilateral decisions by the Executive such as raising the minimum wage or raising contributions, a complex scenario aggravated by the war. All this has spent months delimiting a dividing line between the business world and the Executive that this Tuesday has been clearly seen in the CEIM assembly that has been closed by the president of the CEOE.
Antonio Garamendi has highlighted the difficulties that the company is going through and has complained that Spain is living in "a permanent electoral period" and with "marketing approaches".
The president of the employers' association has called for the unity of the business world and has also taken advantage of the business forum to give the support of the companies to the governor of the Bank of Spain, Pablo Hernández de Cos, and to the institution itself in the face of the tsunami of criticism from the Government because , in his opinion, says «the truths of the boatman». Regarding pensions, Garamendi has warned about his
indexation to prices due to its high bill and affirmed that the companies are not in favor of linking wages to prices due to the second-round effects that would be caused.
Miguel Garrido, for his part, has warned businessmen that if the Government ignores the companies, "we must raise our voices more" after reproaching the Executive for "not taking measures to solve real problems, because" according to his account , of denying reality, these problems do not exist». The business leader criticized the Government for downplaying the impact of the pandemic on GDP or high inflation and believes that "measures will hardly be taken to strengthen productivity and to fight price increases if it is not recognized that we have a problem" .
On pensions, Garrido considers that we are facing a "financially unviable" Social Security model and on the problem of the labor market, he explained that it should be reconsidered by promoting flexibility to "stop leading the European unemployment rankings".
He criticized that the Administration "continues with waste without doing any analysis of spending, while they fry us for taxes" and claimed that "administrations must act to facilitate the path of those of us who create wealth and employment." He took the opportunity to highlight the management of the Community of Madrid, its policy in the pandemic, support for businessmen and the fiscal policy of low taxes and economic freedom.
The economic situation was also the center of the intervention of the president of Cepyme, Gerardo Cuerva, who took the opportunity to highlight the "difficult" moment that the company is going through. He described the Government as "hostile", after stating that he does not believe that the company is a vehicle of progress. "The Executive speaks of social policies and the Welfare State, but forgets that the resources are generated by business activity."
View commentsTopics

Source link