If Cayetano is the natural substitute for Roca Rey, bulls have a problem | Blog The bull, by the horns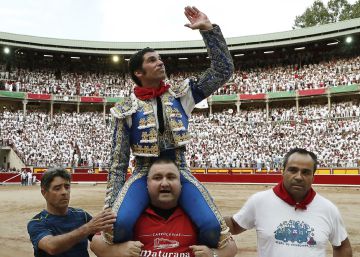 The surprises that life contains …
The cervical injury of the bullfighter Roca Rey has left the bullfighting business breathless. In him and only in him were all the entrepreneurial aspirations of hanging some afternoon of the fair the almost forgotten sign of "no bills". And a bull goes over the Count of Mayalde and flips it spectacularly last May 22 in Las Ventas, and what, in principle, seemed just a six-inch stub on a thigh, has resulted in a real drama.
Roca Rey is out of combat, immersed in what is supposed to be a long rehabilitation.
Thus, an authentic carambola has allowed the right-handed Cayetano Rivera, the most spoiled of the ranks, to have become the natural substitute of the injured Roca Rey in most of the commitments of the month of August that the Peruvian bullfighter will not be able to fulfill cause of your injury
Not even in his best dreams could Cayetano himself imagine that he won the jackpot of the lottery with a handful of top-level runs on authentic luxury posters at the best fairs in this country. But Paquirri's son is a bullfighter with a big star, who has developed a career as irregular as it was late, always among fluffy cottons, with that strange and unjust approval of the popular, famous crib characters and admired more for his family tree and its physical qualities that due to its bullfighting condition.
Spoiled excessively since he dressed his first suit of lights, he has lived, for being who he is, a sweetened profession and far from the worries that the vast majority of those who try to make their way in the difficult bullfighting vocation must try.
It is true, too, that he is not where he is alone because of his green eyes. It has overcome with gallantry the bankruptcies of numerous somersaults and some serious catches, and has been able to trace a path that seemed parked and turned off by its dedication as a model of haute couture and advertising claim; He was even separated from the arena from October 2012 to May 2015, when he decided to reappear at the Jerez de la Frontera fair.
Since then, he has risen as a bullfighter and has surprised many who believed he was already amortized. And Pamplona has catapulted him to stardom. Up to four ears cut the last July 12 to a noble run of Núñez del Cuvillo. Again he was graced with luck and the Sanferminera tombola has mistakenly enthroned him as a figure of bullfighting. Because he did not deserve so many trophies nor has he demonstrated until now enough merits to be considered as such.
But he has been the winner of the San Fermin fair, despite who weighs. He is a popular bullfighter; and has appeal to the general public.
Luck has smiled, again, in the form of a handful of good posters that are orphaned after the temporary withdrawal of Roca Rey.
What bullfighter can replace the right-handed Peruvian today in the assurance that he will attract the same number of spectators and, consequently, will not resent the box office? None.
At this time, Roca Rey has no replacement.
Why, then, entrepreneurs are inclined to Cayetano and not Paco Ureña, Diego Urdiales, Emilio de Justo, Juan Ortega, David de Miranda, Pablo Aguado or Curro Díaz, among others, as interesting or more than the chosen one, to complete the frayed posters?
Because they believe, they are in their right, that Cayetano will stop the spectators' laziness before another less known name.
As an economic argument it may be valid, but as a bullfighting method it reveals some serious and serious gaps in the current bullfighting.
The first is that there is no bunch of figures with pull on the lockers. The ones that are there are so veteran and are so seen that they lack interest. It only motivates the presence of Roca Rey, and behind him, 'naide'.
Second, there are not enough fans to demand a substitution of true interest in accordance with the requirements of each fair cycle.
The third, entrepreneurs show how short their look is; they are unable to bet on bullfighters of true interest and new names, which, in some way, are closing the doors to the present and the future of the party.
And the three shortcomings are locked into one: if the circumstances force a bullfighter to resort only because it is popular, bullfighting has a problem. It is true that there is no bench; but neither a titular team with capacity to maintain the interest of the public. And something worse: the future darkens with decisions like this.
With all due respect, Cayetano is a good bullfighter, but he cannot be the natural substitute for the undisputed leader of the ranks with all the deserves. And if it is, bad, very bad for the bullfight.