Ibex 35 companies fail to comply: only 16 exceed 30% of female directors | Fortune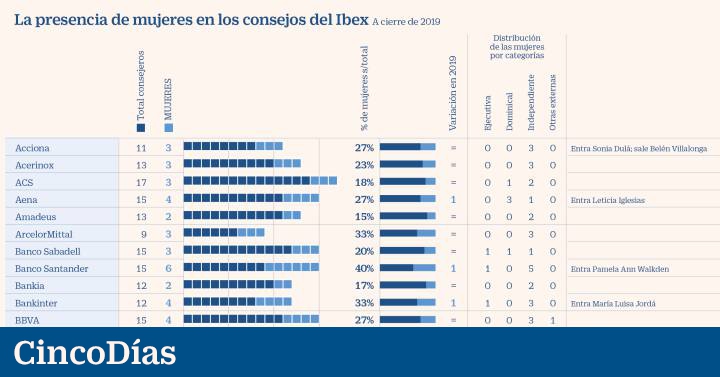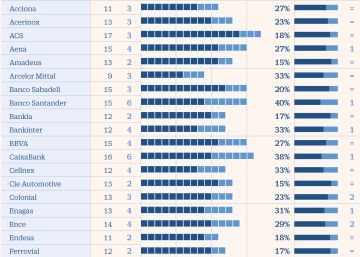 Little by little, women take a seat on the boards of directors. This year there are 16 Ibex 35 companies (in 2018 there were 12) that have complied with the recommendation of the Code of Good Governance of the National Securities Market Commission (CNMV), in force since 2015, which sets the objective that all listed companies have 30% women in 2020 on the boards of directors.
The companies that exceed the suggestion of the supervisor with more slack are Iberdrola, with 43%, after adding a new director to the five that he already had; Red Eléctrica, with 42% of women, who does not change the female figure with respect to the previous year; Banco Santander, with 40%, when adding a director, Pamela Ann Walkden, the sixth; CaixaBank, which signs former minister Cristina Garmendia and has a 38% female quota; and Inditex, which achieves 36% by adding Anne Lange.
In 33%, also complying, ArcelorMittal, Cellnex, Merlin, IAG –where Margaret Ewing enters and Marjorie Scardino leaves–, Bankinter –which receives María Luisa Jordá–, Mapfre –which hires the former president of Siemens, Rosa García - and Repsol - which adds Teresa Garcia-Milà Professor of Economics and lawyer Aránzazu Estefanía -. In the 31% range are Enagás, which adds Patricia Urbez to telecommunications engineer; Indra, which incorporates chemistry Isabel Torremocha; Grifols, where Enriqueta Felip enters and Anna Veiga, and Mediaset.
The average at the end of 2019 was 27.6%, compared to 24% in 2018, a figure that is a record and that is increasingly closer to the recommendation of the body chaired by Sebastián Albella. According to the data collected by Five daysOf the 456 members who occupy an armchair on the boards of directors of the Ibex companies, 126 are women. Of these, only 4 act as executives: Ana Botín, president of Banco Santander; María Dolores Dancausa, CEO of Bankinter; Cristina Ruiz, director of Indra's IT business, and María José García Beato, general secretary of Banco Sabadell.
In 12 months there have been 23 new entries, but after subtracting 5 casualties, the net advance is 18 women, also a record figure for an exercise. One of the last movements was made by Telefónica, by signing two independent directors, the chemical engineer Claudia Sender and the aeronautical engineer Verónica Pascual. The teleco approached, with 29.41%, the suggestion of the CNMV. Acciona enters the economist Sonia Dulá, former director of Bank of America Merrill Lynch and advisor to PRISA, replacing Belén Villalonga. Aena is joined by economist Leticia Iglesias, in turn a director of Abanca and Lar España. The Colonial council approved three female signings (Ana Bolado, Ana Peralta and Silvia Mónica Alonso-Castrillo) and the departure of Ana Sainz from Vicuña, and goes from 9% to 23% On the other hand, Ence adds Amaia Gorostiza, businesswoman and First woman president of the Eibar football club, and Irene Hernández, member of Impulsa Capital. MásMóvil has three administrators thanks to the signing of Nathalie Picquot and the return, last Friday, of Cristina Aldámiz. Meliá adds the voice of the director of GSK Farma, Cristina Henríquez de Luna.
Without changes
The rest of the listed companies did not move token when incorporating female voices to their highest corporate representation body. There are still companies with ample room for improvement, since they are far from the objective set by the CNMV. This is the case of Naturgy, which has an 8% share of women, after the departure in 2018 of Benita Ferrero and Cristina Garmendia. With these two casualties, the energy director Francisco Reynés runs with only one woman on the board, Helena Herrero, president of HP for Spain and Portugal, in front of 11 men. For its part, Siemens Gamesa, which at December 31, 2018 added a 31% female quota, is left with 23% by losing a woman on the board, to Swantje Conrad.
Although seven other companies have not reached 20% - ACS, Amadeus, Bankia, CIE Automotive, Endesa, Ferrovial and MásMóvil -, the pace of growth, says Nuria Chinchilla, professor at IESE and founder at the aforementioned school of the initiative Women in Leadership, "It's very good." "We are going well, and running over the account is not good, since you have to be prepared to assume a position of so much responsibility, and there are not so many women", Add. According to the teacher, the main problem is not the lack of ambition of the woman, "which is ambitious, but the problem for her is the lack of support for motherhood and that makes her reject promotions."
In fact, Chinchilla points out, more and more women are being trained at the Institute of Counselors-Administrators (IC-A). "Having women on the councils is worth it, it's business."
The idea coincides with the president of the Spanish Federation of Women Managers, Executives, Professionals and Businesswomen (Fedepe), Ana Bujaldón, who regrets that the suggestion of the supervisor has not been reached, and ensures that the favorable climate for the Desired equality in the councils. "There are women with a lot of experience, with good curricula, who can be counselors, but it is the acquaintances they call"comments.
In this sense, Andrés Fontenla, founder of the manager search consultant Recarte & Fontenla, says that from companies there are mandates to look for women, and that is the challenge, "find very prepared women, since the group to look for is not very broad."
Regarding the direct contribution of women to the council, he affirms that in the short term it is an impossible task to verify, and it is done by social and normative imposition. "Nor do I know if in the long term the fruits can be visualized, regardless of whether it is natural for the councils to be balanced", says Fontenla, who warns that it is not negligible to consider that errors occur for forcing the commitment to women, given the limitation to make a selection.
For Bethlehem Frau, deputy director of operations of Ikea and board member of the Swedish multinational, "Spain is on the right track, since these types of measures are the reflection of society. It is not understood that there are Ibex companies that do not have a wide female representation, since it is a requirement of the clients", Says Frau, who believes that quotas help, but the relief will be done in a natural way, although this will require that there be a quarry.
From own experience he speaks Maite Aranzabal, independent advisor at Adolfo Domínguez, who believes that women bring caution, reflection and complementarity to a council. "We mitigate the conflict and tend to collaborate, but what we must strengthen women is our projection, foster relationships, networking"