Iberia: They also want to have wings | Economy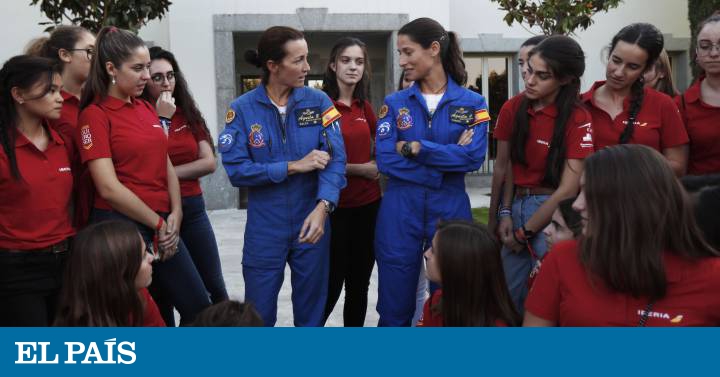 Amelia Earhart, Thérèse Peltier, Blanche Scott or Hélène Boucher were pioneers of aviation in the early twentieth century. They were rare avis in a world in which women still fought for fundamental rights such as voting. One hundred years later, women have conquered almost all rights but remain uncommon in the heavens and, in general, the world of aviation.
Only 6% of Iberia pilots are women and only 2.9% of aircraft maintenance technicians. A figure that contrasts, for example, with the cabin crew (TCP), which reach 70% of the total.
Iberia has spent several years betting on promoting programs that foster diversity and encourage women to become technicians, engineers or pilots. The last of these initiatives is his project I Want to Be, where he seeks to familiarize girls with the world of aviation from the hands of other women who did choose these professions and are exercising them.
In this first edition, it has brought together a group of 35 girls who are part of the Technovation Girls platform that encourages the study of technology among young women, or are the daughters of employees of the airline itself.
The stars of the conference have been, without a doubt, the commanders Rocío González and Rosa García-Malea. His professional career has run parallel. Both arrived at the top of the pilot after putting themselves at the controls of the F-18, the most modern fighters of the Spanish Air Force. Currently, they are two of the seven members of the Eagle Patrol, the Spanish aerobatic aviation team, and the star of the National Party parades, on October 12, to be held this Saturday.
"With the maneuvers so fast that you do aboard the F-18 gravity multiplies, and that makes you weigh four, five or even seven times. The blood drops from head to toe and you can lose your sight and even consciousness ", explains Rocío to a speechless students between 16 and 17 years old.

His patrol partner, says that in his training as a career soldier he has never felt discriminated against despite being the first woman who climbed on a fighter in 2002. "In my promotion we were four women, although it was a rare thing because they usually leave one or two of 40. I don't believe in positive discrimination or quotas. In the Army there is equal opportunity. It's just about being clear about what you want to be and working for it, "García-Malea tells EL PAÍS.
The two military also have in common that they are Andalusian, have three children and are married to pilots. Despite sharing a trade with their partner, they recognize that family reconciliation is difficult. "The standard schedule of a fighter pilot is from 7.30 to 15.00, although there are also night flights because" the war missions are increasingly at night and must be prepared. Now in the Eagle patrol, the exhibits are on the weekend and also have to make it compatible with the work of an instructor in the academy, "they explain. There is the circumstance that Rocío flies on the Eagle patrol with her husband, with whom she performs stunts such as tracing a heart in the air or the inverted flight
Maite Lumbreras, is commander of Airbus A320, engineer and director of Quality and Safety (Safety Management System) of Iberia. Despite having manned planes for 28 years, she does not consider herself a pioneer: "We belong to the second batch because there are already retired female pilots. I wanted to be an astronaut but how could it be I became an aeronautical engineer. Then I got the bug I signed up for a Lufthansa program and started flying in Iberia. "
The commander does not believe that there are differences between the way of piloting a man and a woman, nor has she observed throughout the race reluctance of passengers due to the gender of the pilot. "I only know one case that happened to a partner. The passenger saw her through the window when she was going to get on the plane and decided not to fly. It has never happened to me. Sometimes when they see you leaving the cabin they congratulate you very effusively. Maybe, because they have been very scared, "he jokes.
Few techniques
And if there are few women in the cabin, there is even less fixing the engines. Of the 2,379 maintenance technicians that Iberia has, only 52 are women. Natalia Martínez del Río, director and engineer of Quality in Maintenance is one of the top responsible for the engines and components are in good condition. "I do not know the causes well but it is true that there are few engineers and even less maintenance techniques. That is why it is very important to raise awareness among young women so they are encouraged, he says.
The absence of women at the controls of a commercial plane is not a Spanish phenomenon. Globally, the female presence is even smaller: only 4% of the pilots are women. IATA, the association that groups all airlines, has launched the "25 for the year 2025" initiative, which aims to increase female representation in the sector, either by growing 25% or reaching 25% in those professions in 2025.
In Spain, the association Ellas Vuelan Alto has been created, where women, companies (including Iberia) and institutions from the world of aviation are present, where it is also promoted to give visibility to women in this sector and also be inspiration for others.
Julia, a 16-year-old high school student who has participated in the program I want to be clear about the cause of this feminine absence in the skies: "It is a bit for the society we are in because we are not given the opportunity, they throw us back saying it's very complicated for a woman. "
At the moment, the Royal Academy does not admit "pilot" as a word in its dictionary unlike other professions such as judge or even plumber. They are "pilot women" but also aspire to have wings.
. (tagsToTranslate) want (t) have (t) wing (t) iberia (t) boost (t) program (t) young (t) encourage (t) be (t) pilot (t) 6% (t) woman



Source link