Iberia suspends eight flights on the first day of the strike, two of them with Gran Canaria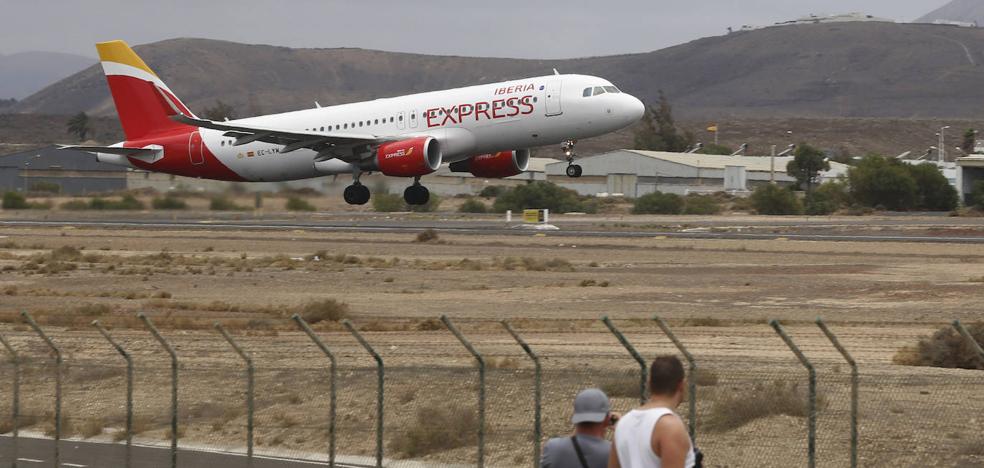 By mid-afternoon, 60 flights had been operated with absolute normality and 10,200 passengers had flown without incident
Iberia Express
has suspended eight flights not included in the minimum services on this first day of strike called by USO among cabin crew (TCP) while stressing that departures occur with the usual punctuality rates on a normal day.
Flights canceled by Iberia's low-cost subsidiary
There are four round trip routes that connect Madrid with Gran Canaria, Mallorca, Santiago and Seville.
The company has indicated that this Sunday it will operate 99 flights (92.5% of those scheduled), all of them included in minimum services, on the first day of strike of a batch of 10 called by USO -majority- among the most of 530 TCP to demand salary improvements.
Until 4:00 p.m. Iberia Express had operated 60 flights, which have left on time except for four with a delay of more than 15 minutes caused by reasons "totally unrelated" to the
USO strikewith which the punctuality index has stood at 91.6%, a usual figure on a day without stoppages, according to the airline.
The delegate of
USE in Iberia ExpressRubén Ramos, has explained to the media that they are willing to call off the strike if the company makes a commitment to apply the 6.5% wage increase for 2021 and consolidate it for the future.
In addition, he has considered the cancellation of the eight flights not included in minimum services a "dirty" maneuver by the airline because "it prevents the crew members from exercising the right to strike" and has denounced the Labor Inspectorate
"coercion" to the crews.
The company defends that the union demands are "disproportionate" and would mean an increase in salary costs of over 26%.
At the time, he denies that the
wages have been frozen since 2015, as USO argues. On the other hand, he points out that on average there have been wage increases of 20% in the TCP group.
CCOO -the second union with representation among the group of crew members- distanced itself from this call and signed an agreement with the company while the agreement is being negotiated by which Iberia Express would pay all crew members an advance payment on account of the agreement of 1,350 euros for the surcharges and 950 euros for the TCP.