Iberia Express will fly to 29 destinations this summer, with a firm commitment to the Canary Islands and the Balearic Islands+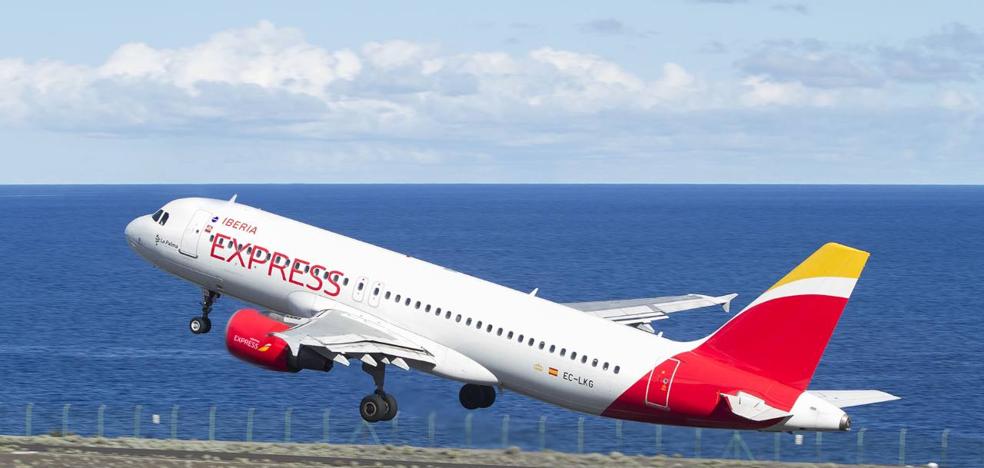 Tenerife and Gran Canaria will have 48 weekly frequencies on average. The company will offer 21 weekly frequencies to Seville and Santiago and 14 to Malaga. Internationally, the Greek islands or Italy stand out
The Iberia Express summer programme, which has just started this last weekend and will run until the last weekend of October, once again demonstrates the company's clear commitment to sun and beach destinations and, in particular, , the commitment to the Balearic and Canary archipelagos, where it will offer more than 950,000 beds and more than
1.7 million seats, respectively. Total,
up to 2.7 million seats between both archipelagos, which supposes a
27% more than in the same period of 2019.
In this sense, the airline reaffirms its commitment to some of the main national tourist destinations, as is the case of the Canary Islands, where the
capacity increase on the routes to Lanzarote (+42%), Gran Canaria (+25%) and Fuerteventura (+24%) compared to the same period in 2019.
This translates to
Iberia Express will operate an average of 48 weekly frequencies to Tenerife (34 to Tenerife North and 14 to Tenerife South), reaching between 6 and 7 daily flights in the strongest summer months.
In the case of
Gran Canaria the airline will also have an average of
48 weekly frequencies and up to 7 daily flights in months of higher demand. There are 18 scheduled weekly roundtrip flights
to Lanzarote, 15 to Fuerteventura and 10 to La Palma. DIn the same way, the transverse routes Oviedo-Tenerife North and Tenerife North-Vigo will maintain two weekly frequencies during the months of July and August.
Balearics is another of the great bets of Iberia Express, increasing by some
953,000 seats its capacity for this summer season. Mallorca will have an average of
45 weekly frequencies- Up to 7 daily return flights in the busiest months, Ibiza with 22 and Menorca with 13, and both islands will have triple daily flights in the months of July and August.
Capacity on flights to and from the Peninsula has increased by 3%, with Santiago de Compostela and Seville standing out with an average of 21 weekly frequencies - 3 return flights a day with Madrid- and Malaga, where capacity has increased significantly. operational compared to 2019, going from 5 to 9 average weekly flights.
Reinforcement in the main sun and beach destinations in Europe

In the international arena,
Iberia Express bet on European vacation destinations that will be operated from mid-June.
As of June 9, Iberia Express will have up to 3 return flights a week to Santorini, and from
June 12 up to 4 weekly flights to Mykonos. To complete the destinations in Greece, the airline will have between 2 and 3 weekly frequencies to Heraklion (Crete) during this summer. In addition, another of the destinations for this summer season will be Bari, the capital of the Apulia region located on the Adriatic coast.
will count,
from June 17 to October 28 with up to 3 weekly frequencies. And given the good reception of the route with Keflavik (Iceland) in other years, and with a view to more adventurous customers, Iberia Express will offer up to two weekly flights originating in the Spanish capital from June 11 to October.
The airline maintains its presence in the major European capitals, connecting through its hub at the Adolfo Suárez Madrid-Barajas airport with Amsterdam and Paris-Charles de
Gaulle, with an average of 14 weekly frequencies respectively, as well as
London Gatwick and Dublin with 11 and 8 frequencies weekly each, respectively.
Other classic destinations of the airline's program in Europe will also be part of the summer programme, such as
Lyon, which maintains around 7 frequencies weekly average according to the month of the season,
Manchester (2); and Naples (10).
«There is a latent demand and a great desire to travel, so we are optimistic about the expectations for this summer season that we will be launching shortly. The Canary Islands and the Balearic Islands will continue to be a fundamental part of our operations, two regions with which we have strong ties and with which we continue to work hand in hand", highlights Isabel Rodríguez, commercial director of Iberia Express.
"In addition, we are very happy to be able to restart our routes with sun and beach destinations at a European level such as the Greek islands of Heraklion, Mykonos or Santorini.as well as other seasonal destinations in Europe, such as Keflavik in Iceland, or Bari in Italy, all of them destinations that our customers have always welcomed very well and we hope that this year they can also enjoy the best flight experience to travel to their favorite destinations ».
Iberia Express has a solid commitment to the destinations to which it operates, which is concrete, not only in the reinforcement of capacity and air connectivity, but also in making its operation more efficient. To this end, the airline has set itself the goal of reducing its environmental footprint and achieving
zero net emissions in 2050, through various initiatives. One of the main frameworks for action is the renewal of the fleet and, in this sense, Iberia Express has aircraft
A321neo to operate flights in a more sustainable waysince it is the most efficient short and medium haul Airbus model that
reduces emissions by around 20%.
The most punctual low cost company in Europe

The company remains firm in its commitment to punctuality as its main hallmark. Iberia Express closed 2021 beating its own historical record with a punctuality index
average annual rate of 91.86% in arrivals and 94% in departures with
more than 15,700 flights operated during these 12 months and more than 2.7 million passengers transported.
Iberia Express is the low-cost company in the
Iberia Group and a oneworld member that operates short and medium haul routes, both to feed its parent company's long-distance network and to operate efficiently in the low-cost carrier segment. The company operates to more than 35 destinations nationally and internationally and is one of the few companies in its segment in the world to offer a business service on all its planes.
In 2021 the company was recognized as the second most punctual airline in Europe, according to FlightStats reports for Cirium, after 6 years in a row it was ranked #1