Iberia Express suspends flights to Gran Canaria on the first day of the strike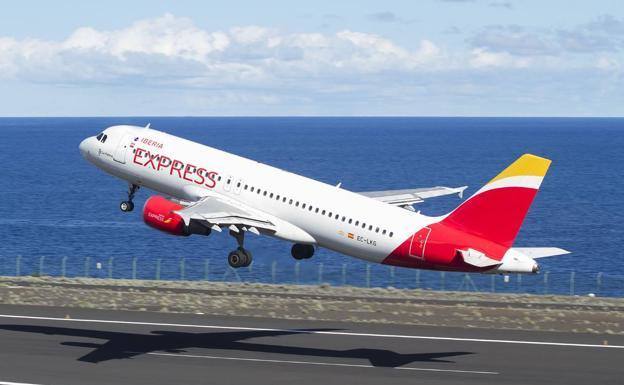 The canceled flights are four round trip routes that link Madrid with Gran Canaria, Mallorca, Santiago and Seville
Iberia Express has suspended eight flights,
one of them to Gran Canarianot included in the minimum services on this first day of strike called by
USE among cabin crew (TCP)while stressing that all its departures are taking place on time.
The canceled flights are four round trip routes that link
Madrid with Gran CanariaMajorca, Santiago and Seville.
The company indicates that this Sunday
will operate 99 flights (92.5% of those scheduled)all of them included in minimum services, on the first day of strike of a batch of 10 called by USO among the more than 530 TCP to demand salary improvements.
84% of the 1,100 passengers affected by the cancellations this Sunday already
have been relocated to other flights or in alternative means of transport, and the remaining 16% have requested a voucher, reimbursement of the ticket or are waiting to choose the alternative that best suits them.
USO demands to adjust wages to the rise in the cost of living, since they have been frozen since 2015, according to their data, while the company defends that the union demands are «
disproportionate« and would mean an increase in wage costs of more than 26%.
CCOO distanced itself from this call and signed an agreement with the company while the agreement is being negotiated whereby Iberia Express would pay all crew members an advance payment on account of the
1,350 euros for surcharges and 950 euros for the TCP.