Iberdrola renews its support for the Spanish Olympics and Paralympics until the 2024 Paris Games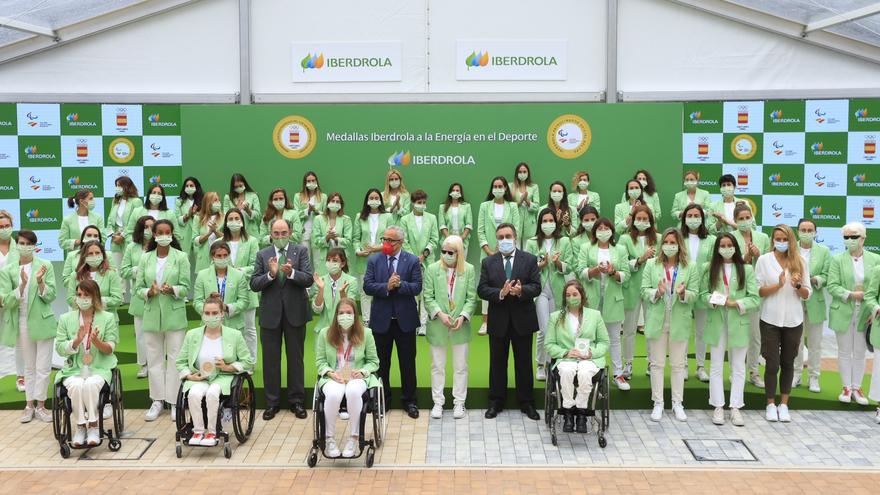 The Chairman of Iberdrola, Ignacio Galán, announced this Tuesday the support of the energy company to the Spanish Olympic and Paralympic athletes on their way to prepare for the next Games, which will take place in Paris in 2024.
This was advanced by Ignacio Galán in an act, together with the presidents of the Spanish Olympic Committee (COE), Alejandro Blanco, and the Spanish Paralympic Committee (CPE), Miguel Carballeda, at the company's headquarters in Madrid, where he presented the Iberdrola Medal for Energy in Sports to 48 Olympians and Paralympians in Tokyo 2020.
This recognition seeks to highlight the sporting successes achieved and the effort, ability to improve and professionalism demonstrated by the athletes in some Games that have been developed with the complexity of the context of the COVID-19.
Ignacio Galán has stressed that athletes are the "mirror" in which all young women want to look at themselves. "In you they can find the example of women who, having achieved great success, are not satisfied with what they have achieved, but who aspire to improve themselves every day," she declared.
"There are those who may think that there are still years to go to the next Games, but I know that for you the work has already begun. For this reason, I want to announce that we will continue by your side, from today to Paris. A path that will surely end with many successes, but that, whatever happens, will have been worth traveling, "he added.
In this sense, the president of the electricity company has also reaffirmed the commitment to sports careers and the future of female athletes. The company will launch, in collaboration with the COE, a new edition of the training program for athletes in finance, economics and law.
Among the athletes who have participated in this celebration of the Olympic spirit and equal opportunities, have been the gold medalists Sandra Sánchez; Adriana Cerezo, the taekwondo player who at the age of 17 won the first silver medal for Spain in Tokyo; and the paddlers and silver medals Teresa Portela and Maialent Chorraut.
As well as some of the Paralympic gold medalists like the triathlete Susana Rodríguez and the young swimmer Marta Fernández. What's more; Silver medalists Eva Moral, triathlete, and Sara Martínez, long jumper, also attended the event.
Likewise, the members of the hockey team, a representation of the national teams of handball, wheelchair basketball and artistic gymnastics, in addition to a dozen athletes, paddlers, and athletes belonging to ten different sports disciplines.