«I would not return to politics even if Feijóo asked me»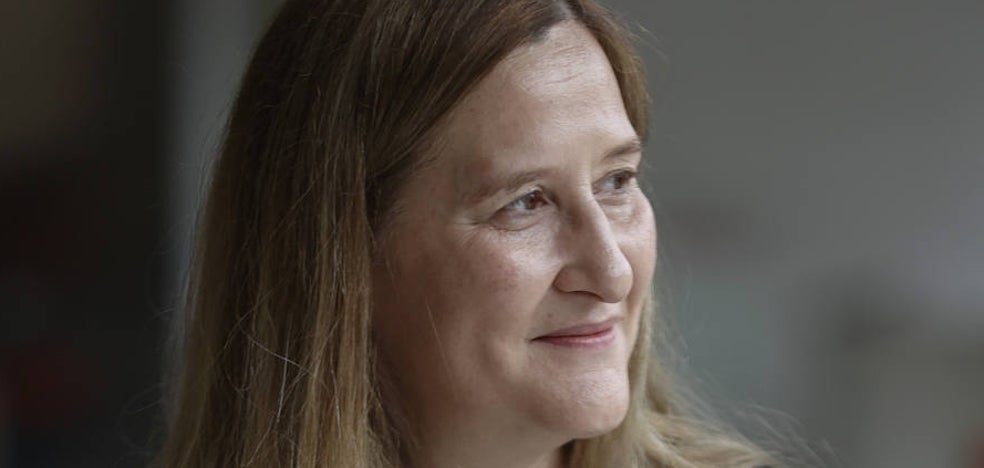 Luz Gabás / Writer and winner of the Planeta Prize
"We must regain respect for discrepancy," says the former mayor of Benasque for the PP
The tension between reason and passion articulates 'Lejos de Luisiana', a choral and historical fresco about an "unbreakable love in convulsive times" with which Luz Gabás (Monzón, Huesca, 1968) has won the LXXI Planeta Novel Award and her million euros. Between the Enlightenment and Romanticism, her work recreates the Spanish presence in the United States in the 18th century, when Louisiana passed into her hands. The official story mixes with the fictionalized mestizo love between Ishcate, an Indian from the Kaskaskia tribe, and the sophisticated young French woman Suzette Girard. Former mayor of the PP in Benasque, Gabás would not return to politics "even if Núñez Feijóo asked me to."
-Reason and passion fight again in his fifth novel
-It's a constant in my books.
-The love between an Indian and an enlightened young woman from New Orleans. Is it possible?
-Difficult, but possible. Yes. Very powerful and mix of two worlds.
-He wrote it during the pandemic. Did she change you personally?
-Yes. She affected me and affected us. She produced fear, something that we had not felt as a society. Now the war increases that feeling of dread and anguish. Something unknown to my generation, which had lived placidly. We read the novels about the plague and the possibility of the Apocalypse that are now taking shape. That makes you relativize things, simplify and think about what is essential, what is important.
-And what is important?
-The family, of course.
Do you miss politics?
-No. No way. She is very tired. I admire town mayors, at the foot of the canyon 24 hours a day, managing budgets and solving problems. It is an honor to be mayor, but it is hard. In the end you wonder why so much effort. But I make a big difference between local politics and high politics.
-Are you a member of any party?
-No. I am free. I was mayor of what I was, and I do not hide it. But I no longer feel political. I have no interest in going back to that world. I am a writer.
-If I called him Feijóo...?
-Either. You better not call me. It would be sad to throw away the prestige earned as a writer and with this Planet to get involved where I shouldn't.
-There are populist airs in Europe. In Italy the far-right Meloni will be prime minister. Worrying?
I have disassociated myself from politics. And above all about politics on television. Inconceivable levels of aggressiveness have been transferred. Democracy, as we understand it, is what it is. If we don't respect all the rules of the democratic game we're going to hell. I don't want to know anything about extremes. In no sense. I consider myself a focused and moderate person, and that does not mean equidistance. The worst now is the tension. I don't know how we've gotten so far, to talk to each other like we do. Social networks are a wild jungle. The vocabulary is terrible. We must be able to regain respect for discrepancy. Our generation had conquered it, and we have lost it.
-He claims to understand Shakespeare better after going through politics.
-He had a naive vision of politics. But within a week, Yupi's universe had been dismantled. I studied English Philology and read Shakespeare's most political dramas, such as 'Henry'. You understand who is good and who is bad, but many meanings escape you. Death does not mean the same thing at fifteen as it does at forty. The same goes for betrayal. You are in politics for a while and you see a world that you ignored. My character was not cut out for politics. I am not spiteful, jealous, or envious. I haven't felt those emotions, and when I write them I have to force myself to be mean.
Between 'Little Women' and the Brontë

-She is very rooted in her environment, but her novels open up to the world. A small-town cosmopolitan?
-I'm lovin 'it. I buy the label. I have always been closely linked to the rural world and to nature. I love animals and the countryside. As a child I wanted to be a farmer. No stewardess, or anything else.
Has literature given you more than you expected?
-Much more. I'm a cross between 'Little Women' and the Brontë sisters. My universe was a mix of fields, snow, animals, books and a piano.
-'Far from Louisiana' illuminates a poorly known period, almost buried. Our contribution to the Independence of the USA.
-Two centuries later, the contribution of figures such as Bernardo de Gálvez has been recognized. The next generation, who could have counted the battles of the Spanish in America, died in the War of Independence against France. He disappeared. They are oral narratives that were lost.
-We were better colonizers than the British, but do we sell our history poorly?
-It is obvious that they sell better. Especially in movies and literature. We know more about the Tudors than we do about our kings. The British have done a great marketing. We are very Cainites. We have been and are a great country. But when empires fall apart and you don't have to fight against third parties, well, wow, the brawl at home.
-We were also slavers. Does it narrate the black part of the story?
-Yes. But knowing that we cannot judge the past with criteria of the present.
-She is the first solo winner of the Million Euro Planet. Will it change her life?
-It will give me time. Writers live by projects. The prestige is appreciable, without a doubt, but now I have four or five years to write, once the mortgage has been paid, the children have been raised, and the Treasury has been fulfilled, which is all of us.
-The treasury will take a big bite out of it.
- We will all enjoy the prize. You have to pay for education, health and justice, but spending can and should be controlled. We need common services. I can't stand public money being wasted. As mayor, she kept the accounts to the cent.