"I will continue to insist that the Pope visit Spain"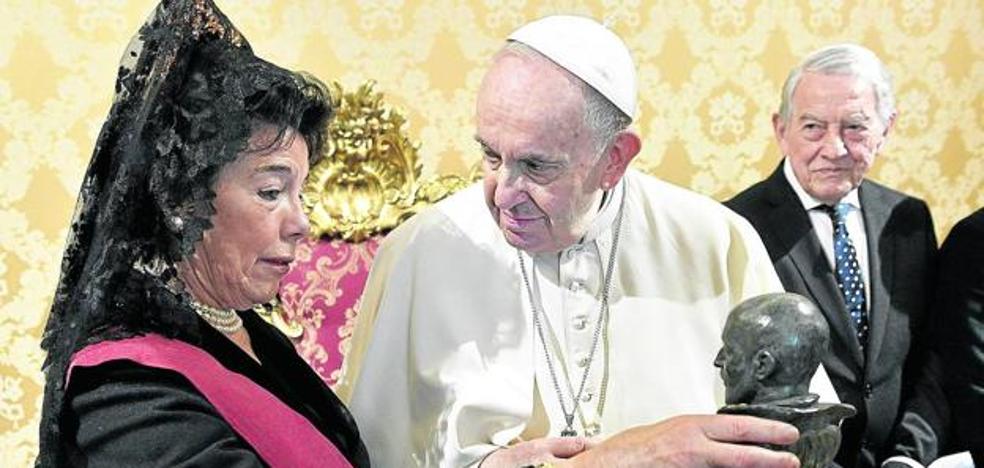 Interview | Isabel Celaa
After her audience with Francisco, the first Basque in office praises her work against the war: "She is doing much more than is thought"
Basque Minister of Education, minister of the same branch, spokesperson for the Government and, now, ambassador of Spain to the Holy See. Isabel Celaá, from Bilbao, yesterday presented her credential letters to the Pope in a half-hour audience, held at the Vatican's Apostolic Palace, from which she left enchanted by her "humanity and closeness" and admired for the work she carries out to try to bring the peace to Ukraine. "He is doing many more things than is thought," says Celaá in an interview with EL CORREO, the first since his appointment and in which he reviews the issues that affect relations between the Church and the State, such as pederasty, registration of goods and Obra Pía. The first Basque woman to be appointed to represent Spain before the Holy See will host the celebrations for the IV Centenary of the Spanish embassy, ​​the oldest permanent diplomatic mission in the world.
– What did you talk about in your meeting with the Pope?
– The hearing lasted half an hour, a remarkable time. I have met an authentic person, of great humanity and closeness, who showed enormous empathy and eagerness to understand his interlocutor. We have had a great understanding, particularly when talking about issues such as education or war. He has told me that we must all do our utmost to stop this massacre of the Ukrainian population. Despite the misfortune of having to face this conflict, we are fortunate to have a spiritual leader with the consistency and clarity of Francis when it comes to repudiating war, something that cannot be said of all spiritual leaders.
– Pope Francis has made continuous appeals and gestures for peace in Ukraine. What can we expect now?
– He's doing a lot of things. And many more things than he thinks. The Church has many thermometers in society, its perception is very broad, it has 'antennas' spread all over the world that can greatly help this work for peace.
– Will you travel to kyiv, as your mayor has asked?
– I know that the Church is doing a great job that is not counted out of prudence, but the Pope is doing a job that no other international actor could do at this time.
– I imagine that you have been invited to visit Spain...
– Of course I invited him. I have told him on behalf of the President of the Government, who already did it in 2020. The Pope has not told me yes or no. He has received the proposal with joy, like the gifts I have brought him. It was a bust of Saint Ignatius of Loyola from a limited collection, given to me by the rector of the University of Deusto, José María Guibert. I have also given him a rosary with which my husband's sister, who died a few months ago, used to pray. He thanked those present and also asked me to give the King and the Prime Minister a hug.
– Why do you think the Pope does not decide to come to Spain?
– I don't think there is a disaffection, but rather it is a question of priorities. He always wants to be close to the most oppressed, which is why he chooses to visit countries outside of Europe, where he feels there is more marginalization and poverty. But I am going to continue insisting that he visit Spain.
Education and climate change

– Have you talked about the sexual abuse of minors committed by ecclesiastics?
– I explained to him the steps that had been taken, but he already knew everything. He is very knowledgeable. He knew perfectly well how decision-making had gone in Congress, with all groups supporting the creation of a commission except Vox. But we have not gone into more details. We have also talked about education and climate change.
– How do you assess the state of Church-State relations?
– First I have to highlight the good relations that are maintained with the Holy See. My predecessor, Carmen de la Peña, has done very well and we must continue on that path. The relations between the Government and the Episcopal Conference are very positive, as we have seen with the recent visit of President Sánchez to the seat of the episcopate or his meeting with Cardinal Omella. An attempt is being made to find a solution to the issues that were pending based on trust. There may be discrepancies on some points, but if there is trust, further talks can be reached to resolve them.
– One of the points of friction is that of the registration of goods by the Church. It's solved?
– As the Government has already said, a formula has been articulated and a path has been started that will be followed. Through dialogue you can always reach an agreement.
– And what plans does the Executive have for Obra Pía, the ecclesial institution that manages around 250 homes and commercial premises in Rome?
– We want you to continue with your social, cultural and religious activity. We cannot forget that patrons are people who left their assets over the centuries for these purposes. We must continue to respect his will. There are purposes that have been able to decline over time, but to update them there is their governing board. I have not yet been able to meet with the members of the board, I hope to do so soon.
– Will there not then be a covert confiscation, as some fear?
– There is nothing to amortize or disentail. They are assets protected by the Spanish State. If this had not been the case, they would now be in the hands of the Italian State or the Vatican. There are purposes that should be updated, but it can be done in a reasonable way towards social objectives while respecting the will of the donors.
– In Rome you will meet the general superiors of the religious congregations, which have a large number of concerted schools in Spain. Are you afraid that the controversy that was experienced in the Catholic school with the educational law that you promoted could weigh you down?
– I have no fear, because anyone who approaches that law will realize that its objective is to protect the most vulnerable people so that they can develop their talent to the fullest. The law enshrines what is public and concerted education, as well as freedom of education. What it does not allow is the existence of businesses related to the sale of educational centers. And it reinforces public education, which is where more than 70% of vulnerable students are concentrated. Concerted centers that meet their goals have nothing to fear. I think that has been understood.