"I was amazed to discover the Nazi past of scientists I had studied" | Culture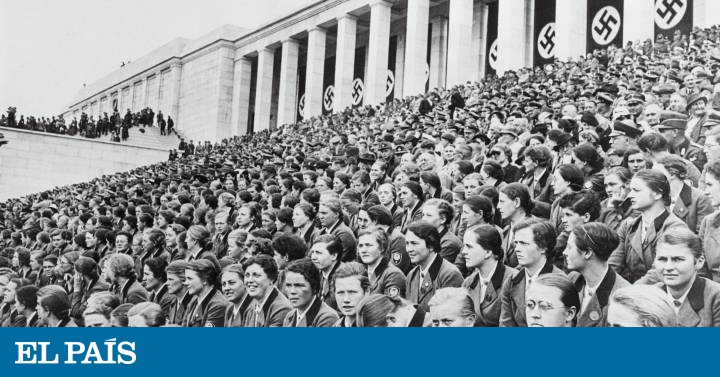 He studied insects long before taking a doctorate in Biology and made a name for himself as a popular science journalist before teaching Journalism at the University of Valencia and directing the journal of investigation Method. But also, Martí Dominguez, 53-year-old Valencian born in Madrid, he is today one of the most respected and awarded novelists of current Catalan literature. Now he has again crossed the often impermeable border of the Spanish translation with The spirit of time (Destination), his latest novel that goes on sale tomorrow poured into Spanish by himself.
The book addresses the complicity between the scientific community and the Nazi regime through the adventures of a somewhat cynical Austrian researcher who goes from sketching in his house Darwinist and eugenic theories about animal behavior to putting them into practice with humans in Poland. He has just received the Nobel Prize many years after World War II. It is fiction, but very real, and based on documented facts.
"I was amazed to discover the Nazi past, which had been bleached, of scientists that I had studied in Biology textbooks," explains Martí Domínguez. "Some, when they returned from the Soviet concentration camps, like my character, found that nobody wanted to talk about Nazism. There is a process of silencing the past. It is true that Nazism is condemned but its memory is also condemned. In Poland, visitors to concentration camps such as Auschwitz[ofwhoserelease[decuyaliberación they have just turned 75) are almost all foreigners, but very few Poles. And even less Germans. "
The protagonist of this novel believed totally in Nazism. "It was also a way to free oneself from Catholicism. Thomas Bernhard already said in his books that they went from Nazism to stifling Catholicism before. My character is dazzled by Nazism. It happened to Heidegger himself. Many participated directly; others let themselves be dragged. The Nazi regime also allocated a lot of money for science. Hitler said that every city would have its research center. Restless to think about it. But the scientific community saw Hitler as a demiurge, a visionary, "says the author of The return of Voltaire (Josep Pla Award).
Dominguez acts as a journalist and anticipates the question: "What would happen now if there were such a regime? We must learn from what happened and the great difficulty of opposing when a totalitarian regime has already been implemented. Now we think: how few Germans opposed Nazism. And you start looking for important names, that were not Jewish or declared Marxist, like Bertolt Brecht, and there are not so many. It was even a problem for Thomas Mann to report him, and he did not do so until he saw himself in exile. Stefan Zweig, who was Jewish, did not write a line against Nazism, except in his posthumous memories. It was very difficult. That is why we must be very blunt in the face of the resurgence of totalitarian ideas before it is too late. "
To document and recreate the plot of his novel, the writer consulted historians and searched through archives, as well as touring scenarios in Austria, Czechoslovakia, Poland and Belarus. In the latter country, he came to lie in the Nazi trenches of the Russian front line whose rupture by the Soviet army "changed the tables of the Second World War", although historiography indicates, above all, the Normandy landing, points . Calm and smiling, it is more likely to imagine the author of The confidences of the Earl of Bufon walking through the Botanical Garden, where his office is located and where this interview was conducted, than crawling through an old trench.
With The spirit of timeMartí Domínguez has entered a new literary territory, moving away from his cherished Century of Enlightenment and approaching programs such as the insemination of pubertals by SS officials or the kidnapping of Slavic children to repopulate occupied territories such as Poland. "I am a pure and hard rationalist, but science without consciousness is a mistake. It must always be accompanied by ethics. With the Nazis, science occupies the field of philosophy to legitimize the massacre. The Jews were the spearhead. The concentration camps were also built for what came next, if they win the war: millions and millions of Slavs killed. "
The novel goes into the Nazi plan to repopulate and Germanize: "The living space of Germany was the East, which was considered a space populated by subhumans. The children who were Germanizable had their identity taken away, subjected to a quick education and sent to German families, especially the SS. German women were recommended to have at least four children, so that they would pay less taxes, and 14 and 15-year-old girls were also encouraged to reproduce, with the opening of insemination houses (Lebensborn). They lost genetic flow in the war and needed to repopulate immense territories like Poland or Ukraine, "he explains.
And all this does not "belong to the spirit of time" as the writer and former Nazi soldier Ernst Jünger says in the quotation that opens the novel? "That is the great dawn, the pretext to justify the enormous silence afterwards. With the Nüremberg trials they were condemned to the main capitostes, and the German society considered that with this there was enough, and there was an immense period of collective amnesia, as the writer W. G. Sebald denounced in one of his novels. No, you must always watch the spirit of time. In no case justify the facts, "says Dominguez.