"I want to be a bullfighting revolutionary and get rich (even if it's ugly to say it)" | Blog The bull, by the horns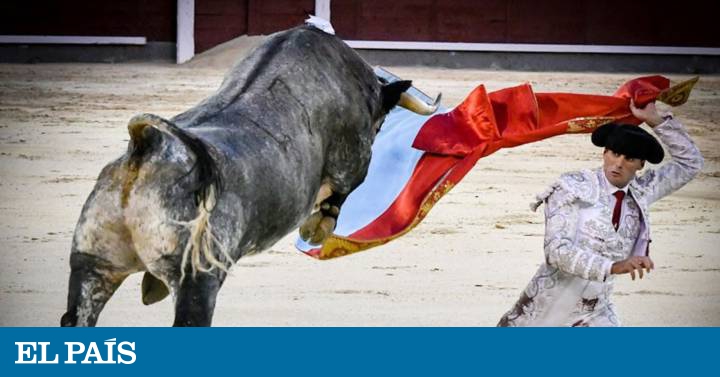 "I want to be a bullfighting revolutionary and get rich, even if it's ugly to say it. Right now I'm just a poor misunderstood stiffer than a rule. And I tell you with my heart in my hand ".
This is Francisco Montero (Chiclana de la Frontera, 1992), a revelation bullfighter who at the age of 28 dreams of achieving glory based on extraordinary honor and commendable dedication.
Tanned in the Castilian capeas, he made his debut with picadors when he had already turned 25, an age at which others have already reached the figure vitola; He is proud not to have paid to fight, and that is the reason, he explains, that time has played against him.
He is a singular character, a nice, expressive and natural man; a bullfighter from another era, who pretends to be different, an admirer of Palomo Linares and El Cordobés, heterodox and tremendously enthusiastic, who hopes that next season will allow him to confirm his possibilities and take the alternative in 2022.
At the moment, he is recovering at home from the 12-centimeter goring in his left thigh that he suffered on November 15 in the Plaza de Herrera del Duque. And dreams of achieving glory.
The answer could be in his own home, because his mother, surnamed Schneider, daughter of a father born in Puerto Rico, is a clairvoyant and has a consultation in which she sends letters to those who want to know her future.
– "But not to me. I don't want to know what awaits me; what has to happen, what happens. My mother, the poor thing, is also afraid to see me near death ".
His mother, a seer; and his father, a bricklayer …
– "I have never considered another profession other than that of a bullfighter. I remember jumping the school fence to fight with classmates older than me, and I left the desk before passing ESO. And now I regret it ".
Montero says that his first encounter with bulls was when he was 12 years old, when he was riding a bicycle with some of his cousins ​​to buy firecrackers and he saw some kids training in the bullring of his town.
"That's where my vocation was born," he says. Two years later, he enrolled in the Chiclana bullfighting school, directed by Emilio Oliva, and stayed there until he was 22.
"It was a beautiful experience," he says. But Montero was slow to debut without horses, and he was already a young man with a full beard when they were first seen with picadors in August 2017 in the Segovian Plaza de Sepúlveda.
"You already know how this is, and how difficult it is to fight if you don't have money," laments the bullfighter. "I can say that I have not paid, but it has cost me my time."
When age closed the doors of the bullfighting school, Montero chose the path of the capeas.
"I decided to bet everything; I traveled to the towns of Salamanca, which are the worst to fight because you have to do it on cobblestones, in wooden squares and before large bulls. And I chose the greatest ones to really learn ".
Later, a single celebration in 2017, none in the following season, and several substitutions made him known in 2019: he triumphed in the French town of Boujan, won the Arnedo Golden Shoe, surprised in Villaseca de la Sagra, and on the 25th In August he appeared in the Las Ventas gang tunnel, with little baggage behind him, but ready to surprise. And he got it. "The overflowing passion of a bullfighter from another time", Alejandro Martínez headlined in this newspaper, who highlighted that "many were the technical and artistic deficiencies that he demonstrated in his presentation in Madrid, but his dedication, indefatigable from beginning to end, was total ".
Montero received his second steer, made of Saltillo's iron, on his knees at the gates of bullpen with his walking cape in his hands.
"The truth is that I was very scared," recalls the bullfighter. "I had fought very little, and I went to the first place in the world without the necessary preparation, but I gave everything, wanting to be the best, but without believing it. And the fans could see that what they did in the capeas they could also do in the ring dressed in lights ".
Despite his rough and sometimes reckless style, Francisco Montero is convinced that he knows how to fight. "I will never put aside my heart, my rapture and my surrender. Some say that I lack technique, but it is not true; it happens, however, that I care more about emotion than technique ".
"I want to be different," he proclaims. "If I am one more, I do not stand out."
Montero has made little money so far. He confesses that with the 1,000 euros that he had left from his performance in the Toledo town of El Real de San Vicente he bought the white and silver dress that he has worn in his performances.
– And the cape for a walk?
– "It is not mine. It has been lent to me by José Caraballo, a bullfighter from Chiclana, I don't know what face he will make every time I go with him to the pigsty gate. For the moment, it is still intact ".
His illusion is to fight "as soon as possible in 2021" to take the alternative in the following season "and earn money, which is the best sign that you are fighting."
While he continues his recovery from the last goring ("I've already had four, which are four medals, [la más grave, en El Real de San Vicente (Toledo), en un festejo sin caballos celebrado un mes después de haber debutado con picadores] and when I can, I'll go to the fifth "), recalls" the purity and truth of Paco Ureña, who sometimes tears up because he is giving his life and his heart; I look at him and try to learn from everyone, even from a young boy who is just starting out ".
Francisco Montero was also seen crying on his last bullfight, held in Herrera del Duque.
"Yes, because I have suffered a lot. They have even told me that I would not become a bullfighter with horses, that I am not worth to be a bullfighter, and when I see the fans devoted to me I get emotional because I also have feelings. When I express what I carry inside and reach the public, I think that some were not right.
And for the future it has two objectives: on the one hand, that its announced confinement with six steers from Saltillo, Barcial, Concha y Sierra, Los Maños, Dolores Aguirre and Yonnet be held in the French square of Ceret, scheduled for July 19 passed and suspended due to the pandemic.
And other:
"Buy me another suit, even if it's also second-hand."
– If you want to know the future, you can go to your mother's letters …
– "No. That really scares me… ".