"I use very sober and clean images, with a direct message"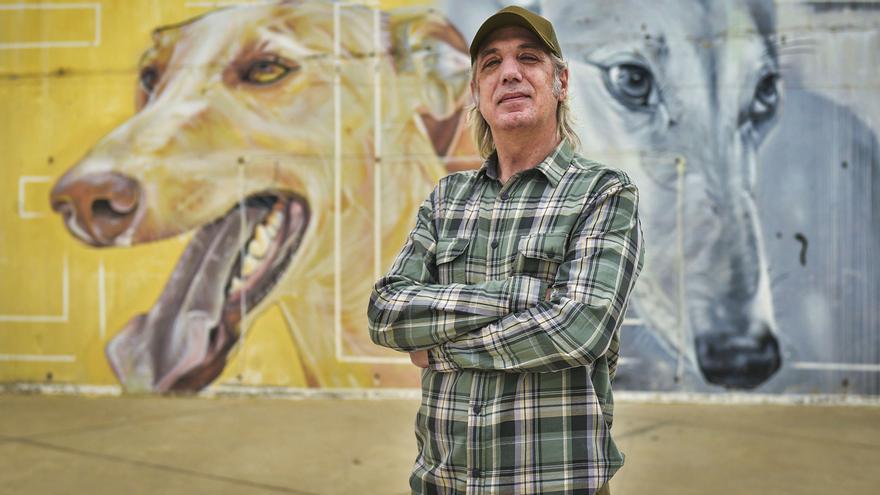 You are an advertising graphic designer. He does not consider himself an artist, but he does consider himself a creator …
I've been working in advertising as a creative graphic designer my whole life. There came a time when, as a result of an exhibition that I did called Azotea en la calle, a cultural project in the neighborhoods of Plaza del Pilar in Guanarteme, I got into social networks, promoted by a friend. For an advertiser, his lack of interest in networks is atypical. Also, I am anti-brand. But I had to go online to broadcast the show. I thought about what I would like to expose on social media, so I got into the world of visual poetry, of what I consider visual metaphors, an evolution that is used a lot in advertising language. As a derivative of what I had already been doing by profession, I was creating images that were penetrating people and little by little I have been getting more and more involved. When I started I had no idea what was out there. He only knew great figures of visual poetry, such as Joan Brossa or Chema Madoz. Thanks to social networks, I have started to establish communication threads, especially with Barcelona, ​​with great visual poets, such as Carles Canals Masats, Miquel Mercader or Álex Monfort. We have created virtual friendship ties that go beyond the everyday, even exchanging pieces. In that world I am now, showing these metaphors where I make criticisms, a passive activism from the computer.
What is that activism like?
I like to send messages of social awareness of all kinds of topics: ecological, political, etc., always from digital collage, with very sober and austere figures in which the meaning is very direct. All done as a hobby, but with the possibility of having already made individual and group exhibitions, although I am not very prone to exhibiting because it seems to me a complicated world that takes some expenses. In addition, I am not particularly seduced by showing the work. In La aventura del Saber, the TVE2 program, they noticed my digital illustrations on Instagram and Edu Barbero and Eva Iglesias contacted me, two of the people who run the Boek Visual program, a monograph dedicated to visual artists. They invited me to go out on 2. My canvas is Facebook and Instagram, where I try to contribute something constructive within all the garbage that is contained in the networks. There are opportunities that you do not miss because they insist on participating.
In your work, what do you regularly criticize?
Within the field of visual metaphors there is the section on social activism. When you see the relevant news of everything that happens in the world, you try to wink at the present time. You can see an information that impacts you and create an illustration to show it to people in a graphic way and that they are better aware of said news that could go unnoticed. I try to illustrate, through irony, above all, and in a surreal way, with metaphor, paradox or rhetoric, with many literary figures. I also play with the titles, composing suitcase words from two words. So I don't just stay on doing beautiful or attention-grabbing things, but also have a message with which I feel that I collaborate, that I am not on the planet letting things go without having a small voice.
"I try to illustrate, through irony and sarcasm, in a surreal way, with metaphor or paradox»
Personal relationships and politics, his episodes of betrayal, the abuse of electricity in connection with clean energy, the waste of water, climate change, animal abuse or transgenics appear in his creations …
All this happened in the Hybrids exhibition where he denounced the use of transgenics in food and animals and the abuses that are committed, among other topics. The hybrid is always present in all my pieces. I take two objects that merge and form a third. It can be started, for example, from observing the everyday object that surrounds you, from the simple back of a poker card to which you add some fringes and a carpet is already created; or of a hand with a nail that is a pen and a tribute is made to the writers; also a pistol with a target on the tip becomes a reference to José Couso, victim of lies. In short, I observe the everyday object, I stop and think about what I can do to make people smile. I invite you to reflect and slow down the pace of life that we lead. I also think that I get it because the acceptance is quite remarkable among the friends who help in the comments. Interesting synergies are created with people since you can leave a piece without a title and they help you discover it, which I find very nice.
Apart from digital collage, do you use any other techniques?
I paint, draw and take photography, but as an amateur. I have specialized in making digital collage because it allows you to create fusions that normal does not allow. You get to work with the shadows and the lights and, in the end, you achieve that, in many of the pieces, it seems that the object has been photographed and manufactured, when it is not something real. It is a visual deception that makes the viewer think… But has this been photographed? That would be the difference with a large number of visual poets, who are mostly concentrated in Catalonia, because there is a great tradition of these issues there. I distinguish myself in that they build the object, the visual poem, and then take magnificent photographs, something very laborious, while for me the knowledge of digital photo editing programs gives me the freedom and promptness to see a news item in the morning. and dedicate an hour to an illustration getting it out during the day.
"In my creations I take two objects that merge and create a third inviting reflection»
You also show themes of the reality of the Canary Islands.
When it came to talking about the problems that concern us, such as immigration and what is happening right now, I have made some illustration on the subject. For example, about Chira, about electricity and the environmental conflict. When I see that there is a subject that can be dealt with through illustration, I try to touch it so as not to stay away from social problems because I think that visual creators, even if we compose a poetic part, must be participants in the claims. If we can contribute something so that people stop for a moment in that image and make them reflect on a conflict, the better.
He states that he avoids overloaded compositions, opting for the cleanliness of the pieces. Explain your expressive method to me.
I make very austere creations, with very clean backgrounds in which the gray-scale image predominates, mostly, a range in which I am more attracted to work. I have tried to combine the knowledge of photographic and plastic editing trying to merge them to achieve clear images. I think that this way the message is more direct.
He points out that he likes to raise awareness under an ironic prism …
Whenever you can work with irony, I do it, because it is an effective message in advertising and sarcasm can be used in the piece. Other avenues can be used, but it is true that irony works. You have to conceptualize. An exercise that I have considered is how to capture an intangible concept, such as envy, patience, hatred, betrayal or other feelings of the human being that are difficult to apply visually. For example, I have created a piece where a saw had a wooden blade, which makes it impossible to saw wooden materials and I named it Solidarity. Another piece is called Optimism and a bait hook appears that carries a worm in a glass of water. You have to be very optimistic to want to fish there. For the elections in Madrid I have taken the image of an ax with a tie on the edge that reflects the discussions between politicians that lead to nothing for the citizen. The tie is a metaphor for politicians in ties with the hatchet. The fact of fusing two disparate objects, many times unrelated, represents a metaphor for the polarization we have reached, having to reach an intermediate point. I manage to create alliances by putting my items together.
"I achieve that, in many of the pieces, it seems that the figure has been photographed"
He says that he takes as references artists such as Joan Brossa or Chema Madoz, among others. What do you notice?
I have a lot of friendship and I really like Carles Canals Masats, with whom I have exchanged a piece that is in my living room. Great references are also the Dadaists and Surrealists. The references of visual poetry come from the calligrams discovered thousands of years before classical Greece and the great national and international exponent is Brossa.
He also considers that the Plastic Arts for children are a true means of expression.
I had the opportunity to participate with María José Godoy in the CEIP Gutiérrez Rubalcaba and she invited me to come to her classroom to teach Primary School children to make masks with waste materials, such as cardboard. Now, with the arrival of the Canary Islands Day, Begoña Rodríguez, from the Federico García Lorca school, asked me to create something with the theme of painting. I thought of installing a photo editing program on computers to digitally create, with few resources, designs of various pre-Hispanic figures on tracksuits, backpacks, caps or T-shirts and update them.
You are planning to exhibit at Club LA PROVINCIA as soon as the pandemic conditions allow it, right?
We have an exhibition pending that was inaugurated in September 2020 to which I have invited several friends and artists, some with a long career and others that are included in the fields of photography, design, textile sector, painting or sculpture, which They have wanted to collaborate because they are enthusiastic about art even if they do not dedicate themselves to it. The idea was to work with the recycling issue and with waste material to build masks. We strive to make creative artistic pieces by giving these elements a chance. This shows that, not necessarily to create art you have to resort to expensive materials. We use these materials to raise awareness that we have to do something for the planet. When they open the Club we will exhibit first. We had already made exhibitions in it on the problem of autism, to give visibility to associations in Las Palmas. It was titled From Other Shores. Then I did an individual, Hybrids. For this sample the masks are already created.