"I have had to fight much more than most to keep winning" | sports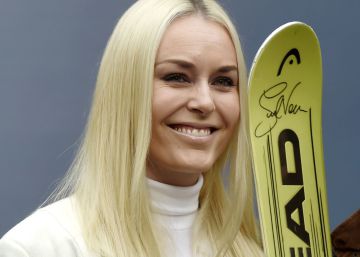 He has returned to ski "a couple of times." But his body no longer forgives him or those innocent escapades: then, in both cases, he has had to go to a surgeon, as he said Thursday in Oviedo. Eight months ago Lindsey Vonn left the world in which he triumphed like no woman before her. In February, the American said enough to an epic that gave her a historical record of successes but also unspeakable pains. And, tomorrow, just on the day of her 35th birthday, the athlete receives another gift: the Princess of Asturias Award for Sports, both for his talent and for his ability to overcome, according to the jury.
Because the queen of speed always faced a double career: against her rivals and her knees. In 2013, he was given the first warning, with a fracture. And from then on they tormented her in every competition. Vonn fell and rose countless times, but his ligaments did not forget as fast as his mind. And, finally, they forced her to an adjustment of accounts: she spent many nights without sleep and decided to retire. His curriculum records one gold and two Olympic bronzes, four World Cup titles and 82 victories in this competition in alpine skiing, just four of the Swedish Ingemar Stenmark's absolute record. At the same time, their incidents also accumulate impressive numbers.
"Obviously, I have thought about how everything would have been without the injuries. He would probably have surpassed Stenmark. But do not ask about hypotheses that have not occurred. I have always given 110% and competed to the fullest. That's why I had so many problems and so much success. It's heartbreaking, but life is like that. And it made me a stronger person, "Vonn told the press. Sheathed in clothes as white as snow, the American was smiling and without nostalgia. He admitted that he would like to ski again, at some point, with his family, but that a long rest period must be granted before.
"I had to retire, it was a difficult but wise decision. He suffered too many injuries. My body was decomposing, it was broken. He no longer had ligaments in the left knee, and the right was also very bad. I struggled to get down. I took myself to the limits, "he said. Despite this, in February, managed to get a bronze in his last descent, in Are (Sweden), what he considers a victory. "I have had to fight much more than most to keep winning. Skiing was never a job, but love. But I accept that part of my life is over. "
This closes a chapter almost as long as its existence: Vonn was born in Minnesota, in a family of skiers, and began to take it seriously at age seven. At 16 he was already competing in the World Cup and at 18 he premiered at the Olympic Games. The first victory came in 2004, and since then continued skiing to the top of Olympus. Meanwhile, she became one of the most popular and well known athletes in her discipline. And he decided to take advantage of his speaker for a much more important competition.
"I have always positioned myself clearly in favor of equality. I consider it a responsibility, something additional that comes with the sport. Although we have been lucky in skiing: there have been almost no differences, also in wages. Women receive similar media coverage and sometimes have had more leadership than men. But we need as many fans as possible, "he defended. So much so that, by leaving the skis, he has not abandoned his mission. Vonn launched in 2014 a foundation that fights for inclusion and to which he now devotes much of his time: "I want to empower girls and show what women can do." For the rest, the American accumulates projects without stopping: she has created a line of beauty products, writes her memoirs, prepares a documentary and has even been a film producer with Robert Redford. Sitting on the couch watching the trophies doesn't seem to be his thing. Vonn's world is full of mountains to face. With or without skis.
You can follow EL PAÍS Sports in Facebook, Twitter or subscribe here to the Newsletter.