"I have gone from sleeping in expensive hotels to suffering the cold in a park"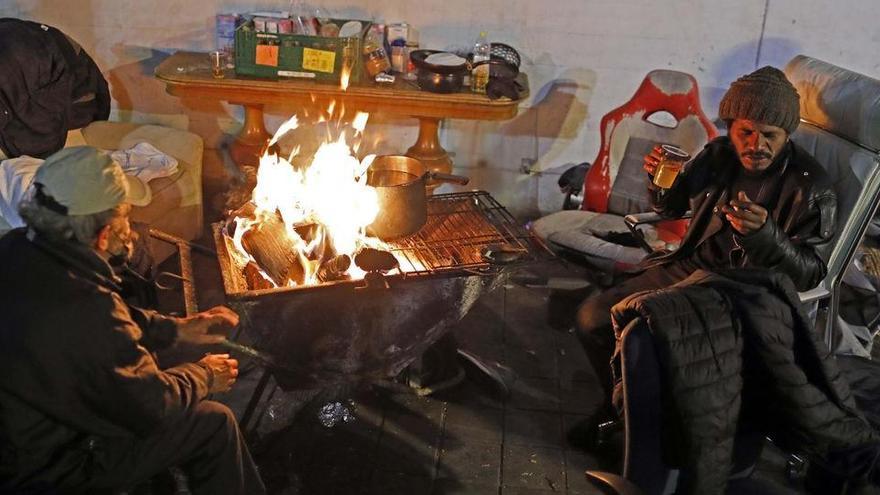 "With how warm it is, it helps me", smiles Toni as she grabs a glass of broth with both hands. Your house is a garden bench between the lanes of Avenida Tres Cruces, in Valencia. The thermometer shows 5 degrees, Filomena has passed, but he still suffers some of its consequences. "I have all my clothes wet and it's very cold", Add.
Low temperatures are snakes that bite those who do not have shoes. For this reason, there are those who dedicate their time to making this winter less poisonous, although, as Belkys Olmos, from the Amigos de la Calle association, recalls, it has already claimed three lives in Valencia.
A delegation of NGO cars travels through different points to win a small battle with the thermometer and the lack of resources. One of these places is behind the Botanical Garden. In an alley there is set up tents and a lit fire. There, they indicate, live about twenty people.
"There are those for whom we are invisible, but there is always someone who helps us," says Susana, with 5 years living on the street. On Christmas Eve, for example, received hats and socks wrapped in gift wrap. In the little camp, stories fly overhead. Elías is Russian and has been on the street for four months, but he offers himself through Facebook as a painter and sheet metal worker. "With training," he adds.
Or Francisco A., Venezuelan, 27 years old and journalist. "I have gone from sleeping in good hotels in Europe to suffering the cold in a park," he admits. "I never imagined staying on the street, the first night I couldn't even sleep"He says. Account that he lived in Switzerland and came to Spain to work with a contract that turned out to be a fraud. All his savings ended in the rent of a room. Now every euro he earns in jobs without a contract goes to Colombia where his wife and newborn son. "You have to live what there is, there is no other", sentence before a storm that does not stop.