«I have come to play with broken shoes for not having money»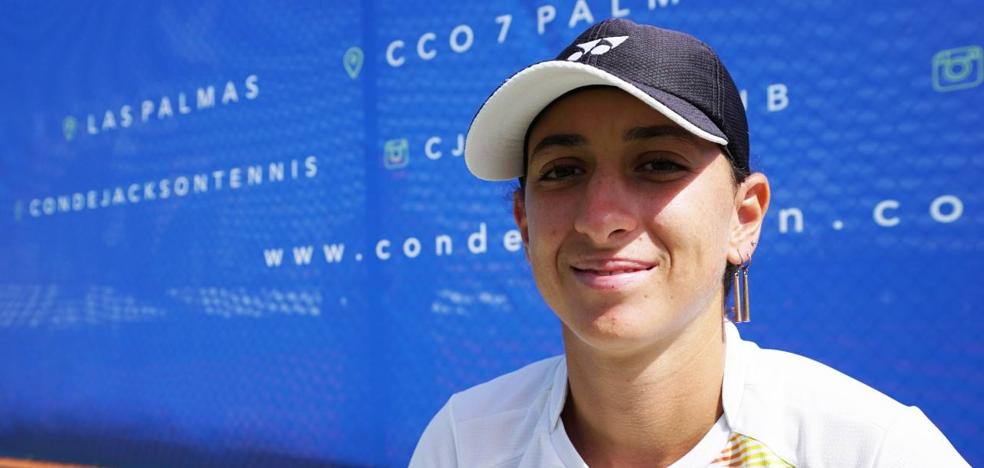 tennis
The Algerian Inés Ibbou, present at the ITF DISA Gran Canaria and ITF Conde Jackson Maspalomas tournaments, tells her story of overcoming
Is named
Inés Ibbou, is 23 years old, Algerian and she is one of the players who is currently competing in women's professional tennis tournaments
ITF DISA Gran Canaria and ITF Conde Jackson Maspalomas in the south of Gran Canaria. At her age, she already knows what it's like to travel alone as a girl to be able to compete or train with broken shoes because there was no money for new ones. From a humble family and a native of a country where tennis is not a common sport, and less so for a woman, Ibbou is an example of effort, sacrifice and strength.
When did you start playing and why?
I started when I was six years old, the Tennis Club was two minutes from home. It is not a well-known sport in my country, well, in all of Africa! It was not easy, but that day I picked up the racket, hit the first ball and from that moment I fell in love with tennis, since that day I have never traveled without a racket. I come from a very modest family with two other brothers and my parents couldn't help me.
Talk about your childhood.
At the age of 12 I began to study at a distance. And at 17 I definitely stopped studying to dedicate myself only to sports. At 9 I was already traveling two or three times a year. In Africa we don't have tournaments, so I played the Tour Tennis Europe. I came to win my first Future with 14 years. Until then I was traveling with a coach, but at the age of 15 I started doing it alone because I had no money.
Wasn't it very hard, being such a child?
When I was young I didn't have much awareness and since I liked tennis a lot I didn't feel it as something negative. Over the years I made it a routine, it was my life. I do miss my family a lot, I have been away from home for up to four years. It's hard for them because they can't support me like they want, but I know they're there and that's important to me. Sometimes when I have a problem I prefer not to share it with them so as not to hurt them, I keep it to myself, I look for solutions.
For example?
Once in Tunisia my shoe was broken, in the middle of the pandemic, I couldn't buy another one and I needed to train. So I had no choice but to train like this.
Have you faced prejudice for being a woman or playing tennis in your country?
Not only in Algiers, when you're 9 years old they tell you that you don't know anything about life, it wasn't a very famous sport there, we didn't have sports infrastructure... Although I've had a bad time, especially because of the money I didn't have to travel, to have a coach. And worst of all were the injuries.
What sacrifices has your career brought you?
At the age of 15 I moved to Valencia to study at a school, but at 16 I had to leave, I couldn't study and travel at the same time, I had no money. I couldn't have both, competing is more important than just training.
In 2020 a video of his went viral. He replied to Dominic Thiem, a professional player who refused to contribute money for the tennis players in the last places in the middle of the pandemic, arguing that many were not trying hard enough.
I come from a country where tennis is not famous, we do not have a powerful structure to train like in Europe, nor coaches or players of reference. Those words were a blow and I had to show that the reality of many players is not easy. At this level we don't win anything, we lose more than we win hoping to earn points to go up to the next level, but at 15,000 or 25,000 we don't win anything.
How much money does a player need?
Transportation, hotel, food, shoes...rackets, strings, very high expenses. Just to keep competing you need a minimum of $50,000 a year. And we don't enter that! Now a famous soccer player from my country, Adlene Guedioura, who has a sports company, is helping me to compete as a sponsor. If she was alone a long time ago she would have had to leave him.
At what moments do you hesitate?
The hardest moments for a player are injuries, you don't know if you're going to be able to return in a month, in two... You also don't know if you're going to be able to pay for rehabilitation. You have to become strong mentally to be able to move forward. Last year I hardly played, I injured my shoulder and I needed a lot of time to recover, it was a very tough year.
What are your goals?
Now I'm 615th in the ranking and all I want is to progress step by step, and hopefully I can be in the top 200 by next year.
Being able to play two ITF W60,000 in the same place must be a unique opportunity.
It is. The hotel, this place, two weeks in a row of competition… Three years ago I was here, I faced Paula Badosa, who had to withdraw due to health problems when I was winning 6/5. I made it to the semi-finals! It is one of my best memories. Now I want to work to get where she is. At the moment she is worth it to me. In tennis you never know anything for sure, but when I see myself competing, at that moment, I am very happy.