"I fight for the memory of the sick children who were lied to"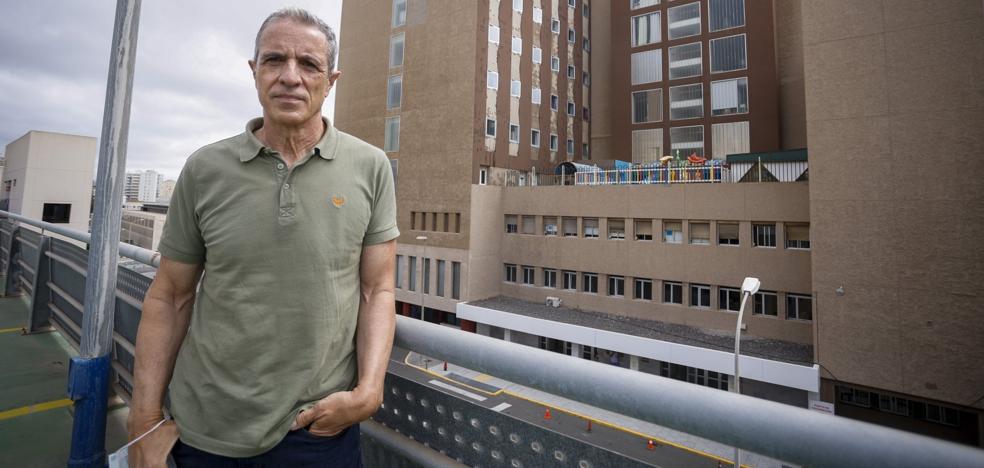 health
Since 2016, the hematologist José Carlos Lodos insists on the need to renew the Materno Infantil. He is hurt by the delay of the future children's tower and charges against the managers of the previous and current government
The specialist in pediatric oncohematology of the Materno Infantil, José Carlos Lodos, has been warning for years about the conditions in which children and mothers of newborns are cared for in the Gran Canaria hospital. The announcement of the new delay in the expansion of the hospital due to a failure in the tender for the award of the works has hit him like a bucket of cold water. Next year he plans to retire, but he says that he will continue to fight to give a voice to the most vulnerable children.
- What led you to embark on promoting this work?
- I wrote a letter on May 13, 2016 in which I denounced the conditions of the oncohematology unit, which was inaugurated in 1992. At that time we had a beach bar -two rooms next to neonates- and it was when I asked that the unit because the age bar had been raised. This hospital was opened in 1982 to care for children up to 7 years old and from 1992 the range increased to 14 years. They didn't fit there. They were watered by the hospital. The unit was inaugurated in 1992 and it is the same one we have had for 40 years.
In 2016, after having taken the children three times to other plants due to construction defects, the infrastructure was already very deteriorated. I remember that a father told me come and taught me that, from the false ceiling up, all the rooms were connected. The rooms were supposed to be isolated and the block wall went only up to the false ceiling. Between that and the fact that the bathrooms were the old shower trays where wheelchairs could not be placed because they tripped and that they did not give me sufficient guarantees of sterility, essential for treating immunocompromised children with cancer and leukemia, I wrote that letter asking please unit renovation.
-
And what happened?
- They didn't pay any attention to me. I talked to Little Brave, who were just starting out. I told them: I have this problem and I need support. As soon as an association entered, they got scared and announced that they were going to set up a quality commission to study the plan for the new unit. We made an ideal plan. A plant three times larger than this, with individual rooms, as imposed by the European canons of this type of unit and with all the conditions.
- As which?
- For example, the plan included two special rooms for strict isolation, like the ones in El Negrín for allogeneic bone marrow transplants (with stem cells from another person). Here we do autologous transplants since 1992 (with cells from the patient). We cannot do an allogeneic transplant because we do not have the appropriate infrastructure. We continue to send the children to Madrid or Barcelona.
To do it here you need special rooms with a pre-chamber, positive pressure, a dirty area... Sterility must be extreme in allogeneic transplants. Today, being in an outermost zone, we continue to send them to Madrid and Barcelona. I remember reading Baltar, in 2019, in the newspaper saying "finally it will be possible to perform allogeneic transplants in the Canary Islands" and I thought: he failed to say "only in people over 14 years of age".
- How many children have to be transplanted from bone marrow outside?
- Not many. Two or three a year. This means that the parents spend several months away with the child and with the brother, if he is the donor, with the labor and educational disorder that this entails. There have been cases with complications in which they have had to stay for a year.
- What happened to that plan?
- In 2017, the Minister of Health José Manuel Baltar announced the project to build a new children's tower for all the children of the Materno. Since then absolutely nothing has been done. I've been calling all these years to remind you. Nothing at all. Just giving me long. They did absolutely nothing until I went to Parliament last year.
- What impression did you get?
- It seemed that no one knew anything about this project. In fact, the PP deputy Miguel Ángel Ponce, who invited me to appear there, had no idea. Neither Vidina Espino. I don't know what the Canarian Coalition did. I think they blatantly lied to us.
And it makes me angry, because in the meeting with Baltar in 2017, he also promised all this to two girls; Lucia and Stephanie. The speech in Parliament was dedicated to them. I have taken this personally, for them and for the rest of the children who have left and who were lied to. When they were told it would be done in four years, they looked at me. I, deep down, knew that they were not going to see it. That's why I fight, for their memory and out of respect for them, that they lie to me, I don't care, but not to these children, no.
- Did you start any commitment?
- Ángel Víctor Torres promised that the adjudication of the children's tower would be made in the first quarter of 2022. Construction was supposed to start at the end of this year. I'm surprised by so much botched paperwork; first they push back the project management competition and then the construction work competition. Either they are incompetent or they do it on purpose. I have my doubts.
- Is it feasible to work under current conditions?
- Neonatology has obsolete infrastructure. In the Pediatrics plant they have put everything and they have removed beds. In a room there are four children with their parents. The nurses, at night, have to go with a flashlight in their mouths to carry the treatments over the parents without waking them up. In the infectious unit it does not have rooms but boxes. The Maternal must be renewed now.