«I felt enormous pain and all I wanted was to get out of the way»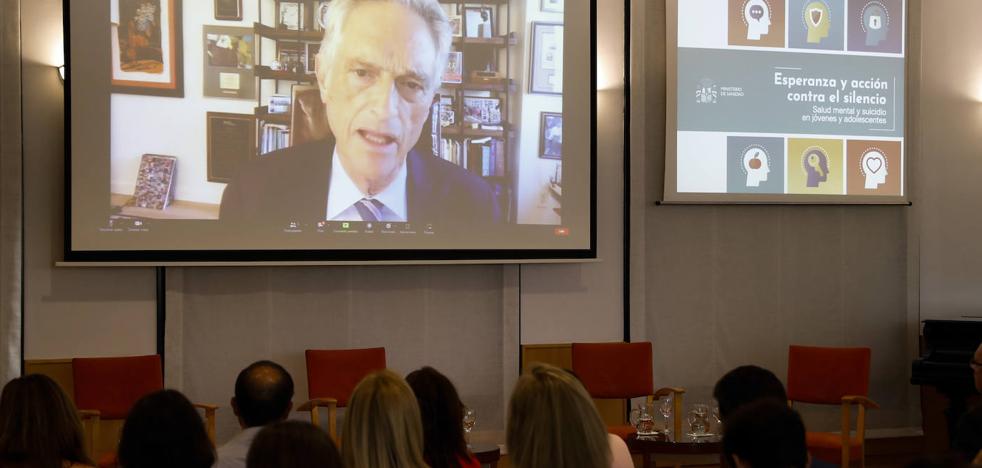 Almost 4,000 people committed suicide in Spain in 2020, but the pandemic has triggered attempts, especially among adolescents and young people
During the 2020 lockdown, José (not his real name) and his partner decided to end their relationship. But the divorce became complicated and this man, who is now 43 years old and lives in a city in the north of Spain, was faced with the prospect of no longer living with his son, whom he adores, and of having to leave the house, paid mostly for him. "I entered a state of blockage and saw no way out," says José. One morning he went up to the roof and literally looked over the edge. "He felt enormous pain and all he wanted was to end everything, get me out of the way." But at the last moment, he stepped back and called for help. A psychologist first and a psychiatrist later treated José, who now, thanks to his treatment, is once again taking on life with hope. "I agreed with my partner to share custody of my son, I stayed at home, I have my friends back and I have a social life again," he explains. But he knows that he cannot lower his guard: one in five people who have wanted to commit suicide will try again.
José is a survivor, but he fits the profile of the suicide: a man between 40 and 54 years old who suffers from a great personal trauma. According to the National Institute of Statistics (INE), in 2020 (the last year with available data), 3,941 people took their own lives in Spain, almost 11 every day. Of these, 2,930 were men (74%) and 1,011 women (26%). On World Suicide Prevention Day, which is commemorated this Saturday, experts note that the pandemic has triggered risk factors, such as mental health problems, and put the focus of concern on the youngest.
In the act 'Hope and action against silence. Mental health and suicide in young people and adolescents', the Minister of Health, Carolina Darias, announced that the 024 telephone number will soon have a chat service to assist adolescents with suicidal ideas. "In this way, the young people who have the hardest time calling will be able to express themselves and receive help," said Darias. Since it was launched on May 10, 024 has served more than 43,000 people (more than 360 on average each day, more than 1,700 have been referred to emergency services 112 and more than 700 ongoing suicides have been detected .
More women call the phone than men and 30% of users are under 30 years of age. But there are also many professors "and above all, female professors" who contact specialists to "ask for tools that allow them to deal with possible suicidal behavior in their students," Darias pointed out.
Meanwhile, specialists and survivors demanded more means to fight against this "public health" problem. "In general, the trend has not been good since 2016, but after the pandemic, in some hospitals they have detected up to four times more suicide attempts among adolescents and one in three of them has tried to self-harm to regulate their emotions," explains the psychologist Alejandro de la Torre, principal investigator of the Survive Project, which seeks to study suicidal behavior in Spain. "In addition, unfortunately, we are only seeing the tip of the iceberg," laments De la Torre, who believes that "global data" is lacking.
Experts lament the "stigma" that accompanies people who have tried to end their own lives and also their families. "They not only feel alone and abandoned, but also singled out. How can a person live like this? It is very difficult, almost impossible", argues Dolors López, survivor, coordinator of the Valencian Community Teacher Training Plan against suicide and author of the book 'I name you'.
Luis Rojas-Marcos, honorary member of the Spanish Society of Psychiatry and former head of the New York public health system, referred to this stigma in his speech. "We must work to end the social rejection that exists about suicide," Rojas-Marcos explained by videoconference, who, like other experts, warned that the statistics fall short and "do not reflect the full magnitude of the problem." "When it comes to identifying a suicide, there needs to be a farewell note or it is identified by autopsy, but we know that many accidents are suicide attempts at the same time."
The Sevillian psychiatrist, who has developed most of his career in the United States, stressed the importance of approaching suicide from "Primary Care, the Emergencies and all medical specialties, but also in educational centers." "Bullying leads to depression and depression leads to suicide, and in many schools there is still a cloud of silence," he said. And finally, he called for work to "limit access to lethal means" related to suicide, such as "alcohol, medication (especially opiates), drugs, or firearms."