"I don't know about tomorrow 'refers to the love of my generation, where the fear of commitment grinds me"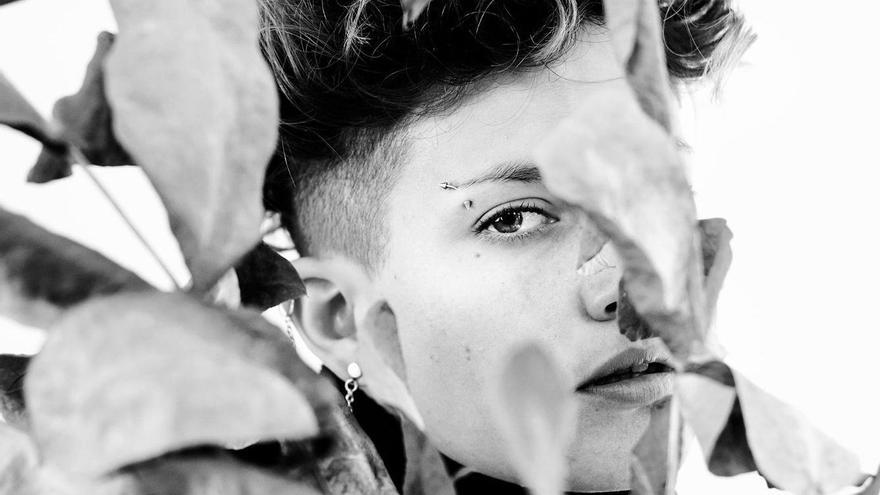 And that funny and unpronounceable title for the album: DMÑNNS?
It is about 10 songs that close a fairly long stage and the center of the album is the ninth theme, I don't know about tomorrow, whose consonants are grouped in the title. For me he expresses himself in an irritated way and with a small mouth. The lyrics allude to the fact that at that time I had a quite tough and difficult relationship and I mean ironically to the love that we live in my generation in which it seems that there is a terrible fear of commitment, of anything that is to tie you a little or take responsibility. It is a slogan and a carpe diem that has always squealed on me.
Tell me about those 10 songs of "galactic journey through electronic sounds, sometimes organic, wild pop, sometimes wild, sometimes calm" …
Sound aesthetics cannot be enclosed in something that you consider to be singer-songwriter, rock or pop music. Nowadays, music goes beyond any stylistic parameter and, now, that we all also have much more facilities to listen to music from anywhere in the world, that is inevitably reflected. The influences are endless. That album, apart from the fact that it was made very slowly, I had the opportunity to think very well about the timbres of each song that are not the typical verse-chorus, verse-chorus, but there are very intimate and very great moments. Some come from an acoustic guitar, others, from some synthesizers, a very electronic music, and others, from electric guitar, drums or mandolins. There is an infinite mix of electronic, organic, acoustic and style sounds. That is why it can be pop, but it goes much further, from the wildest to the most quiet and intimate.
I mean, the base is pop, right?
Maybe yes because it is still contemporary popular music.
What is the content of the songs?
They all revolve around the time of that I don't know about tomorrow, to those personal episodes, with very beautiful, sad moments, of nostalgia and love. There is neither political nor social reading, only intimate.
Is it a compilation of songs that you have created in the last four years?
Yes, more like the last three years. Lajalada played for the first time before an audience in March 2018 in the Singer-Songwriters Cycle of the Alfredo Kraus and since then we have created these songs, which have been deflowered, developed and evolved, until the final form of the album. Lajalada is really me, but for the live I have always had friendly musicians. I've been surrounded by almost the same team, but when it comes to creating the songs they all come out of my den.
"The themes revolve around personal episodes, with beautiful, sad and nostalgic moments"
You point out that there is a visual journey that will accompany the presentation of each of the 10 tracks on the album.
On stage for me it is very important that this does not remain only in a handful of songs that I go out to play there but that everything intervenes. For me it is a very intense, personal and inside journey, nothing superficial. I think that all the elements, both lighting and sound, aesthetics and the way the music itself is executed, even the visual, take on great importance. It all adds up and helps to get into that little journey.
What then will the live show you saw with visuals by Adrián León and your own?
The live one is to play the disc from top to bottom. There are a couple of songs that are not on the album and that are also about the last thing I have been working on to reformulate folklore with contemporary sounds. We will bring a couple of those pearls. We will create a very beautiful trip in the Guiniguada in which all the elements come together together.
How do you and the Canarian musicians Ner Suárez, Octavio Limiñana, Juan Pérez and Alberto Rodríguez who accompany you live?
I will be singing and each one will participate with their main instrument doing the best they know, that is, playing, taking each of the lines to their land because, one thing is for me to have an idea of ​​a musical motif in which each one is with their instrument and another, the true transformation that they make. That's why I admire them, because each one of them has a lot of music inside and any of my ideas are magnified.
Lajalada is a more electronic adventure than the previous musical experience, with passages and songs written in English and Spanish. How was the previous experience and how is this?
Before I had another project, Bel Bee Bee, with which I started when I was 15 years old and we also made an album that moved a lot around the Islands and the Peninsula. At that time, when I started, I composed more in English, but as a matter of modesty when transmitting the most intimate. Little by little I have been seeing that our language has a richness that others lack and singing in your mother tongue has a greater communication power than in a foreign language. I have several songs from my first stage in English because it is a very grateful language in its sounds and phonemes, as well as fitting in very well. All this part of the latest songs have been written in Spanish because it seems to me a way of taking sincerity further. Hence, there are still both languages.
It has already released the single and self-released video clips Band-Aids and Magua. How have they turned out?
The first song, Las tiritas, was released on March 3, the simplest and most luminous, with a video clip that we shot in the heights of Gran Canaria, very beautiful and made with a lot of love and then it came Magua, like a B side of Band-Aids, totally different, darker, its total antithesis.
What expectations do you have for this first album with which you will tour all over the Islands?
The result of this first album has been, simply, to lay the foundations for all my concerns about sound performance. I really wanted to leave nothing behind. It contains so many different sounds, so many structures, sometimes complicated in some of the songs, that it can even be cloying. I wanted to do an exercise to see where we can go by creating parallel universes in the sound plane. After having already laid these foundations, the only thing left to continue making is music in whatever forms come. I want a completely empty album, just take a guitar, a keyboard and in a very pure way, with my voice, do other work.