«I do not trust the judicial system in the US, it is corrupt and a liar»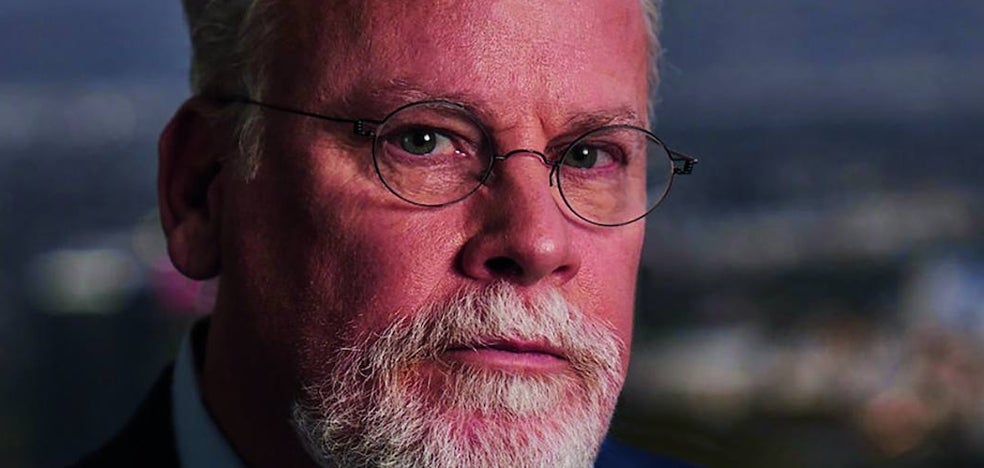 Michael Connelly says that "cinema is killing cinema." The series 'The Lincoln Lawyer', based on 'The Verdict', one of the writer's novels, sweeps Netflix
He knows the American judicial system inside out. That is why he is distrusted by Michael Connelly (Philadelphia, 65 years old), one of the giants of suspense and intrigue who has sold more than 80 million books in 44 countries. Mickey Haller, the lawyer who turns his Lincoln Town car into his office, is one of Connelly's iconic characters and the protagonist of the saga that inspires the series 'The Lincoln Lawyer', recently released on Netflix and the most watched on the platform . He adapts 'The verdict', Haller's second novel and that AdN reissued in Spanish. The author of it believes that "cinema is killing cinema."
Connelly was a journalist and cut his teeth in black chronicles before billing his successful 'thrillers' based on true stories. "I talk to lawyers, detectives, police officers… and many of the stories I tell come out of those talks," she explains. 'The verdict' is based on a little-known fact about a trial in which the accused was found not guilty, shot to death in the street shortly after. "Sometimes justice is not dispensed in court, then you see the failures of the system and that there are parallel justices," explains the writer in a videoconference from his home in Los Angeles.
"I don't trust the American judicial system. It does not work well. There is a lot of corruption and many lies », she blurts out. «One of the worst things that can happen to you is to fall into it for driving drunk or drugged, for example. Money will be key. How you are treated will depend on whether or not you can afford a good defense attorney," explains Connelly.
"Everybody lies. The police officers. The lawyers. The witnesses. The victims... A trial is a contest of lies. My job is to be the truth where everyone lies", says Haller at the beginning of the novel to denounce and stand up to a rotten and lying system "in which seeking the truth is a noble task".
Some lies that are amplified and spread on the internet. "People do not contrast anything. He believes everything, including 'fake news' if it fits his way of seeing the world. We need more critical thinking to better analyze what comes to us through the screens, "says Connelly.
With his eyes "fixed on Ukraine", he worries about the future of the country and "why Putin and Russia have felt the need to do what they do". But he is also concerned about the situation in the US. «I pour my concerns into my novels through my characters. And among them is the division of my country, more polarized than I've seen it in my entire life, "says the writer. "It is impossible not to worry when seeing two sides that are increasingly distant and irreconcilable, with a very conservative right and a very liberal left," he laments.
He does not believe that the series are killing the cinema, that he is committing suicide. "The cinema itself is killing the cinema, because, at least in my country, it only offers superhero movies and exorbitant budgets," he laments. "If people don't go to the movies, it's because they don't respond to what they want to see. They also demand stories of normal characters », he assures.
The cinema has treated him well, but Connelly feels very comfortable with series "that allow you to develop a story with more time." "You can have ten hours or more, and it's an ideal way to do it," he congratulates himself. Clint Eastwood brought 'Blood Debt' to the screen in 2002, and Haller's first novel, 'The Innocent', was adapted into a film in 2011, with Matthew McConaughey as the protagonist.
With almost 50 titles, many 'best sellers', Connelly says that "there is no magic recipe for success." He attributes his to "enormous luck, hard work, some talent for storytelling and having a good team that makes your characters go by word of mouth and that you can write TV and movie scripts."
random gift
He recounts how his famous Lincoln lawyer emerged by chance when he met a lawyer at a baseball game who told him he worked from his car. From there came the idea of ​​creating Haller, whose books "explore the cracks in the system." In the case of 'The verdict' and in the series, Haller inherits the cases of a murdered colleague, Jerry Vincent; one is that of Walter Elliot, a Hollywood mogul accused of killing her wife and her lover.
Connelly's star character is the famous and veteran Los Angeles police officer Harry Bosch, whose name is inspired by Bosch, and who co-stars in 'The Verdict' with Haller -played by Manuel Garcia-Rulfo in the series-, since they are half-brothers . Portrayed by Titus Welliver, Bosch has had his own series on Prime Video. "Being different studios, they don't connect now, but I don't know if in the future it will be possible to negotiate," says the creator of it with little hope of seeing them together on the screen. In the fall he will publish 'The Dark Hours', a new Bosch case born from another conversation with a policeman. "He told me how rare it is for two sadistic rapists to work together," he advances. In the book he calls them 'midnight men' and they are confronted by the police Renée Ballard, an investigator born from Connelly's tireless imagination, who promises new characters.