"I bet on handmade, artisanal and sustainable fashion"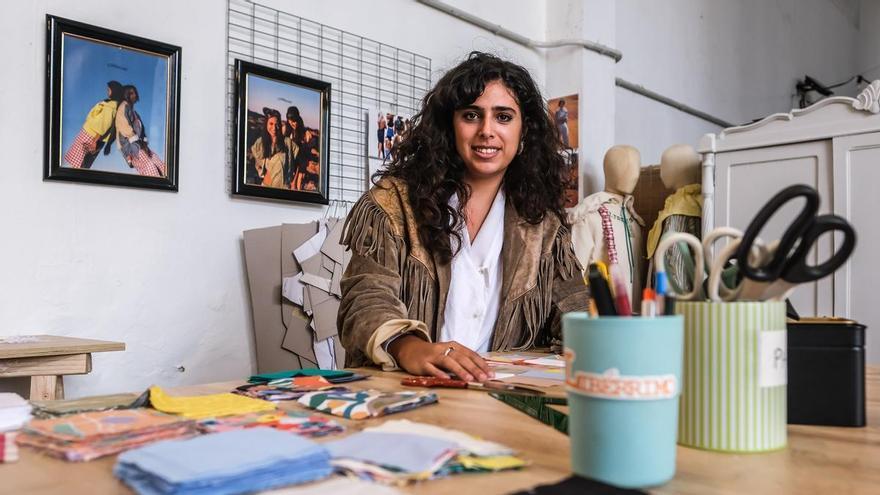 The Canarian designer will participate on March 13 in the second edition of the 'Allianz EGO Confidence in Fashion' award, the most relevant platform for emerging designers at a national level. She opts for a prize of 6,000 euros, six months of professional advice and parade on the Allianz EGO catwalk
How did your participation in the Allianz EGO Showroom at the Mercedes Benz Fashion Week Madrid (MBFWM) come about?
I was lucky enough to go in 2020, we were in the middle of the pandemic, and I loved the experience. You meet a lot of people, and they are interested in learning about your brand. Although it is a space for sale, they want to see what is behind it. Last year I applied again and they didn't select me, but I was clear that I was going to keep trying. This year there is a new sponsor, Allianz, which is keen to pull in the new talents I showed up. On top of that, there is now a prize, which began to be given in September of last year, and the truth is that I do it to open my way out of the Islands a little.
What does it mean to be among the 15 selected?
I am really happy. I did not expect. There are only 15 selected designers from all over Spain, I feel super lucky. If you are selected you already enter the catwalk.
What would it mean for you to access the gateway?
It really is one of my short-term dreams. Last year I had the opportunity to parade in swimwear for Gran Canaria Moda Cálida. Now is an opportunity to bring out a prêt-à-porter collection that I really like. I think I am also the only selected Canary.
What do you think you can contribute to differentiate yourself from the rest?
I haven't looked much at how they work, but in my case I try to make everything as personal as possible, make the garments to measure, so that the clients feel comfortable, because in the end the clothes you wear must represent you and, above all, everything, the issue of sustainability. I think it's something that all new designers have in common. We know the big problem that the fashion industry brings. In addition, we know the treatment that can be given to a person, because not everyone makes custom garments. I think that's one of my strengths.
"Customs is a nightmare. It puts us canaries at a disadvantage with the rest of the designers»
What can we do to bet on sustainable fashion?
As a designer I try to inform the client a lot. I believe that the basis of the consumer is to find out where the product is made, the conditions in which it is made and, above all, the origin of the raw materials and whether they are as sustainable as possible or not. In my case, I use a lot of organic cotton and also the lycras are made of regenerated nylon. A fabric that I brought from Italy and is made with the remains of nets found in the sea. It is a company that is in charge, together with other NGOs, of rescuing all that material such as plastic bottles or nets and transforming it into fabric. In one way or another, in the end, the important thing is the information. If instead of going to a fast fashion store you go to an artisan who makes it here, you are already contributing, apart from the value that the fabric can provide if it is sustainable.
Have you noticed a change in consumers?
Yes. The pandemic has made us a little more aware. They have seen other priorities, they prefer to buy a garment that they know will last and that has a lot of work behind it instead of one that costs three euros.
How do you face the challenge?
With all my illusions. Win or not, everything is always positive. My idea is also to meet a lot of people and see how I can sell my products in Madrid, which interests me a lot. Meeting people also I love the energy that is formed. I already had the experience in 2020 and I got a good friend from Huelva and the truth is that we always nurture each other, it's the best thing you can get from this experience.
If you win, what is the first thing you would do?
Get busy now because it would be to release the collection in September. The award also includes advice for six months by the ESNE University School, which is very important to prepare the collection.
And with the 6,000 euros of the prize?
It helps a lot because the materials cost and that's what we lack. If you feel like doing something more creative, a collection where you can develop more creativity outside of everyday life, with that money you would totally open your mind to make way for all that creativity without limits.
How did your firm Libérrimo come about? Why that name?
In the same end of studies project at the School of Art of Gran Canaria in fashion design. I wanted to participate in an event and for that I had to become autonomous and I threw myself into the void a bit. Part there. It is true that the pandemic caught me and you are wondering what would have happened if this health crisis had not arisen, but the truth is that I cannot complain, I am still starting. I chose that name because I didn't like to use mine as a signature, I wanted it to be something that represented me but I wanted to put some freedom, and I chose its maximum expression, the superlative. It is also something that I really like because you can change the gender. I think the name has to be important and this one is, I liked it a lot.
How would you define the style of your firm?
A mixture of the traditional way of doing things, new technology and my origins. In the end, like it or not, I am an islander and we have that happy character and I really like color. I always go for colors, texture and all references to nature. It is defined a bit by urban fashion and what inspires me in everyday life.
And what inspires you?
Going to the beach, to the countryside, I really like all of nature, I have a lot of connection with it. In the end, all the forms remind you of nature from taking a fabric and experimenting with it. It's the closest thing I have.
Do you think that Canarian designers have more obstacles?
Yes. Thanks to the fact that we have a great platform such as Gran Canaria Moda Cálida, which is committed to fashion made here. On that side I am very happy but every time they put more obstacles to bring fabrics. Before they didn't charge me shipping costs for the fabrics I brought from Italy and after the pandemic they did. Each time they impose more tariffs on you, instead of making it easier, they make it more and more difficult. Above everything has risen. The customs issue is business as usual, it's a nightmare. It puts us at a disadvantage with other designers. There can't be that much difference because the client doesn't wait.
What did your participation in Gran Canaria Moda Cálida entail?
The catwalk experience was incredible and even more so now that they are working with IFEMA everything is related. I spent three days in the clouds because it is a great consolidated catwalk, because of the nerves that we experienced before and because of the energy that is formed backstage. Now preparing the repercussion for summer. Everything on the catwalk moves very well, let's see if it is completely freed up with the pandemic and many more people can go as at the time.
What is the most difficult part of your profession?
This is a roller coaster. I love designing but the most complicated thing is when you already have the product, the moment of sale. All that process, which you have to delegate, is the most complicated thing for me.