"I am moved by the generosity of those interviewed before the camera"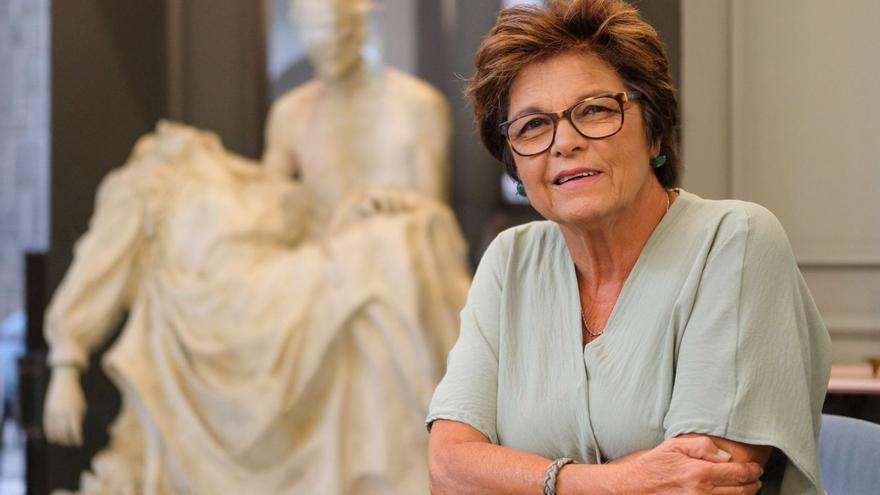 How was the Vidas Cruzadas program born?
It was an old dream. For a long time I had been curious to know the journey of some characters whose stories I told at the time, mainly in the pages of the newspapers Diario de Las Palmas, La Provincia and La Opinion de Tenerife [hoy El Día/La Opinión de Tenerife]. They were stories of overcoming and fighting, close to human and social journalism for which I feel a weakness and which, preferably, I have practiced and focused throughout my career as a journalist. I always gave up the idea of ​​bringing those characters to television in a waiting rhythm for when the maelstrom of daily work set by the press came down and I found a gap, a few months, to dedicate myself to them. However, I never found the moment. Behind my work and family commitment came another and another job but I decided then to ensure that idea so that it did not fall on deaf ears or, what is worse, the contacts (telephone numbers and addresses) that would prevent me from finding years later would get lost. those characters that captivated me at the time.
Well, the program was finally launched, but how did the idea come to Radio Televisión Canaria?
When I retired I continued to collaborate with La Provincia and El Día but one day, in a stage of less work and commitments, I commented to the director of the production company Videre that idea that I had been spinning in my head for a long time to recover those reports of survival that had published for more than 30 years. I think that two or three months later, the journalist responsible for the production company called me saying that Francisco Moreno, the sole administrator of RTVC, who already knew about the project, was interested in Vidas Cruzadas and then we got going.
So far, we have recorded a total of thirteen programs with almost forty interviews that begin to air tomorrow, Monday, on a weekly basis. And you see, here we are embarking on its premiere with me very excited about it. Undoubtedly, with good judgment, the tragedy of the La Palma volcano delayed the broadcast of Vidas Cruzadas. The space has been finished since September, but first things first.
What is the viewer going to find?
With men and women from the Canaries who have surpassed what for many and many people would be insurmountable; people who tell their stories in a stark way, with pain but without drama. The viewer will find moving testimonies told with truth, integrity and courage. And, I have to say, naturally, moving away from sensationalism. We have recovered characters from all the Islands whose stories will make you laugh but also make you cry. Surely when many viewers see their faces they will remember their stories.
Have you been excited to meet some of them again?
What has surprised me the most when it comes to facing these stories of survival again has been the generosity that those who lived it have shown before the cameras. Answering your question, of course I have been excited to see many and many of them again. I will tell you that I have a long-standing friendship relationship with all or almost all of the characters interviewed in Cross Lives. I have seen them fight for their children, for their lives, for their parents; I have seen them fight against the unjust decisions that, only because of their limitations, were made by both the authorities and part of society and whose objective was, simply, to corner them … One thing is clear to those of us who have worked in Crossed Lives: the program does not will leave no one indifferent.
They will also learn, for example, the story of two women, Pino and Reyes, whose story moved us. With them I found myself in a hotel in Las Palmas de Gran Canaria. After getting married, they decided to adopt a child but both, without thinking too much about it, made the most generous and committed decision of their lives and decided to adopt five more children, two of whom were siblings. They did not want to separate them and they struggled to get them home. The testimonies of these two big-hearted women touched us especially.
"In 'Vidas Cruzadas' we gather stories of people who have faced insurmountable situations"
With what stories of other characters have you been surprised again after meeting them after so many years?
I already tell you that I have known almost the vast majority of them for a long time but given the choice, I would highlight Beatriz López, whom I have treated since she was a teenager. Today she is a mother and her face became popular throughout the Canary Islands because she was born without arms as a result of the consumption by her biological mother of the Thalidomine abortion pill, without knowing the serious consequences of that medication. Beatriz jumped into the media when politicians from the municipality of Firgas, where the girl and her adoptive family lived, made the case public. She was a baby abandoned by her mother in the hospital who, finally, was transferred to the Casa Cuna in Santa Cruz de Tenerife. When Salvadora, a woman who worked at the center, began taking the girl home on weekends so that Bea would not be left alone, without her friends, at the Casa Cuna. Her biological mother, whom they looked for so much, never appeared, and then a social movement arises on the island in favor of Beatriz and her adopted family to raise funds in order to implant prostheses to replace her lack of arms. Thanks to the generosity of many and many Canaries, enough money was raised to pay for the intervention but, unfortunately, Beatriz's body rejected those very expensive orthopedic limbs.
I understand that another of the shocking interviews they faced was with Lidia Henríquez, the mother of Yurena López, a 23-year-old girl murdered in 2017 by her boyfriend in Lomo Magullo.
Certain. It was brutal to hear the testimony of this mother whose daughter her boyfriend kills when she told him that she did not want to continue the relationship. It is an example of the cowardly response of those who are brave before a defenseless young woman. Lidia's story was harsh. His pain invaded everything. Her clear eyes, bathed in tears, are one of those images that is hard to forget.
And in the same vein, who would you highlight among the interviewees included in Vidas Cruzadas that you did not know?
As a journalist, as a woman, as a mother and as a human being, Mónica Arroyo's testimony impressed me. Preparing an innocent barbecue on the roof of a friend in Telde, Mónica tried to stoke the fire. He tried to do it with the remains of a liquid that was in a small bottle, two fingers of alcohol. That decision resulted in a flare that completely engulfed her and caused burns to 85% of her body.
Monica and one of her friends who witnessed the accident were paralyzed by fear. She remembers in Vidas Cruzadas the moment the ambulance arrived and that on the way to the Hospital Insular de Las Palmas de Gran Canaria she suffered two cardio-respiratory arrests. Her condition was critical, so the doctors decided to urgently transfer Mónica to the Virgen del Rocío hospital in Seville, where she underwent countless surgeries to try to improve her body. His fighting ability is surprising. And he tells all that with a smile.
This is his first solo television experience after collaborating in various formats. Did you feel comfortable? Are you satisfied with the end result?
Of course I am satisfied with the result. I think we have done a good job, impossible to do without the collaboration of the protagonists. Of course, the viewer has the last word. I sincerely believe that we are facing a program that started, as journalists who are the majority of the people involved in Crossed Lives, from our contact agendas. In mine I have telephones from more than thirty years ago of characters who gave us and continue to give us lessons. The audience will give their answer, no doubt, but I sincerely believe that Cross Lives, first and foremost, will touch their hearts and touch the deepest chord. That always excites.
Would you repeat the experience?
Of course. For me it has been an unforgettable professional and human experience but I have many other stories stored in my diaries, my drawers and the archives of La Provincia and El Día that also deserve to be recovered one day.