"I am deafblind and went up to Mulhacén. People think: 'If he can, I can too' | Society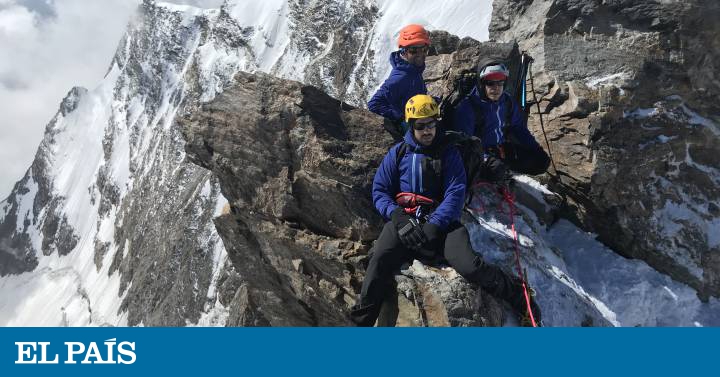 The life of Javier García Pajares, 28, and that of Sandra Timón, 25, has been a constant improvement race. If a disability changes your life, stop listening and seeing in adolescence becomes a great stone on the road. "When I was 12 years old I started to have a lot of problems to hear and when I was 16 I left high school because I did not know anything and I became isolated," says García Pajares. Timón stopped seeing and hearing the 12 and went through a period in which he did not value anything he did. "When I started to realize that I had to be proud of what I had achieved, my self-esteem grew and I was able to surpass myself," she says.
Both have been recognized with a national prize of youth, endowed with 2,000 euros, which grants the Ministry of Health, Consumption and Social Welfare to people under 30 years old. He, in the sports category. With much effort and desire to excel, Garcia Pajares became the first deafblind in Europe who went to Erasmus and graduated in Law and Business Administration. He regained his self-confidence thanks to hiking, which he continues to practice. Participate in routes and record motivational videos for other young deafblind people. Sandra Timón decided to study Software Engineering and now works in Microsoft Spain. He graduated with the best grades in his class and became the first person with deafblindness to join the company, which he arrived a few months ago.
Timón explains by telephone that he has felt very wrapped up by his colleagues in his new job, although he has experienced some difficulties in adapting his work tools to his needs. His disability began to emerge when he was 12 years old, he started using hearing aids at 15 and now he has heard again thanks to a cochlear implant. Her passion for technology led her to opt for studying Software Engineering at Rey Juan Carlos University. "I felt very supported by the center. I have had several mediators who have helped me to integrate in the environment and, also, the service of attention to people with needs of the university has put within my reach many resources, "he explains. He obtained the extraordinary end-of-career prize.
In addition to his work, Timón participates in the ONCE Foundation and carries out social awareness work. That is why it has been awarded. "I would like this to be useful to leave prejudices behind. We can do the same things as the rest, only sometimes we have to do it differently, "he explains.
In the case of García Pajares, the motivation to surpass himself came from the hand of mountaineering. "When I was 13 years old, through the ONCE, I met José Antonio García Regaña, who is a psychologist of the organization in Extremadura and president of the Extremadura Mountain and Climbing Federation. We started to climb mountains together and thanks to that I realized that I was capable of what I wanted, "he says through WhatsApp, where he writes with a braille keyboard.
García Pajares was deprived of sight and hearing at age 12. It was a very hard blow for him, and at that moment he isolated himself. Then his father pointed him to the ONCE, against his will. There he met García Regaña, with whom he began to climb and gain confidence in himself. She learned the language tools she would need to communicate and she was up to date with braille in order to write and with the fingerprint system, which became her new way of communicating (it allows deafblind people to have a conversation with a mediator representing the letters of the alphabet in the palm of the hand).
Ten years later, García Pajares and García Regaña met again and climbed the Mulhacén peak together. "I did not have the experience or the right clothes or physical condition, but I let myself be convinced by him and I succeeded. I felt euphoric, "he explains now. Upon returning from the trip, TVE proposed to them to record a report and, after the repercussion, García Pajares realized the potential of these actions. So they created the project together A world with meaning, in which they organize routes with people without disabilities in which the young person participates. "The objective is that other deafblind people, when they see me, get excited and want to improve themselves, motivate and fulfill their dreams", says García Pajares, who also organizes activities for young deafblind people in the Federation of Deafblind Associations of Spain (Fasocide).
The ministry has awarded him thanks to this initiative. "You do not know how many people I meet and that they get excited seeing what I do. They think: "if he can, despite adversity, I can too," he says. García Pajares already has his next challenge in mind. "I will try to climb Mount Elbrus, it is the highest mountain in Europe, with 5,642 meters." That's where the name of his new project comes from: Touch the stars
The Ministry of Health, Consumption and Social Welfare has awarded young people under 30 years of age for their careers in six categories. In addition to Javier García Pajares and Sandra Timón, these have been the other winners:
• Andrea Fernández Gorgojo, aged 26, in the Environment category. Industrial chemical engineer, is focused on the study of materials.
• María Sánchez Rodríguez, veterinarian and writer of 30 years, has won the prize in the Culture category in recognition of her literary work, which has extolled the value of women in rural areas.
• In Science and Technology, the jury has recognized the work of Pedro Javier Gómez Gálvez. He is 25 years old and a health engineer. It is focused on research work in the field of tissue and organ engineering.
• The jury has also granted an honorable mention, without financial endowment, to Ana María Valle Sanz, in the category of Social Commitment. María Elisa González García has received the mention in Culture, and Juan Carlos Jiménez Cabrera, in Environment.
(tagsToTranslate) be (t) deafblind (t) raise (t) mulhacén (t) people (t) think (t) si (t) power (t) javier garcía pajares (t) sandra rudder (t) disabled (t) ) receive (t) national youth award



Source link