Hyperreal environments to tame artificial intelligence without leaving home | Innovation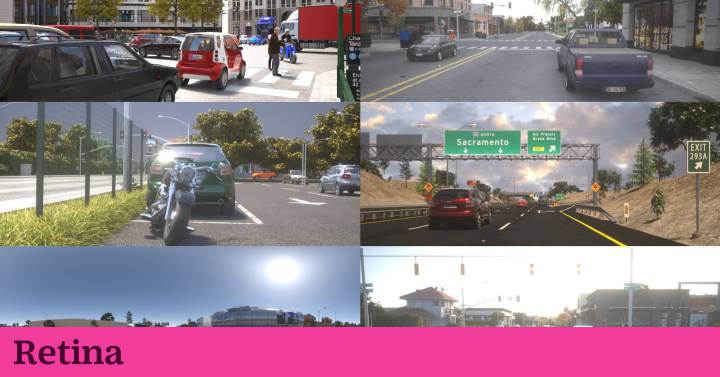 That reality surpasses fiction, it may not be entirely true. At least when artificial intelligence goes on stage. One of the biggest problems facing your training is something as daily as stepping on the street. Almost without prior instructions, you have to perfectly understand the environment, automatically learn to behave. Its perception system faces so many variables that, no matter how intelligent the machine is, it is not advisable to rub shoulders with reality. To avoid unwanted disgust or attitudes, Next Limit has designed a software for creating hyper-realistic virtual environments – called Anyverse – with which to tame the beast away from humans, although created by them.
To summarize what this company achieves, founded in 1998 and winner of an Oscar for technical merit in 2008, the most recurring example, and to which most resources are dedicated, is that of autonomous cars. To feed your computer, the one who guides you without our hands, collects photographs during your journey and processes them. What Next Limit proposes is, from virtual environments more precise than reality itself, to facilitate this learning process. "We have to simulate with multiple variables. Artificial intelligence needs infinite data. Out there everything is not perfect. For example, on the road it also rains and alters the reflections, "says Víctor González, founder of the company.
The risk of putting cars that do not interpret these imperfections on the roads seems obvious. In this hyper-realistic Matrix, without pills in between, the same thing teaches to differentiate a truck from a bridge than a physical stop sign of an ad in the middle of the city with an identical image. "Today, artificial intelligence is slower than the human brain, but it has to make decisions at the same speed. As we know that a cardboard box can go through it, an autonomous vehicle cannot stop; but keep driving, "explains González.
False positives and false negatives are not an option. The requirement that we submit to the machines does not compromise the slightest confusion. "The mistakes with the machine learning although there will always be some room for confusion with any technological system, "says Mónica González, head of strategic alliances for Next Limit. Unlike other training systems, here, to touch this perfection, there are no people behind the necessary labeling of the data. Everything is virtual, with changes in technical parameters – such as solar reflections – in order to improve safety.
Drones and robots also learn virtually
Although autonomous vehicles focus much of Next Limit's efforts, its software has more outputs. Drones, if they really intend to work away from humans, in Anyverse have an ally. As González reasons, let's think of those designed to control the runways of an airport. With proper training, they would inspect the facilities and there would be no need to fly a plane, with all the expenses involved – including environmental ones – to carry out this work. "It would detect all defects in one pass. The same idea also applies to fly over large agricultural areas, for example, "he adds.
In something as everyday as cleaning robots, hyperreality has a place. It seems funny that the machine is driven against walls, chairs or furniture in general; but, if this contact is learned before going to and from the parquet floor, efficiency and resources to improve their learning improve exponentially. "We program physical simulations that train the system to recognize how to move. I don't know how far they will be implanted, but for virtual pets everything would be much simpler and more precise, "says González.
The parallel world of Next Limit has not developed algorithms designed for the machine learning learn progressively. The company is only responsible for training the machines in order to subsequently improve their cognitive abilities. Hyperrealism issues, which have nothing to do with building new neural networks. None of those responsible for the organization dares to predict the future of their technology. The only thing they make clear is that, with their madness – or freak, openly recognized – by mathematics, physics and programming, the domestication of the artificial beast is a thing of bringing realism to the greatest extent possible.
. (tagsToTranslate) environment (t) hyperreal (t) tame (t) artificial (t) intelligence (t) leave (t) house (t) company (t) next limit (t) winner (t) winner (t) oscar (t) design (t) software (t) creation (t) virtual (t) hyperrealistic (t) end (t) machine (t) improve (t) perception (t) learning (t) automatic (t) have (t ) step on (t) street



Source link