Hyperpaternity: one more problem of education in the 21st century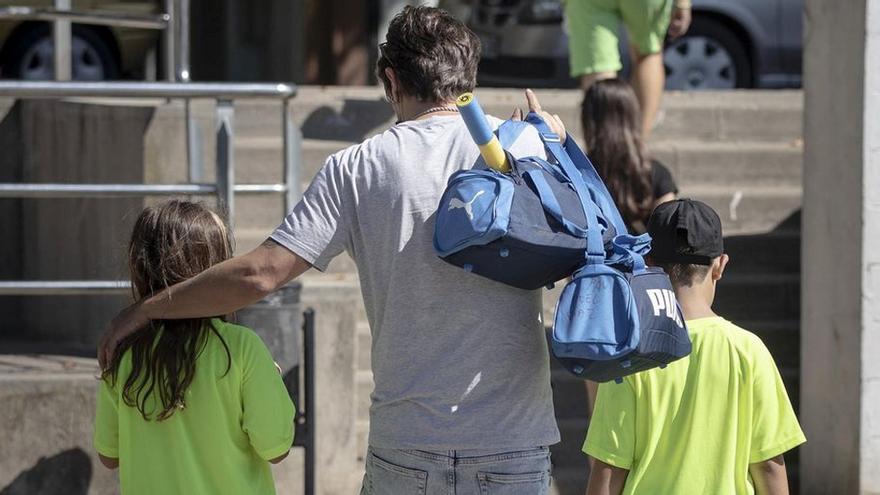 The macro outbreak of Mallorca after the revelry of end-of-year trips confirms that hyperpaternity (a phenomenon imported from the USA) has its tentacles perfectly extended in Spain. Why? At what point did fathers and mothers become helicopters that do not stop flying over their sons and daughters? Why have boys and girls become untouchable demigods to worship and overprotect?
"We have fewer and fewer children and we have them later, that makes boys and girls precious beings, a rare commodity, a sign of status, a reflection of their parents. Parenting, something natural and instinctive, has become professional and we plan the lives of our children to the millimeter ", responds the journalist and author Eva Millet, one of the disseminators who has studied the phenomenon of hyperpaternity the most.
"Never before have we been so dedicated to our children. The current environment, with an immense educational and leisure offer for children, pushes you to become a hypermother. There is social pressure for it. We are all a bit hyperparents because it is something that is contagious", Explains the specialist, author of 'Hyperpaternity' and 'Hiperniños' (Current Platform) and of the children's novel 'The last siren' (B for Block).
Journalist Hodding Carter He ruled that "only two lasting legacies can we leave to our children: the roots and the wings." The current generation of mothers and fathers offer a thousand material legacies to their children: language courses, workshops to develop their creativity, piano lessons, trips to Lapland, diving courses, unforgettable birthday parties … The only thing they do not offer is the most necessary: ​​the intangible legacy they represent wings to fly.
The American Psychologist Madeline levine, another expert in helicopter parenting, warns of the danger of raising children who think they have the right to everything, even if they haven't lifted a finger to do so. "From the moment they are born, they transmit to them that the Moon and the stars revolve around them. Excessive complacency is one of the consequences of this excessive attention towards the offspring ".
"We are raising a generation of useless"
Mothers who chase their children with their snack sandwich throughout the park, parents who fasten their 10-year-old daughters' sneakers, children who are served a Cola-cao and wait for someone to remove it, parents who accompany their university children to the revision of an exam… "We are raising a generation of useless people, people who in adulthood will not be able to solve a conflict no matter how small. Fathers and mothers of the 21st century we obsess over happiness of our sons and daughters. But happiness is not the absence of frustration. Our children have to get frustrated because life is light and also shadow and suffering is part of life. But what can we do? Avoid any hint of suffering", Explain Elisa lopez, child psychologist and responsible for the web www.10enconducta.
Hyperpaternity, continues the psychologist, is a style of behavior of parents towards their children that leads them on the one hand to be demanding and perfectionists in their education and on the other hand it tends to overprotection. Parents, loaded with good intentions, become "secretaries who keep their children's agenda, drivers who transfer them from one activity to another, support teachers with homework and sports coaches."
The pandemic and the harsh confinement of last year showed that children and adolescents are stronger than we think. The youth have been disciplined and have contributed to the success of the academic year against Covid. That responsibility, however, has been blown up in a matter of months. The Mallorca chapter -with parents claiming habeas corpus and moving heaven and earth to bring back some teenagers who had to keep preventive quarantine on the island- confirms that fathers and mothers continue to be the "Solicitous stewards of your children", in Millet's words.
Speaking in the plural and constantly criticizing teachers are two clear symptoms of hyperpaternity
Speak in the plural ("we have failed the exam"), constantly criticize teachers and question their authority, do things that your child is capable of doing perfectly on his own, always carry his backpack when leaving school, and organize a trip to Lapland instead of spending the holidays on the beach armed with a bucket and a shovel are some clear symptoms of hyperpaternity. So is not stopping asking questions. Do you want to go to bed? What do you want for dinner? Are you going to the shower? Eva Millet offers another example – also a real one – much worse. "If the kid feels bad, ask him if he wants Dalsy (children's medicine)." "Children are very intelligent but there are things that they are not yet capable of deciding," he insists.
The disseminator remembers how Jo frost, the famous English 'supernanny', recommends to parents that instead of asking their children so much they just say: "It's time to take a bath and put on your pajamas. Afterwards, dinner and sleep ". Millet concludes that It is not about the order and command of decades ago but, unfortunately for some, the family is a hierarchical system and the authority of the fathers and mothers is necessary.
It is also necessary that the parents, from time to time, get off the helicopter in which they have been mounted to fly over their chicks. "Allow that children can play alone, or that they go to school alone, is important. The need to always be watched prevents minors from having necessary experiences, developing their curiosity and discovering things that will help them grow and overcome challenges ", describes the teacher Mar Romera in her manual 'The family, the first school of emotions' . "Overprotection develops uselessness," he concludes.
Aiming for perfection can only cause frustration. As the teacher and pedagogue Gregorio Luri well recalls in 'In Praise of Sensibly Imperfect Families' (Ariel), "there are no perfect parents, there are good parents". And good parents are imperfect. Like David Trueba's mother, who, as she confesses in the book 'Earning a living' (New Anagram Notebooks), never offered "overwhelming affection" to her eight children but something infinitely better: warmth.