Hungarian cellist Ildikó Szabó gives master classes to the most advanced students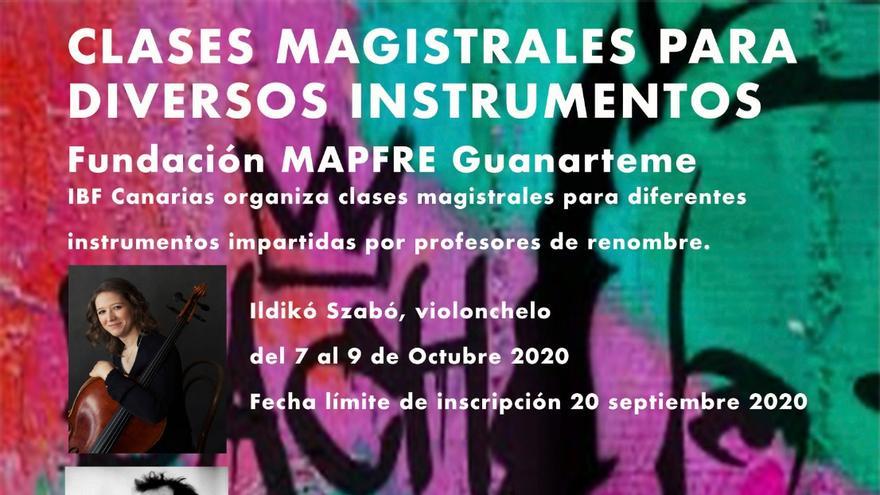 For yet another year, the International Bach Festival of the Canary Islands begins a new edition of the Master Classes aimed at young musicians and gifted students who will have the privilege of working during the months of October, November and December 2020 together with internationally renowned professionals from the Royal Concertgebouw Orchestra of Amsterdam and the Philharmonic Orchestra of Gran Canaria, who will give master classes to gifted students.
The young Hungarian soloist Ildikó Szabó will give the first master classes of this edition for the specialty of cello on 6, 8 and 9 October. The sessions on October 6 and 8 will take place from 4:00 p.m. at 8:00 p.m. at the headquarters of the MAPRE Guanarteme Foundation, located at Calle Juan de Quesada, 10, in Las Palmas de Gran Canaria. The class on October 9 will take place in the Chamber Hall of the Alfredo Kraus Auditorium from 6.30 pm – 8.00 pm.
The Hungarian cellist Ildikó Szabó studied in Budapest and is currently continuing her training in Germany at the Hochschule Für Musik in Weimar with Professor Emanuel Schmidt. In 2014 she was awarded at the Pablo Casals International Cello Competition.
She has performed as a soloist with the Budapest Festival Orchestra, conducted by Maestro Iván Fischer, and is a regular guest as a soloist and chamber musician at various festivals around the world. Ildikó has a particular affinity with the music of the 20th and 21st centuries.
Within the IBF Canarias training program, the oboe master classes will also take place in November, given by Verónica Cruz, on November 6 and 7; and from November 9 to 11, violin master classes by the famous violinist Bertrand Cervera. And in the month of December, the violin and flute master classes will be held, taught from December 1 to 4 by the violinist Jae Won Lee – Violin, and on December 3 and 4 by the flutist Julie Moulin.
International Bach Festival
The IBF Canarias is an initiative organized by musicians from the Royal Concertgebouw Orchestra of Amsterdam, members of the Gran Canaria Philharmonic Orchestra and the Las Palmas de Gran Canaria Auditorium and Theater Foundation, which is sponsored by the MAPFRE Guanarteme Foundation and others collaborators.
After five editions offering excellent artistic quality. IBF Canarias has established itself as an international benchmark for classical music festivals, with professionals from twenty nationalities sharing the stage with the Royal Concertgebouw Orchestra of Amsterdam and the Philharmonic of Gran Canaria, together with different and recognized international specialists.
DISCLAIMER: Due to the restrictions imposed by the impact of COVID-19, public access is not allowed during the event.