How to register or register in Imserso?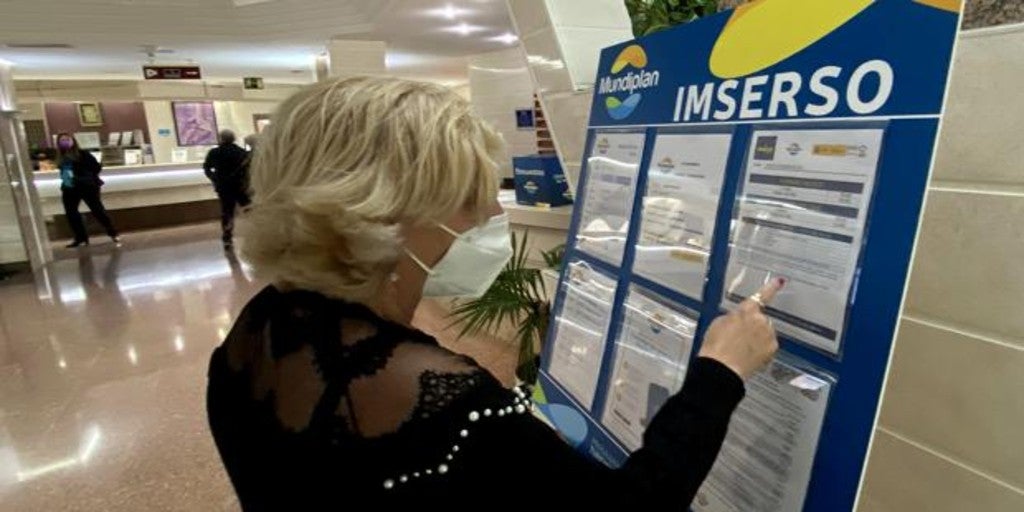 Mary AlbertCONTINUE
Updated: 06/23/2022 17:10h
Save
Related news
The countdown to the arrival of the long-awaited Imserso trips is here. After two years paralyzed by the pandemic, next July will kick off the new 2021-2022 vacation season for Spanish retirees.
More than 800,000 citizens will participate in this program, which will be carried out in inland areas and on the peninsular and island coast, and where prices will range from 115.98 to 405.53 euros.

[Viajes del Imserso 2022: estos son los destinos y precios]
To qualify for them, it will be necessary to register with Imserso before June 30, the day on which the registration period ends, and applicants will have to meet a series of
requirements:
Requirements to register with Imserso Be a retirement pensioner in the Spanish Social Security system Be a widow's pensioner aged 55 or over in the Spanish Social Security system Be a pensioner for other concepts in the Spanish Social Security system or receive benefits or unemployment benefits, with 60 years of age or olderBe insured or a beneficiary of the Spanish Social Security System, with 65 years of age or olderHow to register with Imserso in 2022?
For its part, in addition to meeting the requirements, it will also be necessary to comply with a procedure when submitting new applications to register with Imserso.
These are the steps to follow to enroll in Imserso for the 2021-2022 season:
- Telematic application: from the organization itself they recommend that applications to register be submitted electronically through the
Imserso Electronic Headquarters. When entering the page, it will only be necessary to select "Register" to access the document to fill in, in which the necessary files to fill in the data can be attached.
- Application by mail: this application may also be sent by post, for which it will be necessary to download the application form for participation in the Tourism Program for the corresponding season from the Imserso website or at its electronic headquarters.
- Application in person: the application can be made in person by going to the offices listed in article 7 of Order SCB/926/2018, of September 10, which regulates the Imserso Tourism Program: the office for assistance in Imserso registration matters (at Avenida de la Illustration s/n with return to C/ Ginzo de Limia 58, 28029, Madrid), at the Territorial Directorate of Ceuta (Avenida de África s/n, 510022, Ceuta ) and at the Territorial Directorate of Melilla (at C/ Querol 31, 52004, Melilla).
For those who want to renew the data with respect to previous years, they can do it through the electronic services of the Imserso Electronic Headquarters, for which the reference number that appears in the renewal letter or the [email protected] will be needed.

[Viajes del Imserso 2022-2023: estos son los precios, plazas, requisitos y destinos]
View commentsTopics

Source link