How to harness children's fascination with stories to turn them into readers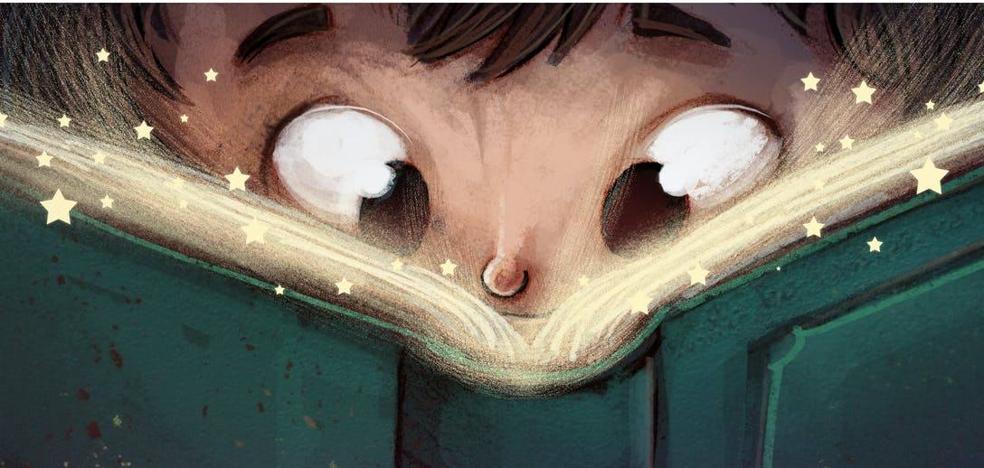 Since we are born, humans have been fascinated by imaginary worlds, narratives and fictions. This love of stories serves to cement a taste for reading; and with it, avoid future lack of reading competence and low level of cultural and social knowledge. Properly encouraged from the earliest years, it can make a child a passionate reader for life.
Within the very broad label of "children's literature" it is necessary to differentiate a series of ages in which the capacities and needs of the child are very different. Yes, there is an objective that should be met throughout all these stages: the incorporation of the book into the child's daily life as something familiar, as a source of enjoyment (and learning) more.
From 0 to 3 years: the object book

In these very early stages, the book is a toy, either made of cloth or cardboard, which will incorporate illustrations, tabs, tabs or flaps that encourage fine motor skills; there are also those that incorporate sounds and even musical pieces that can introduce the child to the world of classical music or opera. For example:
Timun Mas Collection starring Tito the Bear.
My first operas, My first Mozart or My first Bach, also by Timun Mas.
From 3 to 6 years: Can you tell me a story?

From the age of 3 (in some cases earlier), the child already shows signs of that interest and enjoyment of short stories and imaginary worlds, which leads him to continually ask "Can you tell me a story?" At that moment, the figure of the adult is decisive, since reading is a shared act in which links are created with the child and with the book.
At this stage there is room for creativity and personalization of the stories: the adult can comment on or even recreate the story told in the book, adapting it even more to the child's tastes and needs and resorting to stories that the child, when can read, it will come back on its own. Are examples:
- The series of books created by the tandem Julia Donaldson (text) and Axel Scheffler (illustrations) and published by Bruño:
The Gruffalo, The Gruffalo's daughter, Zog the dragon, Zog and the flying doctors, How cool is your broom!, The ugly five, The stick man or Bill and Janet.
- the series of
Daniela Pirate (by Susanna Isern y Gómez, edited by NubeOcho).
-
Princess Sara doesn't stop (by Margarita del Mazo and José Fragoso, also from Editorial NubeOcho).
-
Doctor Nora's medicine cabinet (Miriam Moss and Deborah Allwright, Edelvives).
From 6: traditional stories or tuned?

Traditional fairy tales cannot be left aside in the child's reading training. Tales such as Little Red Riding Hood or The Three Little Pigs continue to arouse fascination, and fulfill that function that psychologist Bruno Bettelheim pointed out in his work Psychoanalysis of Fairy Tales: helping the child to face the fears of childhood.
There is currently some controversy about the appropriateness of these titles and their lack of concordance with the modern mentality. For those who prefer it, there are updated versions:
Twice Once Upon a Collection, written by Belén Gaudes and Pablo Macías (with illustrations by Nacho de Marcos), where we will find a version of Little Red Riding Hood with a friendly wolf, a Sleeping Beauty with feminist fairies or a Cinderella with comfortable shoes.
Adolescence: a key moment

If the time of childhood is essential for the child to discover reading and become interested in it, adolescence is the delicate moment in which an immense amount of stimuli, many audiovisual, can create a certain distance with reading.
Literature classes play an important role. Between the ages of thirteen and sixteen, young people receive a decisive influence, which can consolidate their interest in reading, but also create a rejection that is difficult to overcome.
Like adults in the infant stage, who have read and interpreted stories for little readers, the teacher has to be a model reader for his students. At fourteen or fifteen years old it is more likely to enjoy reading
The Quijote if the teacher accompanies the students, breaks down the text and discovers for them its greatness.
Although adolescence is an ideal age to approach classics that later on we may not have time to read, the adolescent should also be provided with texts that he enjoys reading enormously in the solitude of his room. These fall into three major themes:
Fantasy to understand reality
The Harry Potter series, seven books with undeniable merit: thanks to them, many children and adolescents read again, attracted by the universe that JK Rowling had created. Readers not only discovered magic and fantastic creatures, but also faced complicated themes, such as death, ambition for power and war, through characters who were sometimes right, but also wrong, and who fled from Manichaeism and simplicity.
Chronicles of Narnia by CS Lewis.
Song of ice and fire. By George R. R. Martin.
Idhun's memoriesby the Spanish Laura Gallego.
The Lord of the Rings trilogy. The amazing world created by Tolkien establishes a relationship between nature, language and reality.
horror literature
The horror genre is, as a general rule, one of the most attractive for young people. If you want to delve into the feeling of fear through literature, and not so much in the mere bloody spectacle that current horror movies usually offer, there is an author whose name will last forever:
Edgar Allan Poe, master of the quintessential horror story. their narratives
(The Tell-Tale Heart, The Black Cat, The Oval Portrait, among others) are perfect to get into the genre. Few authors have been able to describe so beautifully some of the most gloomy and dark landscapes that constitute literature as Poe.
literature and philosophy
The merit of the Norwegian Jostein Gaarder was to write a novel that presented the young reader in an entertaining way an overview of the history of Western philosophy:
Sofia's world. A best seller that allows the young reader to delve into the great questions that concern the human being about identity, the world, living well or death, and the answers that have been given throughout history.
The objective of children's and youth literature must be to build interest (and passion) in children and young people for reading. For this, current works will have to be reconciled with others that also provide content, laying the foundations for understanding the great human conflicts. These are the ones that provide us with the characters and adventures of the great stories of universal literature.
This article has been published in 'The Conversation'.