How to explain the war in Ukraine to children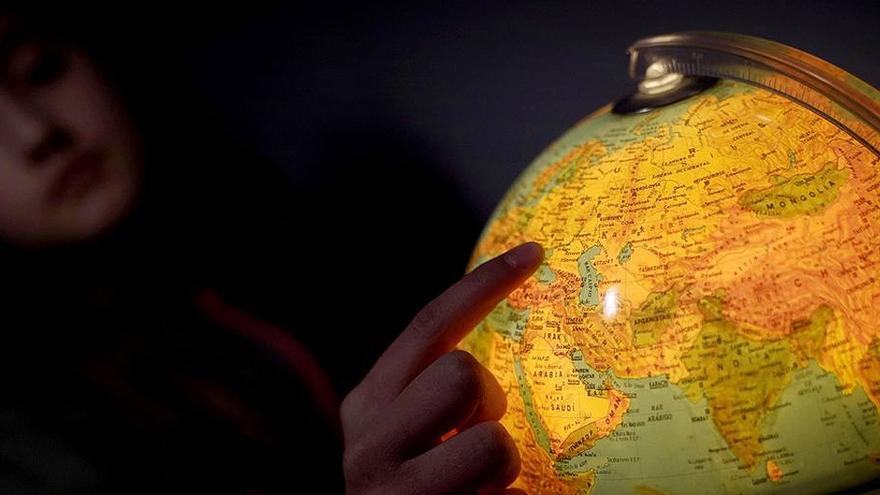 In 1992, when I was 16 years old, Robert Basic He escaped from sarajevo along with their parents. They escaped a "miserable, tribal and prehistoric" war. Without knowing a single word of Spanish, they ended up finding a new home in Euskadi. Robert, who studied at the university and works as a journalist in Bilbao, now dodges as best he can the harsh images of Ukraine. He was one of those children. And his parents, one of those parents. Last week, listening to Pedro Sanchez talk about armed conflict with RussiaRobert's 9-year-old daughter began to cry. Do boys and girls know what a war is? Should their parents explain it to them? Is it better to disguise the truth and emulate the protagonist of 'Life is beautiful' to turn the horror into a story?
Robert is clear. In his case, it is better to avoid the harsh reality. "My daughter is very empathetic and she suffers for others. She is a very dedicated, cautious and prudent person. If she explained to her what is really going on, she would process it wrong and she would be very scared. She would affect him like hell," she comments. After crying after listening to Sánchez, Robert sat down to talk with her. It was a short conversation in which he tried to reassure her. He assured her that the armed conflict was "very far from Spain" and would end soon. "I see her vulnerable, that's why I have to flirt with her lie. I want her to be calm, "she concludes. "If she asks me more, I'll tell her what's going on in Europe in words she can understand. I'll tell her it's complicated even for grown-ups."
When he was 6 years old, Robert's daughter asked him what was a war. "I explained to him that there are people who do not agree and use weapons. I think it is impossible that at that age, at least my daughter, fully understand everything that an armed conflict implies. In her day, when she was younger, the only thing I told her was that I left my country because of a war. Nothing more. I don't want her to carry my past with her", says Robert, who when he returns to Sarajevo on vacation he shows her where her school was, her high school and her grandmother's house, but without mentioning the massacre that suffered.
Robert has fulfilled the first commandment of every father: get to know your child before telling or withholding information. The child and youth psychologist Agnès Brossa explains that the question "should parents tell their children about the war of Ukraine?" it is complicated and has no single answer. "It depends on each child, their age and their way of being"he assures.
You should never cheat, but Brossa is committed to having special care and precaution with the most sensitive minors. "For many it can generate terror and anxiety because they are beginning to wonder if the fighting can reach Spain", he warns.
"Special care and precaution must be taken with the most sensitive children. It can generate terror and anxiety because they begin to wonder if the fighting can reach Spain"

In the age of information overload, the invasion of Ukraine is being experienced live in homes across the globe. Brossa recommends to fathers and mothers avoid harsh and shocking images of the television news. "There's no need for them to see them," he recommends. The best option is to talk to them using a language adapted to their age about the advantages of dialogue, non-violence and the peaceful resolution of conflicts. That is, in case the children want to know. If not nothing. "Children often ask what they want to know and keep quiet about what they don't want to know," she explains.
"Children's brains are primary. they need to feel protected, so it is recommended to use positive messages. For example, telling them that there are some people who are trying to resolve the conflict", he adds.
If we hide or distort reality, are we raising glass children? "Not at all", replies the specialist bluntly. And she concludes: "Being made of glass has nothing to do with
"I know that my students are going to ask me. And I am not going to keep the truth to myself. They need answers"
Aware that his 6th graders are going to ask him this week about Russia and Ukraine, Elvira Fernández, teacher at the Mestre Martínez Alonso public school (Mos, Pontevedra) He went to the library of his town, Porriño, on Monday to look for books with which to illustrate what a war is. "I was hoping to find a few, but I haven't seen much," she says, surprised. "I know my students are going to ask me. And I'm not going to shut up reality. they need answers. It happened to us years ago with the attacks in Paris. In class they worriedly asked me if that city was close to Galicia", she recalls.
When the topic is brought up in class, the teacher will use a adapted language at the age of his students to discuss "peace, non-violence and the business that wars always involve". He will bring a story that he has at home (and that is already out of print), 'Blacks and Whites', in which the author, David Mckee, talks about how a group of black elephants go to kill the white elephants while the pacifists are the greys, a nice way of explaining conflicts to the little ones. Other children's books have the same goal, which Fernández did not find in the library, but she did find on the maternity blog Gololo & Toin: 'The Enemy', 'The Thaw', 'The Beginning' and 'The Journey'.
"Teachers do not have to indoctrinate, that is clear. But children are the seed of change. Any subject can be treated in the classroom with an adapted language. Knowledge is useful for life", summarizes the Galician teacher.