How the pandemic has given a gift of kings to the bullfighter Juan Ortega | Blog The bull, by the horns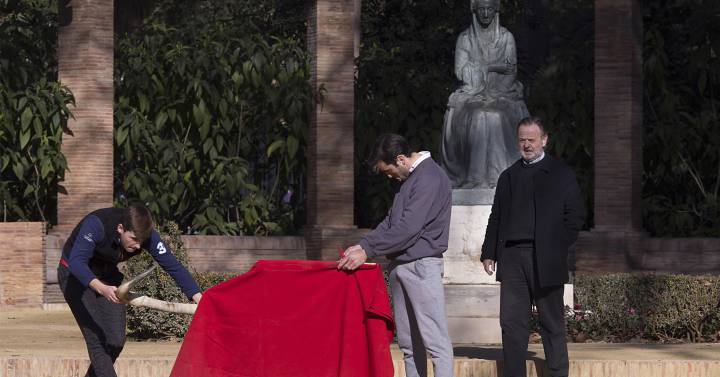 "It is the illusion of my life", says the bullfighter Juan Ortega (Seville, 1990) the day after it was officially announced that on October 12 he will do the paseo with Morante de la Puebla in the Plaza de Córdoba. He acknowledges being excited and exultant "because the teacher from La Puebla is one of my mirrors, and the dream of everyone who wants to be a bullfighter comes true: to alternate with a great figure."
Ortega insists on thanking Morante "for his generosity", the businessman José María Garzón ("for his courage and initiative") and the circumstances ("luck, in short") that happened on August 30 in Linares and that They have led to that state of happiness that you now enjoy. "Thanks to the pandemic, what things are, the bullfighting world was aware of that afternoon in Linares, also broadcast live on television, and what would have been one more bullfight, without much significance, became the celebration most important of my career ", assures the bullfighter.
Luck went further: his first bull did not work; the fourth, who glimpsed good condition in his attack on the cloak, broke a python and was returned. And before Juan Ortega was discouraged, a hat by Parladé came out, with just forces and infinite nobility, with which the bullfighter carved what has been described as "the job of the year."
The celebration had not finished and the images had already reached all the bullfighting corners; Ortega's impact made him the fashionable bullfighter, and soon the dream poster appeared, together with Morante and Aguado, that the businessman Garzón made a reality. In the end, for reasons one day confessable, Aguado said no, and the hand in hand that makes a bullfighter so happy became official modest, who took the alternative in Pozoblanco in 2014, has fought little, it was announced at the canceled April Fair of this year to step on the albero teacher for the first time, and although it has already left a good taste in Madrid, it had not yet struck a knock to show your true credentials.
And here he is, sitting in a Sevillian cafeteria, happy, with a serious and meditative countenance, in the attitude of a serene and thoughtful man, who perhaps hides an innate shyness not exempt from humility and self-love.
"I remember that I experienced the Linares bullfight as something intimate; there were few of us, and my family and closest friends were scattered throughout the square. Seeing my father and mother crying while I went around the ring is one of the strongest emotions I have felt in the world of bullfighting. I saw so much joy in the looks of people with whom I had no affective relationship, that tears came to my eyes as well, "he recalls.
"Yes, indeed, there has been a before and after the Linares bullfight," continues the bullfighter. "The truth is that there have been three bulls that have marked my life; the first, an eral, in a bullfight without horses held in the Huelva town of Almonaster la Real, with which I convinced myself that I could be a bullfighter; a copy of Valdefresno, whose ear I cut off in Madrid in 2018, which allowed me to express my conception of bullfighting, although without rounding it off, and this one from Linares ".
Question. But he has served six years of alternative and still ...
Reply. "It's true, and I don't blame anyone. I have had opportunities that I have not been able to take advantage of. I was prepared, but perhaps I lacked the full conviction of what I could do to a bull. It is now when I consider that I am at a point of maturity. Before I did not come out, I was not able to interpret my feelings.
P. It should be concluded, then, that the responsibility for its failure to take off is fundamentally theirs.
R. "Yes. I lacked trade, confidence, expression ... "
P. Until the bullfighter Pepe Luis Vargas appeared in his life.
R. "The teacher has been one of the turning points in my career. He has taught me bullfighting, to pick up the gear and interpret what was boiling in my head. I had conditions, a concept and a form, but I was unable to make it happen ".
Juan's father, Jacinto, has just retired as a forestry engineer, but his vocation for the environment has not been able to hide a true passion for bullfighting. His son confesses that this is the main reason why he is a bullfighter.
- "My father is the main 'culprit', yes. As a child, I often went to the cattle ranch that a great uncle has in the province of Jaén, so I have lived with the bull and the profession all my life. But I don't remember that there was a time when I made the decision to be a bullfighter. I believe that I am the product of an education, of an environment ... "
P. But you have studied Agronomic Engineering.
R. "Yes, and I did it, above all, to keep my father happy; in fact, I finished my degree but I have never done it. It is a long story, but it is explained in two words: at home they told me that they would help me on the condition that I study a career, and I soon understood that it was a very intelligent attitude on the part of my parents. I was not excited to study, but both parties have fulfilled our commitment ".
"And so, until today: my career is going forward little by little, but with a firm step…, he concludes.
In fact, this year it was announced for the first time in La Maestranza, but the pandemic has prevented it.
"I will never forget the date of April 22, but it could not be. I woke up with the hope that it would have a doggy day, and that I could say 'what I've gotten rid of', but what is it… a bright day dawned, "he says. And when he least expected it, Linares afternoon arrived.
P. By the way, Juan, that bull from Parladé was simply noble, and in a 'task of the year' the two protagonists must stand out ...
R. "He lacked zeal, it is true, but when a bull does not shy away from the fight, even if it stops, I give it a lot of credit."
Ortega affirms that he went into the ring very responsible, and tried to do bullfighting as he likes: tactfully, with simplicity, with care, without abruptness, slowly. "I like to interpret bullfighting as something beautiful, sensitive, natural, harmonious ..."
P. And on October 12, Morante ...
R. "It is a pride that tomorrow I can tell my grandchildren that one day I fought hand in hand with Morante de la Puebla. But I will go out to win the fight, of course.