Honors for the Taburiente | Canary Islands7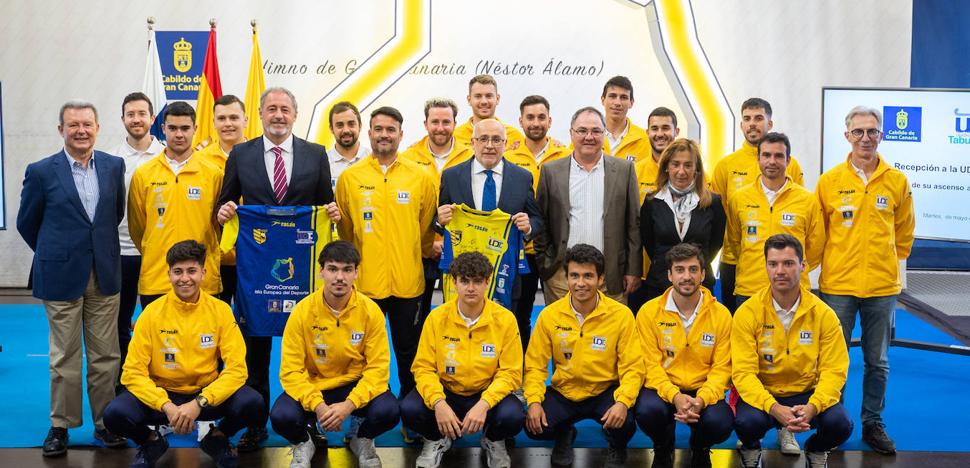 hockey
The squad of the Gran Canarian team is received at the Cabildo after their meritorious promotion to the highest national category
Anthony Morales, President of the Cabildo de Gran Canaria, and
Francis Castellan, Sports Counselor, entertained the
UD Taburiente men's team at the Cabildo Insular de Gran Canaria in an act to praise the work and commitment of the club
to get the desired promotion.
The Cabildo Insular de Gran Canaria was the place where the reception ceremony took place, attended by Antonio Morales, President of the Cabildo de Gran Canaria and Francisco Castellano, Sports Councilor of the Cabildo de Gran Canaria, in addition to the entire UD staff Taburiente,
with its president Orlando Déniz at the headas recently promoted to the elite division of national hockey.
Promotion achieved by the great season of the yellows in their category, having lost only one game so far this year with two games remaining to end the 21/22 season.
The dedication and work of the UD Taburiente players were recognized and valued by both the President and the Councilor of the Cabildo. Both stressed the importance of equality in sport and the great work of the club, which for many years has had both male and female teams. At the end of the act, Orlando Déniz offered the President and the Director a shirt signed by the entire staff as thanks for the treatment and support that the Cabildo de Gran Canaria has always given them.
"We feel very honored, we feel very satisfied. We wanted to convey our congratulations.
It's 42 years of almost always being in the elite and that means a lot of effort on the part of managers, technical staff and professionals who have all that pressure on them every year. for being at the top"said the president of the Cabildo.
For its part,
the sports adviser added: «»Feel doubly congratulated both by the Cabildo and by the Ministry, which are the same thing, and in fact not only the economic aid that has always been added to the requirements of the competition, of the times
. Also feel that you are playing twice at home, for playing in Gran Canaria, for playing at the Cabildo de Gran Canaria facilities and also for being representatives of the entire Canary Islands in the world of hockey«.
Orlando Déniz, president of the club, welcomed the support received: «The Cabildo has always been there every year, even in the hard times of the pandemic that were complicated, the support has been clear and firm and
Without the support of the Cabildo, a sports project like that of our club would not be possible«.