Homage to Galdós on the 101st anniversary of his death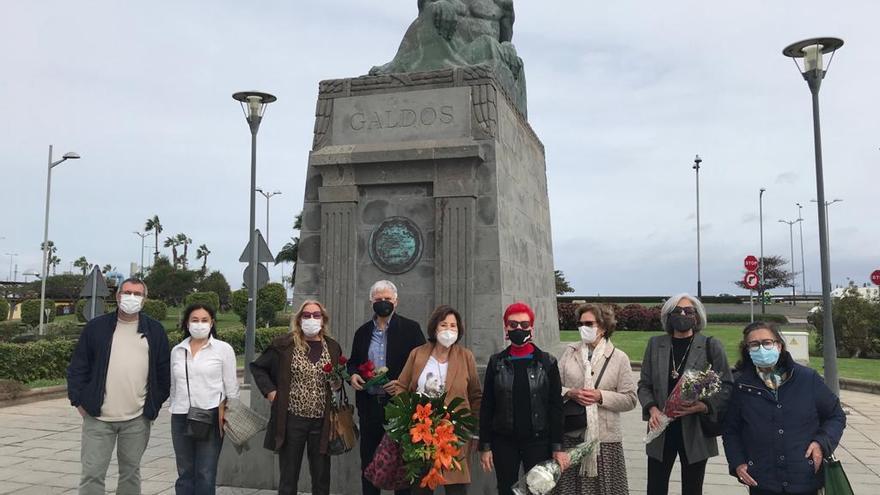 On the day of this Monday, January 4, the 101 years since the death of the universal writer from Gran Canaria Benito Pérez Galdós. This commemoration closes the Galdosian centenary through which various institutions, including the National Library of Spain, the Government of the Canary Islands, the Cabildo de Gran Canaria and the City Council of Las Palmas de Gran Canaria, have paid a heartfelt tribute to the author of Marianela , National Episodes, Fortunata and Jacinta, Electra or the Golden Fountain.
In the floral offering to the novelist that was held today together with his sculpture in front of the Pérez Galdos Theater, the participation of his biographer and former director of the Galdós Chair at the University of Las Palmas de Gran Canaria (ULPGC), among others, Yolanda Arencibia; the professor of Contemporary History of the ULPGC and former Minister of Education, Universities and Sustainability of the Government of the Canary Islands for the PSOE, Jose Miguel Perez; Elisa Hurtado de Mendoza, relative of Pérez Galdós and member of the Asociación Canaria Amigos de Galdós; Isabel Easter, Professor of the Faculty of Translation and Interpretation of the ULPGC and editorial director of the collection of monographs Tibón. Translation Studies; and Gonzalo ubani, artistic director of the Cuyás Theater.
The regional Executive and the Cabildo de Gran Canaria organized an ambitious program on the occasion of the Galdosian centenary under the motto, The Canary Islands, the land of Galdós, with around 40 proposals with stage performances, concerts, exhibitions, books, talks, workshops, competitions and other initiatives.
The House-Museum hosted the exhibition Benito Pérez Galdós – Human Truth, from the National Library, the City Council of Las Palmas de Gran Canaria renewed and improved the murals on Galdós in the Schamann neighborhood, theatrical representations of his works on Triana street and the Galdós Seminar translated are some of the events on the extensive agenda developed in memory of one of the greatest writers in the Spanish language.
This Tuesday the Young Orchestra of the Canary Islands (JOCAN) offers 7:00 p.m. at the Pérez Galdós Theater, the concert Tribute to Galdós with works by Beethoven and the Gran Canaria composer Laura Vega, directed by Vicent Alberola.
The centenary of his death has ended, but Galdós is eternal because his life and his work will continue to be celebrated.