Historical record of affiliation in June, which reaches 19.5 million, although unemployment falls at a lower rate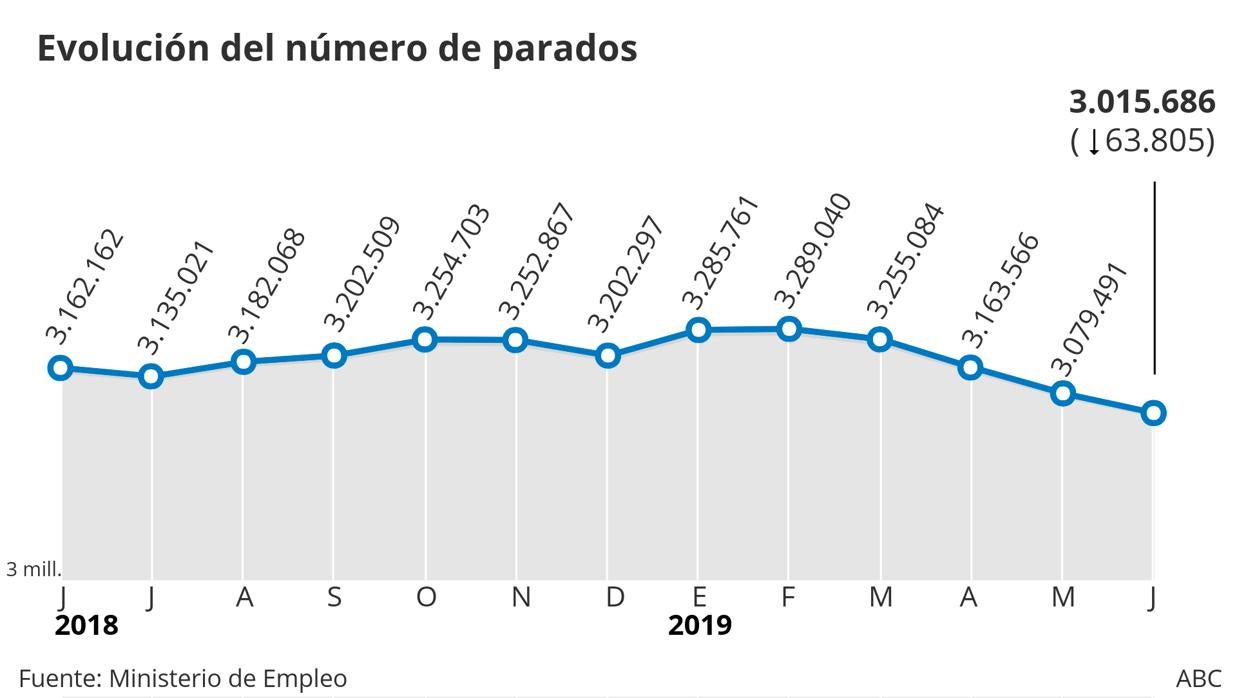 MadridUpdated:
The average affiliation to the Social Security has set a historical record in the month of June, exceeding the 19.5 million people employed (19,517,697), the best data of the historical series since records are available, as reported today by the Ministry of Labor. In this month, the system has added 75,584 workers (0.39%); and 510,707 in the last 12 months (2.69%). Up to this month of June, the data of greater affiliation dated from July 2007, at the peak of the bubble, with 19,493,050 affiliates. That is, 24,647 fewer people than last month. On the other hand, unemployment has decreased in 63,805 people in the month of June to settle in 3,015,686 people, the lowest figure since November 2008. However, it is the lowest rate of unemployment since June 2011 (67,858 people).
In seasonally adjusted terms, unemployment rose in June by 8,986 people compared to May. If we look by sexes, the male unemployment has fallen during the sixth month of the year in 32,756 people compared to May and has been placed in 1,218,056 people. For its part, the female unemployment it has decreased by 31,049 people and has reached 1,797,630 people. With regard to young people under 25 years of age, in June 15,970 people left the queue, compared to May, while among those over 25 years of age, unemployment has dropped to 47,835.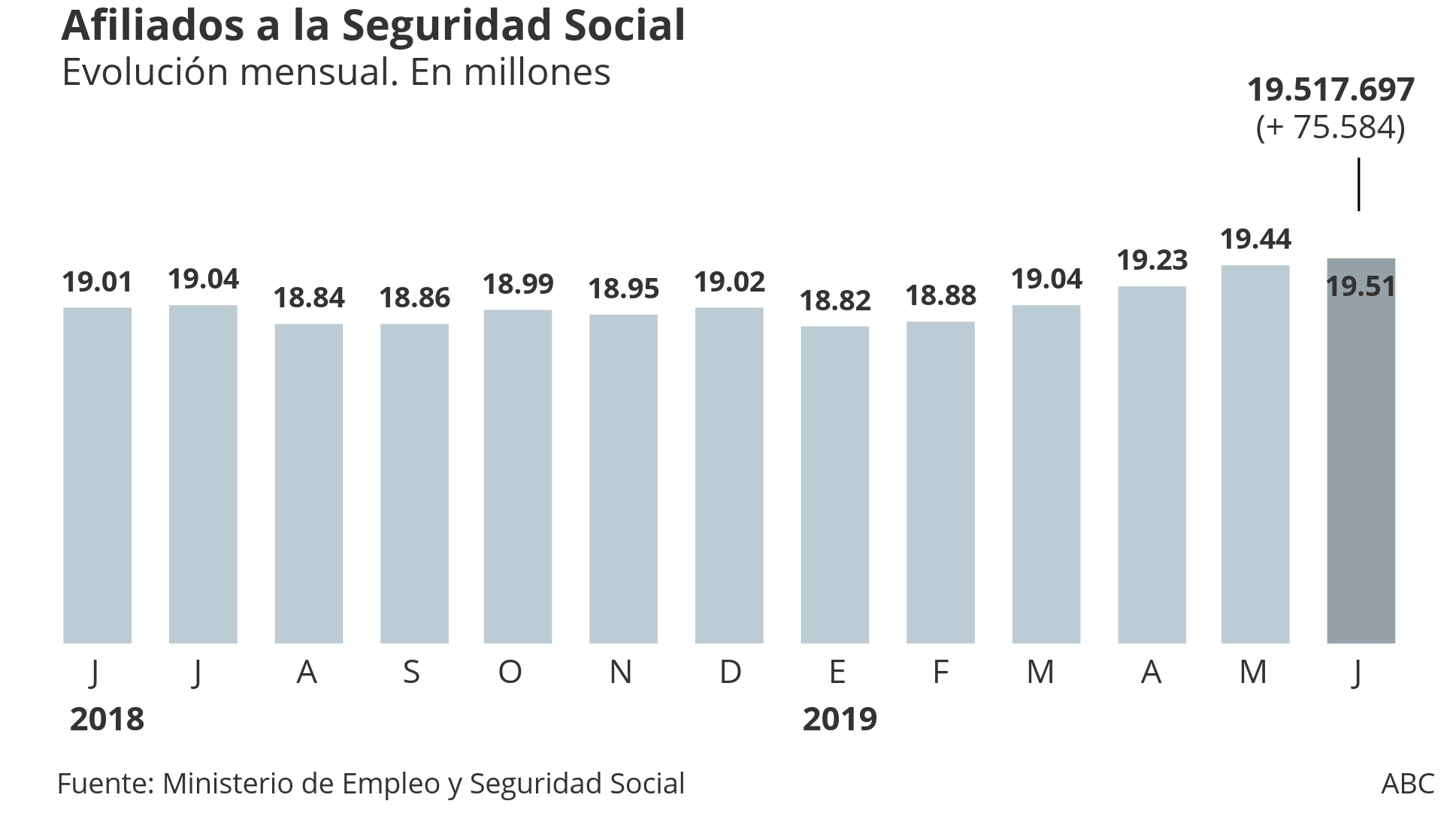 Regarding the affiliation, by regimes, the General has registered an increase of 65,014 people (0.40%), which increases the figure to 16,162,452 employed. What represents the highest figure of the entire historical series, from the integration of the Agrarian and Home regimes. If the integrated ones are eliminated in 2012, the pure General Regime, this also registers its most lustrous figure: 16,162,452.
Affiliation by sectors and autonomies
The increase of the affiliation to the Social Security has taken place in June in the majority of the Autonomous Communities, especially in Catalonia (28,596), Baleares (23,127), Castilla-La Mancha (10,731), Community of Madrid (9,838), Castilla and León (7,706), Aragón (6,851) and Galicia (6,787). It has also descended in two autonomous communities: Andalucía (33,321) and Región de Murcia (2,081).
Affiliation growth has spread like an oil slick through the majority of the economic sectors, especially in Hospitality, with 37,225 (2.63%); Health Activities and Social Services, 31,799 (2.06%); Trade and Repair of Motor Vehicles and Motorcycles with 28,217 (1.16%), Administrative Activities and Auxiliary Services, 21,395 (1.62%); Manufacturing Industry, 10,551 (0.57%) and Construction, 7,809 (0.88%). On the other hand, with the end of the course, in Education there has been a sharp drop in enrollment, of 5.46% and the departure of 53,423 people.
As for the Autonomous Regime, this has 3,286,600 people after increasing just 0.27% this month. That is, in 8,745 people. With respect to Special Agrarian System, has registered 30,927 less employed persons (-3,83%), and located in 777,328 affiliated and average affiliates. What coincides with data similar to those in recent years after the end of some of the major agricultural campaigns. At Special Household Employees, for example, will It has produced the decrease of 1,163 people (-0.29%) and located in the 405,701 workers.
Temporality in new contracts
However, recruitment is still characterized by its temporary nature: Specifically, in the sixth of the year, 2,009,011 contracts have been registered, of which only 174,159 have been of an indefinite nature. 1,823,177 temporary contracts and 11,675 of training character.
On the other hand, the indefinite contracts during June have been divided, as regards the duration of their working day, into 103,531 full-time and 70,628 part-time.
Strong declines in Catalonia or Castilla y León
By regions, registered unemployment has declined in all the Autonomous Communities, especially in Catalonia (-13,819), Castilla y León (-7,169) and Madrid (-6,523). The reduction of unemployment has spread to all economic sectors, less Agriculture. The largest percentage decrease corresponded to the group called "Without Previous Employment", with 7,994 fewer unemployed, followed by the Services sector, with 51,752 fewer unemployed; Industry, 5,808 unemployed less (-2.17%) and Construction, with a decrease of 4,066 unemployed. However, Agriculture unemployment has increased by 5,815 people.
At the level of benefits, the coverage rate of the protection system has reached 60.1% in May of this year, which means an increase of 4.1 points percentage compared to a year ago. So the number of beneficiaries has been at the end of May in 1,745,593, 1.7% more in relation to the same month of 2018.
The amount of the payroll for unemployment benefits has amounted to 1,457.5 million euros, 8.5% more in relation to the same month of 2018.
. (tagsToTranslate) unemployment (t) registered (t) June



Source link