Historic breakthrough for the Spanish women's team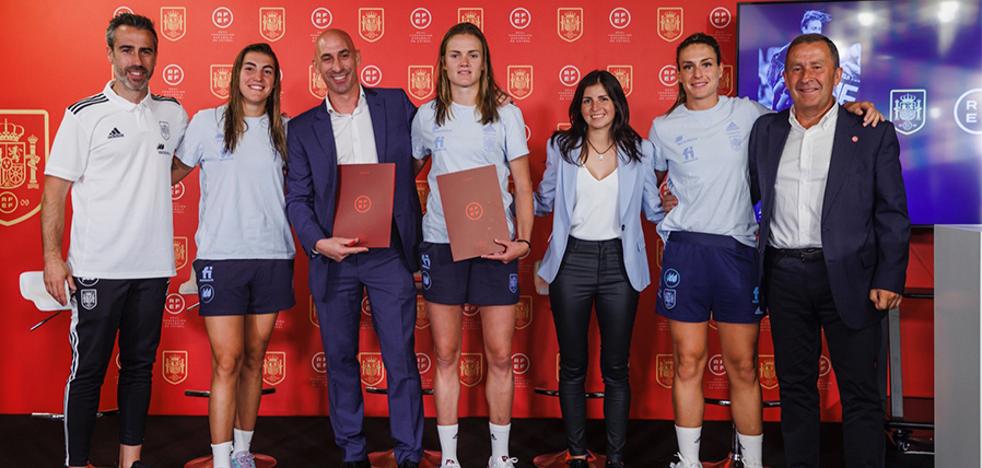 The Federation equates the percentages of bonuses and image rights between men and women before the European Championship, but the economic differences are still abysmal
The Spanish women's soccer team is a little closer to the great powers. At least in terms of the conditions of the players regarding premiums, travel and image rights, under which Spain will face the European Championship in England next July.
The Spanish Football Federation (FEF) has presented this Tuesday an agreement for the next five years -a cycle that includes the next two European Championships and World Cups, in addition to the Paris '24 Olympic Games in case of qualification- for which it equals the percentage of premiums based on sponsorships and awards received by the men's and women's soccer teams.
This does not imply that women and men are going to receive the same amounts, since these will continue to be subject to the global amount of income of each group, but it does represent an important step that places Spain on a step in which the large world women's football powers, such as Norway, Denmark, Finland, the Netherlands, England, Ireland, New Zealand, Australia and the United States.
Precisely the American women's team, current world champion, is the only one that, in addition to this equalization of conditions, equally distributes the total amount of income from sponsorships, prizes, television rights and ticket sales that add up to the men's and women's teams in the World Cups, something unprecedented in world sport.
Jenni Hermoso's injury

"It is a historic day and we are pleased to share it with everyone. I want to thank President Luis Rubiales for his interest in signing this agreement. This reinforces the commitment of the FEF with the players and the Spanish women's team", valued Irene Paredes, captain of the Spanish national team, at the staging of the agreement, together with the president of the FEF and her teammates Alexia Putellas and Patricia Guijarro.
This milestone regarding the conditions of the Spanish internationals was the good news of a day that left another very bad: Jenni Hermoso's injury. The Barça striker falls out of the European Championship in England due to a grade two sprain of the internal lateral ligament of the right knee and leaves the coach Jorge Vilda without his best option for the tip of the Spanish attack.