Hispanics debut with a comfortable victory against Iran for the International Tournament of Spain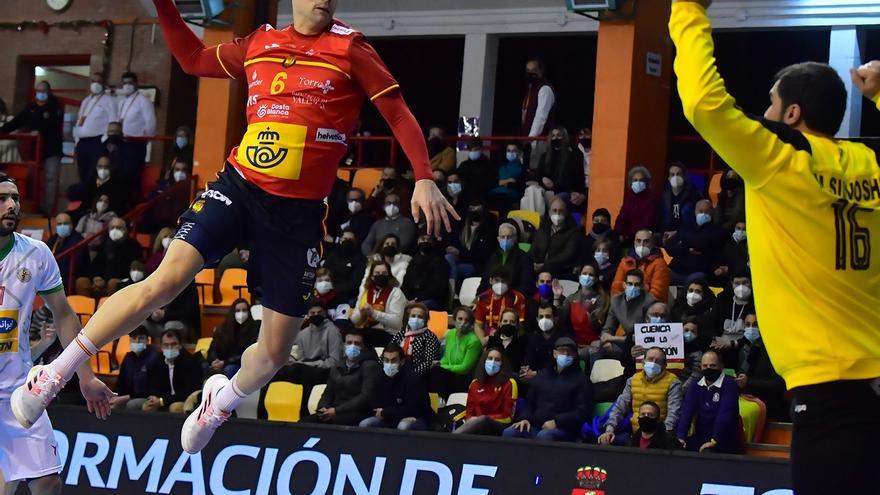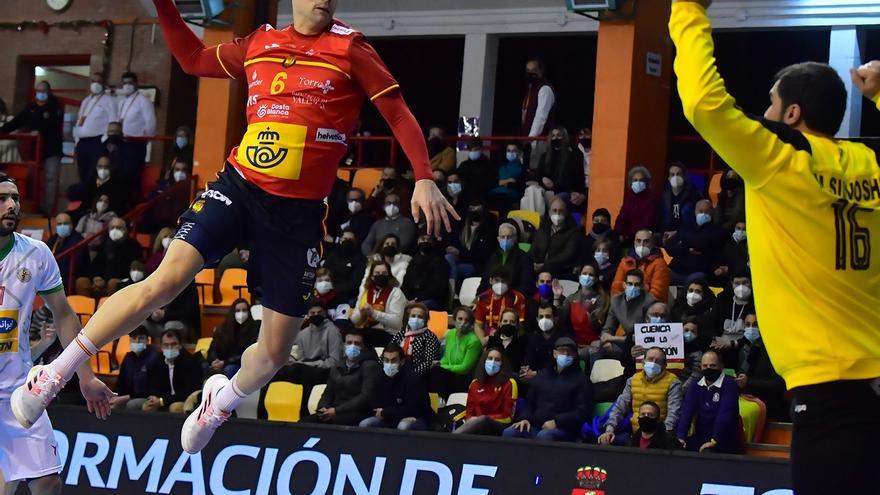 The Spanish men's handball team thrashed Iran (36-22) on Thursday in the first match of the International Tournament of Spain 2022played at the El Sargal Sports Center in Cuenca, where the 'Hispanos' offered great sensations with a stellar Sergey Hernández in goal.
Jordi Ribera's pupils had no problems to finish off their rival and from very soon they began sending on the scoreboard. Iran, directed by the Spanish Manolo Montoyatried to escape from the superiority of Spain, which began in the best way its preparation for the European Championship in Hungary and Slovakia.
The 'Hispanics' took time to carbure against an Iran that only attended the tournament with 11 players due to bureaucratic problemsbut it mattered little because of Sergey Hernández's stops. A recital that completely contained the Iranian initiative and allowed his followers to take a breath, who were advancing hand in hand with Ferran Solé.
The Iranian goalkeeper, Mohammad Shiavoshi, also claimed prominence, who it was delaying the juiciest advantages of Spain, although it could not work miracles either. At 15 minutes the scoreboard already reflected a clear 9-4 for Spain with Ferran Solé leading and scoring.
Another timid reaction from the Iranians was stopped by Odriozola on the counter and Antonio García, with another great outside shot. Two players who performed at a very high level in the final stretch of the first half, in which Agustín Casado also stood out. Spain went 18-9 at halftime.
In the second half, Afshin Sadegui tried to make up the score with the outside shot and Chema Márquez, Peciña, Ángel Fernández and Jorge Maqueda suffered the tremendous success of Kazerooni in goal. Spain was getting stuck, although it was only a few minutes. A time-out by Ribera redirected the situation without endangering the scoreboard.
Aleix Gómez -from the end-, accompanied by Sergey Hernández, again, holding Spain under sticks, they closed a comfortable triumph for the 'Hispanos'thus certifying the first victory in the International Tournament of Spain 2022. This Saturday, starting at 8:00 p.m., they will play their last match before traveling to Bratislava and making their debut in a European Championship. It will be against Poland in their second match at the TIE.
DATA SHEET.
- RESULT: SPAIN, 36 - IRAN, 22 (18-9, at halftime).
-EQUIPMENT:
SPAIN: Pérez de Vargas (p), Rodrigo Corrales (p), Sergey Hernández (p 1), Gurbindo, Peciña (1), Maqueda (1), Fernández (2), Ferran Solé (4), Figueras (2), Cañellas (2), Casado (4), Antonio García (2), Aleix Gómez (6), Ariño (1), Gedeón Guardiola (2), Tarrafeta (2), Sánchez (1), Márquez (1) and Odriozola ( 4).
IRAN: Mojtaba Heidarpour (1), Mohammadreza Kazemi, Sajad Esteki (4), Pouya Norouzinezhad (4), Yasin Kabirianjoo (2), Mohammad Siavoshi, Mohammad Kiani, Ali Rahimi Kazerooni (1), Mohammad Gholamiesbouei (5), Afshin Sadeghi (5) and Younes Asari (5).
-REFEREES: Miguel Soria and David Monjo (ESP).
-PABELLÓN: El Sargal de Cuenca.