Higgins and Oriola shine in an insatiable Barça also in Europe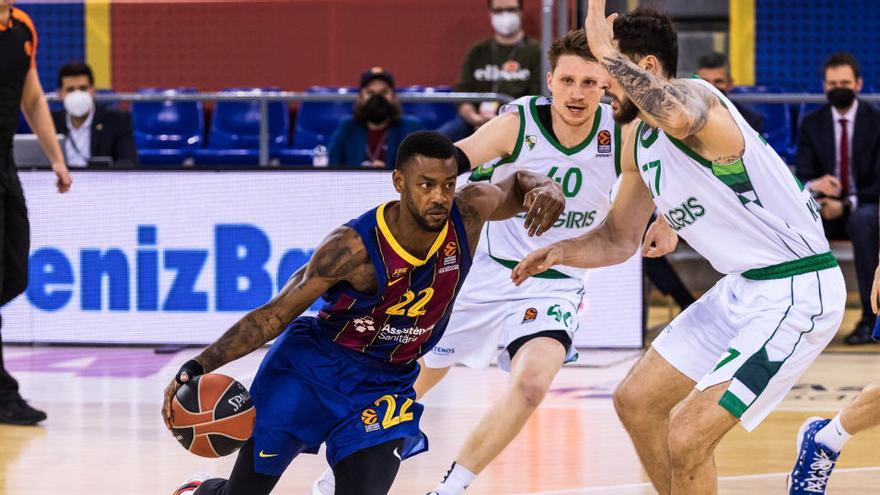 Barça extended its great moment of form to the Euroleague after winning the Copa del Rey and he had no mercy on the Zalgiris Kaunas, who was beaten (86-62) at the Palau, powerless against the basketball total of those of Sarunas Jasikevicius.
The azulgranas played one of his best matches in Europe this season with Cory Higgins starring in the first half with 17 points and Oriola shining in the second to finish with 19 points, the same as the American.
Jasikevicius' team also offered a whole defensive recital from the second quarter, annulling the best trick of the Lithuanians, the shot of three, with alternative defenses and conceding only 38 points in 30 minutes. Jasikevicius's team suffered the usual success in the Lithuanian triple at the start of the match (12-13, min. 4) but Oriola and Higgins redirected the situation in just one minute (18-13, min. 5).
Zalgiris returned to the charge with the points of their pivots (22-24, min. 9) but a Davies basket left the tie on the scoreboard at the end of the first quarter. Barça perfectly controlled the game from the defense with only 13 points conceded in the second quarter. Zalgiris did not score, did not score a triple sol in the entire period and Oriola held Lauvergne well, leaving the Lithuanians without offensive arguments.
Davies and Mirotic scored near the rim and a new streak by Higgins led Barça to their maximum difference (46-34, min. 20). The American guard signed a perfect first half with the basket that left 48-37 at halftime. The azulgranas gave the definitive pull at the beginning of the second part It started with a triple by Nikola Mirotic and ended with Davies putting a twenty-point lead on the scoreboard (59-39, min. 26).
Zalgiris only added from the free throw line, which made it easier for the locals to extend the difference to a 25-point lead (71-46, min. 30) with Davies unstoppable near the basket. Pierre Oriola took the scoring relay from the American at the beginning of the last quarter with six consecutive points that brought the difference to 28 points (77-49, min 33) and finish the game equaling Higgins's 19 points.
Data sheet
86. Barça (24 + 24 + 23 + 15): Calathes (4), Higgins (19), Abrines (3), Mirotic asc (10), Oriola (19) -starting team-, Davies (12), Hanga (2), Bolmaro (8), Smits (4) , Kuric (3), Pustovyi (2) and Martínez (-).
62. Zalgiris (24 + 13 + 10 + 15): Walkup (3), Grigonis (8), Milaknis (8), Hayes (9), Lauvergne (8) -starting team-, Jankunas (3), Geben (6), Rubit (6), Lukosiunas (2), Jokubaitis (6) and Vasturia (3).
Referees: Ryzhyk (Ukraine), Pastusiak (Poland) and Silva (Portugal). Without eliminated.
Incidents: match corresponding to matchday 25 of the Euroleague contested without public at the Palau Blaugrana in Barcelona.