Hens confined by bird flu: "If they are locked up for a long time they become more aggressive"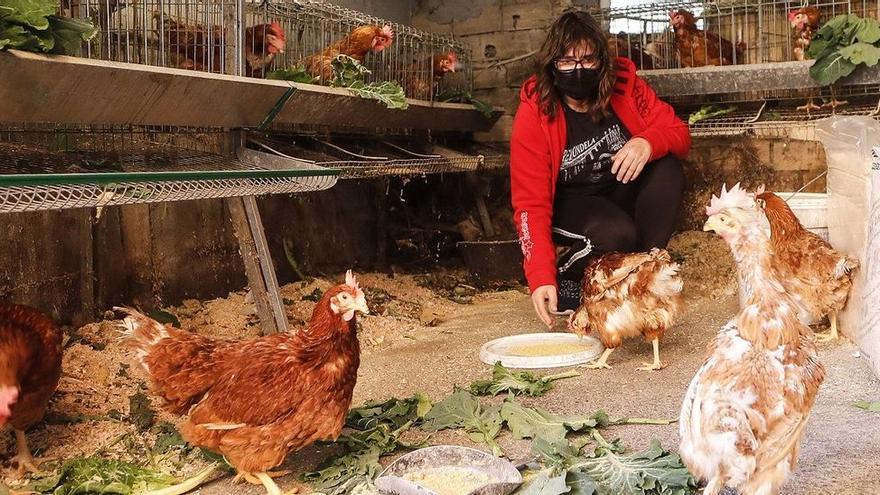 At 92 years of age, Margarita Blanco says that one of the first things he does after getting up is to go down to the henhouse to "drop more pitas", condition the troughs, collect the eggs that have been laid and add some vegetables and a little "picón" to them. Later, he takes most of the chickens to an area of ​​his farm and they spend part of the day there until it is time to "roll them over", so that they spend the night sheltered and avoid "that he sees foxes and nolas mate," he says. Daisy flower.
From now on, this neighbor of the Vilar de Infesta parish and her family will have to change their routine and modify breeding habits, and the fact is that the Redondela council is one of the 34 municipalities in which the Ministry of Rural Affairs has prohibited the free-range breeding of poultry after the arrest of outbreaks of avian flu in various countries of the European Union, including Spain .
Margarita Blanco says that there were always animals in her house. "We raise pigs, cows, poles and galiñas, everything for or I serve the house, to eat us"Although he points out that he does not know much about bird flu, his daughters explain that, to date, luckily, they have never had any problem with it and they have been raising poultry on their farm for 70 years.
For this family of the Redondela council, the new measures dictated by the Xunta Galicia will imply that seven of their twelve hens will no longer be able to roam freely on the land that they usually had, since from now on they will have to confine them in closed facilities under cover. to avoid contact with any type of wild bird.
Although it is true that in the house of this family in Redondela they already have a covered chicken coop and with the respective closures to keep the animals, so they will not have to make any changes in this regard, when Margarita Blanco is asked if This may lead to a change in behavior among domestic birds. This neighbor from Vilar de Infesta does not hesitate to answer that "of course!". Due to her experience, Margarita assures that "they dye themselves moito tempo pechadas end up becoming more aggressive, they fight between them, they pick each other as well as others and They can even bite you when you are going to throw them away from eating or drinking ", indicates.
Another of the indications that the Ministry of Rural Affairs has established to avoid possible sources of avian flu infection is that it will be forbidden to give poultry water from surface tanks, fountains or others that wild birds may have previously accessed. In this regard, said measure will not affect this family of the Redondela council, since they affirm that "As nosas galiñas, let us have automatic drinkers and water that we carry and own the pool", they aim.
Galicia shields itself against bird flu
It was first described in Italy in 1878 - a rare disease that killed birds on Lombardy farms in just 24 hours. But the avian flu it was not identified as an Influenza virus A type virus until the middle of the 20th century. And since last August, originates new shoots all over Europe, starting with the Czech Republic and Slovenia. In December, cases were already detected in France. Now Galicia is shielded against this spread that already puts poultry producers on alert, in the face of possible restrictions. At the moment, the Xunta imposes confinement in 34 councils of poultry although no cases have yet been detected. In these municipalities, free-range breeding is prohibited. All owners, both individuals and farms, must confine the animals in closed facilities or cover the corral with a net.
The most affected area is Pontevedra with 20 municipalities subject to the restrictions. Seven of them are included in the areas of special risk: A Illa de Arousa, Cambados, Meaño, O Grove, Sanxenxo, Ribadumia and Vilanova de Arousa.
Another thirteen are from the area of ​​special surveillance, with some risk: A Guarda, Marín, Meis, Moaña, Poio, Pontevedra, Redondela, O Rosal, Soutomaior, Tomiño, Tui, Vilaboa and Vilagarcía de Arousa.
Seven councils of the province of A Coruña remain in the same situation: Dumbría, Mazaricos, Ortigueira, Porto do Son, Ribeira, Vimianzo and Zas. In Lugo there are two affected municipalities (Ribadeo and Trabada) and in Ourense there are five others: Porqueira, Rairiz de Veiga, Sandiás, Vilar de Santos and Xinzo de Limia.
What are the restrictions on poultry farms? According to the Ministry of Rural Affairs, their breeding in the open air is prohibited: the animals must be confined in closed facilities and covered. If this option is not available, the pens may be covered with nets to prevent contact with wild birds.
Precisely, these outbreaks are usually spread by the migrations of wild birds. Transmission is not carried out by the consumption of its meat, but by close contact with an affected animal: alive or dead, through its fluids. The Consellería do Medio Rural emphasizes in this regard that the use of hunting claims with ducks such as ducks or charadriiformes such as seagulls is also prohibited. Ducks, geese or geese may not be raised together with other poultry. These birds may not drink in surface tanks, fountains or other water spaces where wild species have drunk, unless their prior sanitation is guaranteed to inactivate the possible avian influenza virus. Therefore, those deposits that are outside must be protected.
Concentrations of specimens, such as exhibitions or markets, be they poultry or other types such as ornamentals, are also prohibited.
In addition, owners must register their family pens in the Galician Register of Poultry Farms of the Consellería do Medio Rural. The purpose of this census of family poultry farms is to have them located and thus be able to protect them in the event that an outbreak of bird flu appears in Galicia. "It does not have any purpose of control or inspection of this perfectly legal activity and that it is not considered a livestock activity," they add from the Xunta.
On December 12, the Ministry of Agriculture, Fisheries and Food raised the level of risk of the appearance of the disease after the detection of High Pathogenicity Avian Influenza in different European countries. The danger has been increasing, which is why the Galician measures are implemented both in areas of special surveillance (ZEV) and in those with very high risk (ZER). Already last week, the General Directorate of Livestock, Agriculture and Agrifood Industries notified the agents involved in the veterinary health alert to maximize biosecurity and warn of any suspicion.
Although transmission originates more easily in wetland birds located in high-risk areas or areas of special vigilance due to the migratory impact of wild birds, the Xunta admits that "a possible infection in domestic birds could also occur in other parts of the territory. Galician, so the measures are recommended for all of Galicia ". Throughout the community, it is advised to avoid contact between domestic and wild birds. Until now, all the results analyzed in laboratories of the specimens in Galicia have been negative.
What's more, The Xunta rules out the possibility of contagion with humans in the case of the serotype that circulates in Europe: "At the moment, there is no evidence that the H5N1 serotype, circulating in recent months in Europe and Spain, has zoonotic capacity; that is to say, that it is transmissible to people ". But Medio Rural also recommends that unnecessary contact with animals found injured or dead be minimized.
The Department has open the reception of communications before the possible detection of birds of any species that present a compatible symptomatology. According to the Ministry of Agriculture, Fisheries and Food, "the symptoms are variable and depend on the virulence of the virus, the incubation period is two days, followed by a high mortality that occurs between three and five days."
The Ministry also clarifies that the possibility of contagion of bird flu between people is zero, "and between animals and people very low in Europe since there is almost never such close contact between birds and human beings as that occurs in countries".