Hell for hypochondriacs – La Provincia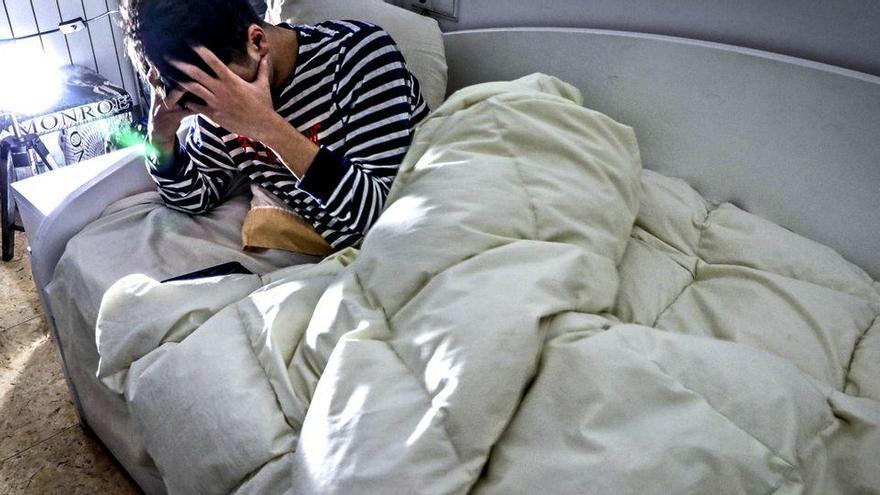 Antonio J. began to feel depressed during the confinement. This 70-year-old widower from Alicante was a man with an active life and a state of mind that entered normality. During the long confinement due to the pandemic of coronavirus He was unable to see his children and grandchildren and began a depressive picture that led to a terror of going out. He refused to see his family in case he was infected and often called the health center to ask if the nonspecific discomfort that afflicted him could be due to Covid-19. Today, and with psychotherapeutic support, He returns to interact with his family again maintaining security measures and has resumed some of his previous daily activities. You are already beginning to associate your physical ailments with anxiety and not with the virus so you do not need to continually call your doctor.
Like this septuagenarian, there are many people who suffer from hypochondria or who have even developed it after this reality shock caused by the pandemic. This disorder is linked to poor management of anxiety and those who suffer from it have a very strong fear of diseases and they even believe that they suffer some serious ones, without it being the case, so they interpret any physical sensation as a sign of said "imaginary" pathology. Experts in Mental Health explain that recent national studies indicate that before the pandemic 5% of the population had hypochondriacal behaviors, while the percentage has tripled with the health crisis, also depending on how the virus has attacked by geographical areas.
According to Dr. José Vicente Baeza, head of Mental Health at the General University Hospital of Elche, there is a high volume of older people who have become depressed and hypochondriacal fears appear due to the fear of dying due to the covid or having to enter, coupled with depression who have suffered. It indicates that this disorder does not distinguish between age or gender. In addition, those who suffer from it are usually insecure, obsessive and highly influenced by external stimuli, so this constant fear of the disease increases when they meet someone close to them who is not feeling well and even the high media exposure about the virus nothing helps them. On the other hand, «they need to go to the consultation weekly. With the confinement and now that they have problems accessing the doctor, because they take time to call them, they suffer that lack of protection and the fear and insecurity due to access to the emergency room increases much more», According to Baeza.
José Javier Rodríguez Cerdá, psychologist, indicates that the work with those who suffer from these emotional problems is based on «reduce avoidance and escape behaviors, because the act of living has to continue». That is, to prevent fear from exceeding the limit of protecting and becoming a problem of mismanagement of anxiety. In the same way, he reports that in the first wave he recorded more cases than at the moment since people became more psychologically affected by the break with society that the confinement supposed. On the other hand, there are also cases of people who have felt protected at home by being locked up and teleworking 24 hours a day and now face a drastic change when they return to work and social relationships, to the point that some become isolated and they minimize encounters.
From the Mental Health Association of Elche they clarify that there is no generalized pattern to detect hypochondria, understood as a manifestation of deeper psychological conflicts in relation to self-esteem and security in oneself and relationships with the environment. Regarding the treatment, it is highly variable. It can last about five years if they are not chronic patients and regardless of their supply of anxiolytics they require psychological help to de-dramatize symptoms that make them think that their fate will be fatal. A virus that helps them feel understood
The health crisis has also shown the other side of the coin for those who suffer from hypochondria, even finding positive responses. It could be the case of Luisa M. This 26-year-old young woman from Elche has resorted to continuous medical check-ups in recent years for endless digestive, respiratory, neurological complaints … and she always believed she had cancer, so the anguish made her recur constantly on anxiolytics because he believed that no one had yet discovered the "tumor" that caused his discomfort. He often seeks second opinions from other doctors and undergoes multiple diagnostic tests. When the pandemic began, her family thought she would suffer a decompensation and would become much more anxious. However, her answer was just the opposite, since she was the only member of the family who dared to go out and do the shopping.
She said that «I can avoid the virus by following security measures, but my tumor that nobody has just discovered I cannot control …, the virus is dangerous and can make me sick, but my tumor is much more serious than the coronavirus ». According to Javier Sempere, psychiatrist, and Claudio Fuenzalida, psychologist, from the Mental Health Association of Elche, where they have treated both this case and the previous one, the fear of hypochondriacs lies in suffering an imaginary disease that they cannot control, and they feel misunderstood and treated like crazy. "However, the coronavirus exists, it is on the street, it is real and we are all afraid of the possibility of being infected … they no longer feel strange or misunderstood and the fear of the coronavirus is considered a" natural and collective "fear" .