Helena Girón and Samuel M. Delgado compete at the Rotterdam Festival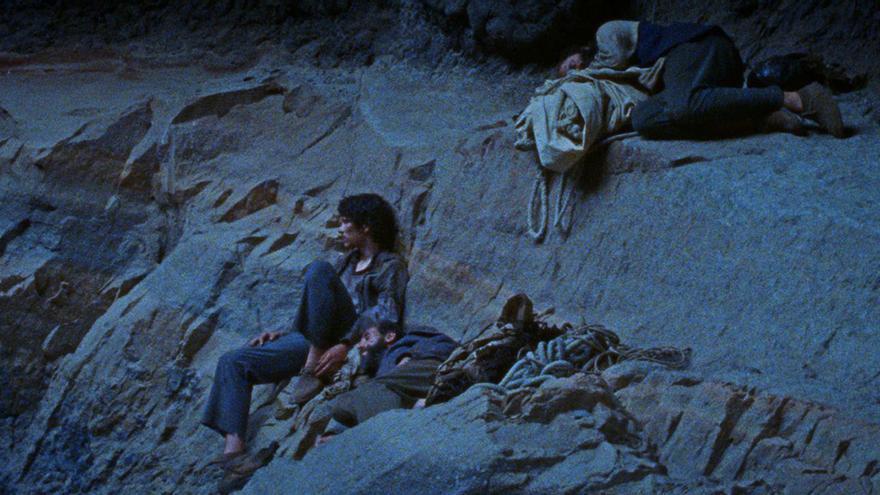 After receiving the Prize for Best Technical Contribution at the 36th edition of the Critics' Week at the Mostra de Venecia and a Special Mention from the Jury of the Zabaltegi-Tabakalera Section at the 69th edition of the San Sebastián Festival, Eles transports morte, by Canarian filmmakers Helena Girón and Samuel M. Delgado, is taking part in the Bright Future Section of the 51st Rotterdam Film Festival.
The film competes with a selection of first works, characterized by their original theme and individual style, which represents the most innovative trend in recent contemporary cinema. In this virtual edition, the film will be available to the press and accredited professionals on the event's website, from today until February 14.
Eles transportan a morte questions the epic of the stories of conquest to develop a critical discourse on colonization, its representations and its repercussions. This co-production between the Galician company Filmika Galaika (Sycorax, Longa Noite) has also won the Prize for Best Direction, Best Music and Sound Design at the Toulouse Cinespaña Festival, the Prize for Best Artistic Contribution (in the Photography section) at the Cairo Film Festival, the Xacobeo Award at the Ourense Festival and the Best Film Award at the Pontevedra Novos Cinemas Film Festival.
The film questions the epic of the conquest and poses a critical discourse on colonization
The cast of Eles transportan a morte is made up of Nuria Lestegás, Sara Ferro, Xoán Reices, Valentín Estévez and the filmmaker and actor from Gran Canaria David Pantaleón (Blanco en blanco).
For their part, Samuel M. Delgado, from Tenerife, and Helena Girón, from Galicia, make up a renowned cinematographic couple, whose works explore the relationships between mythology, materialism, and perception. His short films and installations have been programmed at international festivals such as the Toronto International Film Festival, the Locarno Film Festival, the New York Film Festival or the San Sebastian Festival, among many others. Together they have made the short films Irmandade, Plus Ultra, Burning Mountains that Vomit Fire, Without God or Santa Maria, and the installations and performances The Gods Are Present Here Also, There Is No Land Beyond, Listening Exercises and Wet Collection.
In the technical team of this new work, the contributions of José Alayón, also from Gran Canaria, director and producer who combines both tasks with the direction of photography-; executive producer Marina Alberti, Manuel Muñoz Rivas, Silvia Navarro, Carlos E. García and Camilo Sanabria.
All in all, the shooting of Eles transportan a morte took place over four weeks in different locations in Tenerife and Orense.