Helen Mukoro, the false spokeswoman for UN Women who wanted to preside over Spain | Society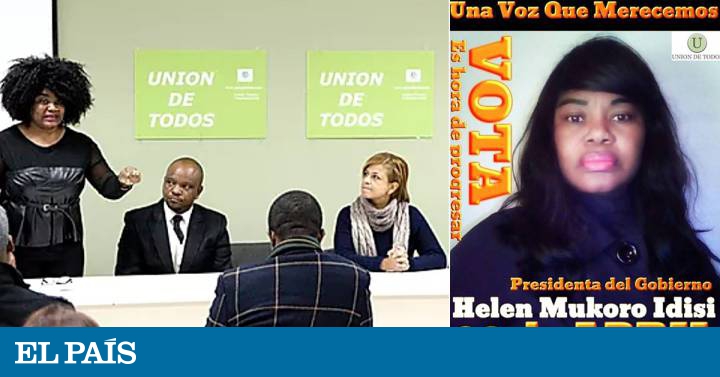 Helen Mukoro has many cover letters. Candidate to President of the Government and / or mayor of Dénia. Private detective, forensic expert, journalist, legal advisor. Singer. She defined herself as an "advisor on diaspora and auxiliary affairs" of her province in the Delta State of Nigeria, where she was born according to several biographies in 1969. She has Spanish nationality. "They offered me a political position and I will work from Spain," he told the organizers of one of the last talks in which he participated as president in Spain of UN Women. At least this last charge is false. The National Police arrested her on Thursday in Dénia (Alicante) for posing as the president of this branch of the United Nations in Spain and raising funds for supposed projects related to the institution.
"I never suspected, I considered it well. I found it very enterprising. I'm stunned, "explains Josep Juanbaró, President of the Societat per la Difusió de Les Realitats Culturals Africanes (SDRCA). Juanbaró recommended her for a conference in Barcelona on May 29, 2018. He covered his trip and the stay: "He made me pay for the hotel, breakfast and something else. About 500 euros in total. " Juanbaró met her eight years ago and, during this time, he has seen her "five or six times." He says he never suspected anything.
Mukoro, with whom this newspaper has tried to contact without success, appeared as headliner in the Barcelona talk to discuss trafficking in women. He focused on Nigeria. "He spoke with a lot of presence, very passionate. I knew a lot about the exploitation of girls and women and trafficking, it was their main cause, "adds Julia L. Tremols, president of the Món Comunicació Association, organizer of those days.
At the round table, according to some media, he denounced that "all states have some responsibility and have to respond jointly to women prostitutes." The Police attributed alleged crimes of usurpation of functions and fraud. It offered courses of judicial expert through Internet giving them a false official character. The investigation began in mid-2018 when the police learned that UN Women had denounced that she was allegedly posing as her president in Spain and also of the Spanish National Committee of UN-Women. The courses offered were distance learning, and he assured that once they had passed, the students could apply for a position as collegiate as a judicial expert.
Police arrested Mukoro in Dénia, where he has focused part of his political career. But not only. Since 2015, women have attended at least three elections in this town of Alicante and in Teruel, for municipal and general. This is how he defined his feat the web Break Thru Nigeria: "He has set a new record as the first woman and immigrant to be presented as president of a political party in Spain, Unión de Todos". Next to the text, she appears in an image coming down from a luxury car dressed in red and black and with its abundant loose curly mane.
In April 2019, he explained in an interview to El Confidencial I would repeat as a candidate but this time in Aragon: "I will be the voice of Teruel in Congress," he said then. He promised to mobilize the business and political class of Nigeria, including the president, to invest in the province of Turolense.
"I come from a proud family that has been involved in public service," he described on his party's website. He promised "more decent salary jobs." And he asked his potential voters: "Forget the colors. Vote your bread. Vote your stomach." In the 2017 generals, Unión de Todos was the least voted candidacy of Spain, with only 48 ballots. Nor did he get many endorsements in the last stores in Dénia. Rafael Carrió, mayor in the opposition for Compromis in Dénia, competed with her in these elections: "This story is about cinema, to make a movie," he says from the other side of the line. He remembers her at the head of an unusual campaign. Mukoro, megaphone in hand, shouting proclamations through the streets of the town. "No one knew her. It was quite extravagant, very striking. But then his program was not bad, "says Carrió.
Her different facets as a lecturer, false president of UN Women, singer or political promise have left their mark on the networks. The last one is just hours ago. Someone updated their Wikipedia page to include that she has been arrested for fraud.