Health enables a rapid sampling point for Covid-19 in the Gran Canaria Arena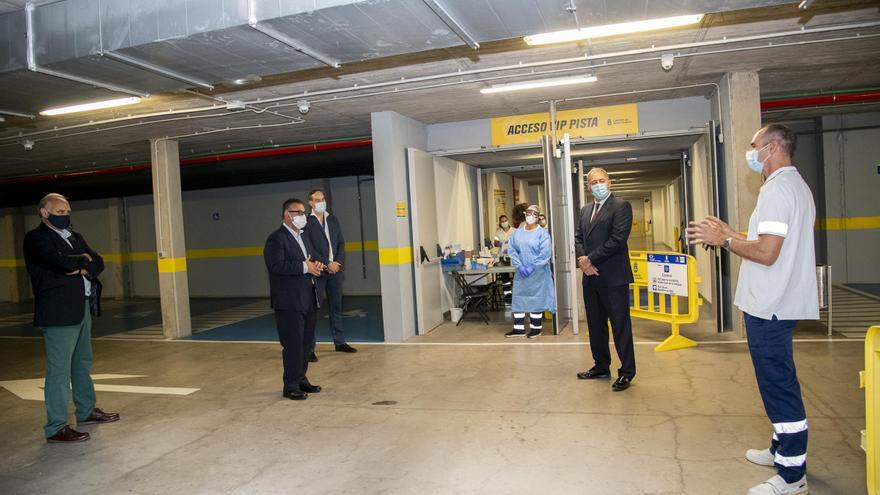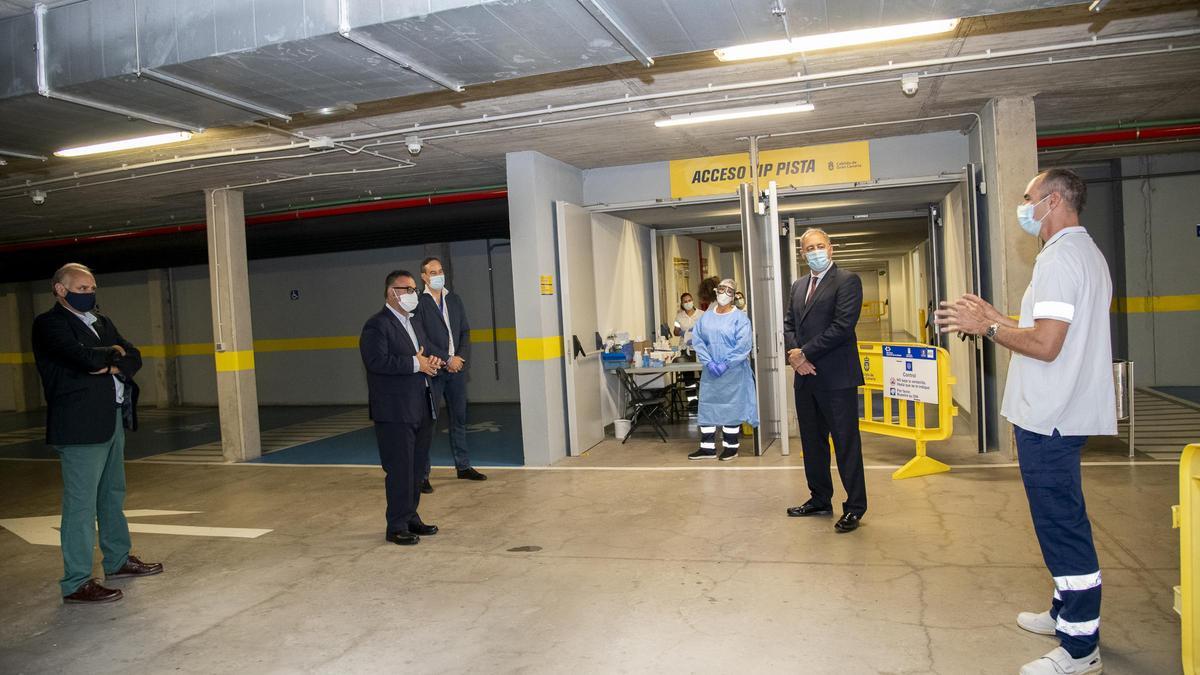 The Ministry of Health of the Government of the Canary Islands launches a point of sampling for the diagnosis of COVID-19 at the Gran Canaria Arena Stadium, in Las Palmas de Gran Canaria, which comes into operation from today and which will provide service every day of the week. This detection point, provided by the Cabildo of Gran Canaria, it replaces the one that had been used until now on the ground floor of the Elder Museum of Science and Technology.
The director of the Canarian Health Service, Conrado Domínguez, -who attended the opening of the same together with the Councilor for Sports of the Cabildo Gran Canaria, Francisco Castellano-, thanked the Cabildo for the collaboration provided by facilitating an alternative space to carry out the diagnosis of the coronavirus. Likewise, he also expressed his gratitude to the director of the Elder Museum, José Gilberto Moreno, for his involvement in the start-up of the device that has been operating for more than seven months in these facilities.
Domínguez pointed out that The new space set up by the Primary Care Management in the Gran Canaria Arena is also very accessible to the population who attends the test by facilitating transit in a spacious area of ​​the city.
Nursing professionals from the Primary Care Management of Gran Canaria carry out a daily average of 1,600 CRP for the diagnosis of Covid-19 to people previously cited for having manifested having symptoms compatible with the coronavirus; Although the central and most agile point is the Gran Canaria Arena with the capacity to carry out an average of 600 daily tests.
The space provided by the Cabildo of Gran Canaria It has been conditioned to carry out the tests and house the necessary material for the activity such as personal protective equipment (PPE), hand hygiene points, telecommunications equipment, waste disposal point, devices for the transport of samples, space for cleaning and disinfection of material, etc.
Accessibility
Having these devices facilitates accessibility for users and the work of professionals who can perform the tests quickly and safely since the test is simple, being carried out by introducing a swab through the nose without the need for the user get out of your car.
The samples are transferred in security support to one of the two reference hospitals in Gran Canaria and the results will be communicated by telephone, between 24 and 48 hours after the test is performed.
2000 PCR daily
Primary Care of Gran Canaria It has a total of 12 spaces for carrying out the PCR tests, which will soon be increased to 17. With the aim of bringing tests to citizens, detection devices have been implemented in 9 health centers in Gran Canaria, located in El Doctoral, Vecindario, Ingenio, El Calero , Santa Brígida, Alcaravaneras, Arucas, Teror and Gáldar; one in San Fernando de Maspalomas, an operational base in the Primary Care Management and that of the Gran Canaria Arena. In addition, new spaces are already being set up in five other health centers on the island: Carrizal, Escaleritas, Miller Bajo, Guanarteme and San Mateo. In total, with the new points, the sampling capacity will be increased until 2,000 PCR daily in Gran Canaria