"He lowered my neckline and put 50 euros between my breasts"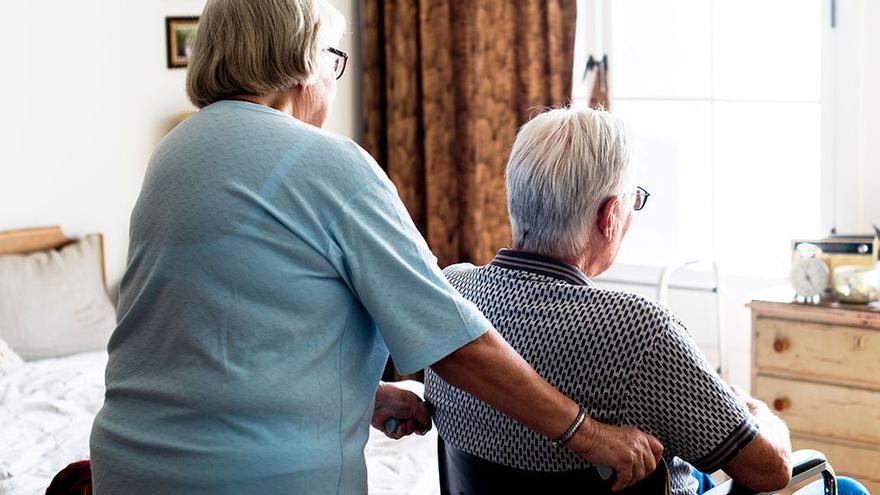 Luci is 26 years old and has already suffered the hell of seizures and sexual harassment that the aides of the home help service for dependents they relate as something everyday.
It was not an isolated case. "Another had a hemiplegia, with half his body paralyzed, and when I manipulated it to move it, he would touch my pubis or take my hand and put it on his genitals", continues on some moments lived in the privacy of the home where he was going to work for hours.
The assistants who help dependents denounce a silent epidemic of sexual harassment of relatives of their patients
Luci's is one of the many usual stories in this field. Cris, for example, something similar also happened with the husband of a user of the service who He put a fifty euro bill behind her and tried to kiss her in the mouth after grabbing her around the waist.
At first, she tried to solve the situation, always placing an object between her and the husband of the lady she went to help within a family respite service for her usual caregiver, who was her daughter. "I warned him not to go into the bathroom because he had scrubbed it and he could slip. While he was with his wife, I heard a scream and thought he had fallen. When I get to the bathroom, I see him naked, grabbing his genitals and saying to me: "This is what I have for you!", says Cris, who suffered an anxiety crisis as a result of that event.
The Workers' Commissions union estimates that half of the home help aides of Galicia have suffered a similar situation, a percentage that those affected even raise.
This service (SAF) is offered by the councils and financed by the Xunta through the Department of Social Policy. It allows dependents to receive care at home for a few hours, depending on their grade, so that a person can carry out housework or allow their usual caregivers to rest. But, in that environment, the assistants report suffering acts of harassment and even sexual assaults not only from the users they help, but also from their relatives, like husbands, children or nephews.
"There are very serious cases, from offers of money to have sexual relations to requesting fondling or even forcing workers to lock themselves in the bathroom"
Alejandra Gesto is the Secretary of Construction and Services of Comisiones Obreras in Galicia and tries to expose a hidden situation. "It is a fairly unknown matter and that there are very serious cases, from offers of money to have sexual relations to requesting touching or even forcing workers to lock themselves in the bathroom and call the National Police because of fear", Explain.
These assistants work for companies that receive the service concession and in many cases, when the beneficiary firm changes, the staff are subrogated. But it is a "very precarious sector," Gesto explains, with hourly jobs and meager payrolls, adding another burden to victims. "Those who have full time do not reach mileuristas, so imagine what we charge," explains Cris about the sector.
The contact between the workers is also scarce, which complicates the creation of a support network to share experiences and become aware of the dimension of the problem. "We try in the company committees that protocols are carried out for this type of situation and that when it is communicated by an assistant, they act quickly", says Gesto, who regrets a better business response. "In many cases, they withdraw the assistant and replace her with another, thereby blaming the victim, who can lose those hours of work," he complains. "And the worst thing is when she is relieved by a man," adds Manuela Caneda, also from CCOO, who asks for a strong hand: the best solution is the threat of decommissioning.
"The problem is added that the Labor Inspectorate cannot access these private homes," says Gesture on the formula to tackle this harassment.
The Official Colexio de Traballadores Sociais de Galicia himself regrets the "numerous deficiencies" of the SAF. "
"It is a very complex problem that has different lines of work and in which both users and workers are being disadvantaged"
"In my case, at first they doubted my testimony and forced me to return to the home where they had harassed me," laments Cris, who was prescribed anxiolytics to deal with the anxiety generated by this case. The daughter of her attacker was the one who acknowledged that it had happened to another woman.
Why didn't they report what happened to the police? A manifesto of the CCOO and UGT on the occasion of the Day Against Violence against Women on the 25th included that a report from the European Union estimates that 71% of victims of harassment and violence pointed to unemployment and precariousness as obstacles to reporting. Some case was even more, as Caneda recalls, about the son of a dependent couple who reacted to the rejection of his assistant by beating him in front of his daughter in the street. It happened years ago, he says.
"I did not report out of fear. Most of us do not have studies and what are you going to do if you lose this job "
"I did not report out of fear. Most of us do not have studies and what are you going to do if you lose this job. Imagine that they remove you from the house where you had that problem. You lose those hours of work and we talk about the fact that we charge 300 or 400 euros a month in cases like mine ", assumes Bety, who censures the" paternalism "with which these cases have been assumed. "Many colleagues say that it should not be taken into account, that they are grandparents, but it cannot happen ", he proclaims before remembering that the first time it happened was with a user over 90 years old who put his hand on his crotch. Another would corner her in the kitchen or bathroom asking for "sweeties."
The aforementioned EU report cited by CCOO and UGT indicates that sexual harassment at work is "another manifestation of gender violence suffered by women" and that In 2019, the Labor and Social Security Inspectorate registered 451 actions for sexual harassment and activated 325 protocols against these attacks. At the agency, this topic is still taboo.