He arrived by boat and was on the verge of beating the world boxing champion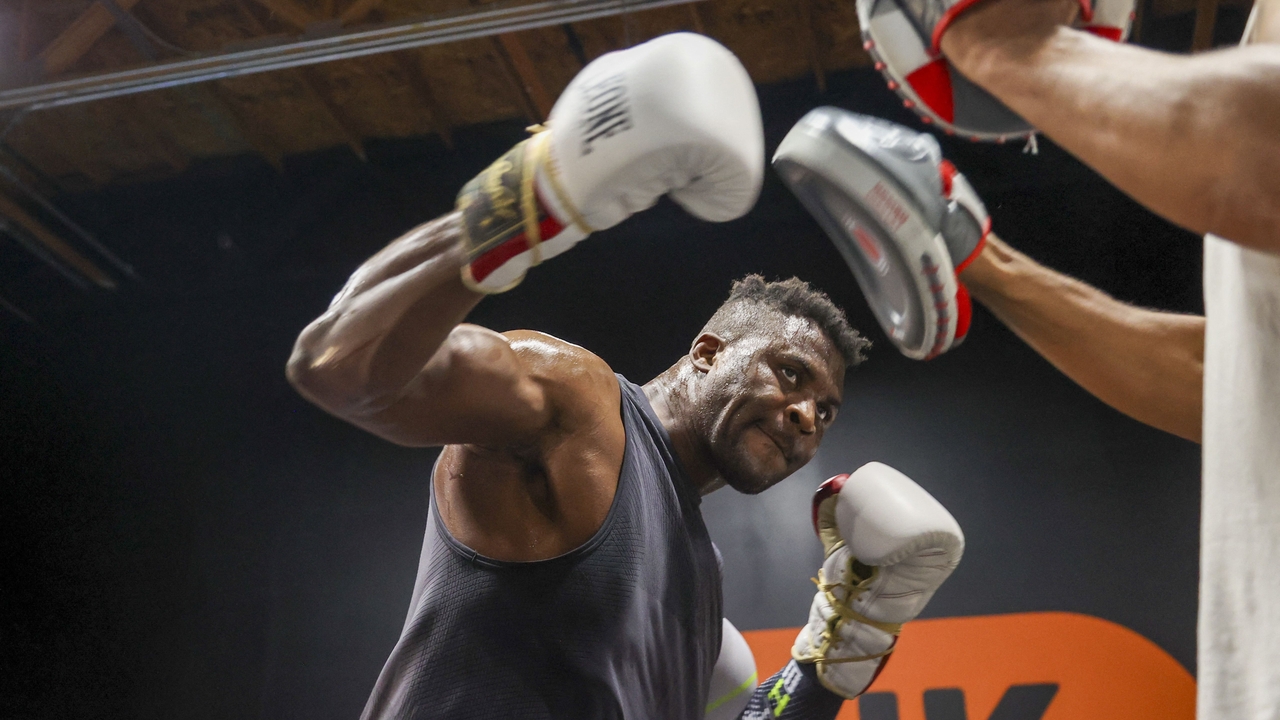 Nobody gave a penny for him. The bets anticipated a total disaster and the guild's experts had been in charge of heating up the atmosphere. In his chronicles, they mocked that Francis Ngannou (Baté, Cameroon, 1986) dared to fight against the undefeated world heavyweight champion, Tyson Fury, in his boxing debut. "The combat of morbidity and farce," they headlined. That October 28 in Riyadh, the capital of Saudi Arabia, nothing went as expected. Or, actually, everything was exactly as it should. Because if Ngannou has proven anything, alias "the Predator"in his career and in his life, surrender is not even contemplated.
Jero García, former boxer and national coach, was in charge of broadcasting that now legendary fight for DAZN: «It was amazing. The fight started normally, with Fury doing well. Since I get the direct audio from the ring, when he started punching Ngannou, I looked at my partner and said: ''But what is this? How does this guy's blows sound!'' And I wasn't wrong because in the second or third round he was knocked flat on his ass from the blow he hit him. From there the combat changed color. What we thought was going to be a pantomime, a triumphant walk by Tyson Fury, was the big surprise of the year. "It was very, very even."
Jero still has a tone of emotion in his voice three weeks after one of the fights of the decade. Although the judges gave the victory to Tyson, for him the winner was the Cameroonian. «For me, Ngannou won that fight. Barely, but she won. I would have given him eight of the twelve rounds. It is true that there is diversity of opinions. "Some even believe that the fight was void because it would be six rounds for each."
Just the fact that such a controversy exists demonstrates Ngannou's feat. It's as if Michael Jordan, after leaving the NBA, had "almost" won the Augusta Masters. Raised in a small town in Cameroon, from the age of nine he worked in the salt mines to help at home. His spectacular muscles began to be sculpted from there, but this guy is not just about power. There is something that comes out from within. A hunger that Jero considers the key to his success and that, in his case, is one in a million. «The special thing about Ngannou is his story of improvement. I think the important thing is the fighter, not the discipline. If you have a fighter inside, with good training you will win. This is what happens to him, he has a lion inside. He is a kid that his coach found on the streets of Paris. He has crossed deserts and countries illegally to make a living and feed his family. "He doesn't know how to give up."
The determination of this former mixed martial arts champion led him at the age of 20 to take the most difficult path to achieve the dream of becoming a fighter. He himself has declared to the newspaper "The Guardian" that he is still haunted by the images of that trip from hell. A route in which if you fell from the smugglers' truck or the engine seized in the middle of the desert, you were a dead man. The human skeletons that he glimpsed in the dunes attested to this. «You want to convince yourself that everything you experienced was a nightmare, that it was not something real. You don't want to carry so much burden, so much trauma and so many scars for your entire life.», confessed «the Predator».
Ngannou's journey 17 years ago is modeled on that of hundreds of thousands of illegals who cross the Strait to the coasts of Spain, paying millions to the mafias. In his case, it took seven attempts until he managed to set foot on Spanish soil. And all this with the fear that the water gave him because he didn't know how to swim. After a year in our country, and thanks to the fact that there is no automatic deportation agreement with Cameroon, he ended up on the street and headed to France. He lived in a garage that then seemed to him "a five-star hotel." after the mistreatment suffered in Morocco and began to frequent gyms in the French capital.
Francis Ngannou, 1.93 tall and weighing 122 kilos, debuted in the mixed martial arts league in 2015 and in 2021 he became the king of the heavyweight category in the UFC (Ultimate Fighting Championship). «In this fight anything goes. Hitting you on the ground, punches, knees, elbows... But it is completely regulated, eh, although it sounds very crude. It is a discipline that is all the rage in the United States, it is brutal," explains Jero. In addition to the lion's roar, this former boxer believes that the Cameroonian has a type of punch that makes him a fearsome rival. «It's difficult to find people like that. He has an extraordinary punch and something very difficult in heavy weights, where the blow is very forceful, and it hits you while you hit it. That is very dangerous. And then there is his decision to be the best, of course. He is a brave man.
The admiration for this African athlete who now lives in Las Vegas transcends fight fans. He is a reference for thousands of sub-Saharan immigrants who fight in Europe to get ahead. So much so that in France they tried to organize street demonstrations to claim the victory of his idol against Tyson Fury. That night of October 28, several gyms in Paris gathered their fighters to watch live a fight that is already part of the epic of this sport. What was at stake was not only the championship belt, there was much more. Francis Ngannou published a photograph on his Instagram after the fight in Riyadh in which he appears with his family and a Cameroonian flag behind him above the phrase "It has been more than a fight and we have won everything."