Hazard saves Shakhtar to debut in a classic at the Camp Nou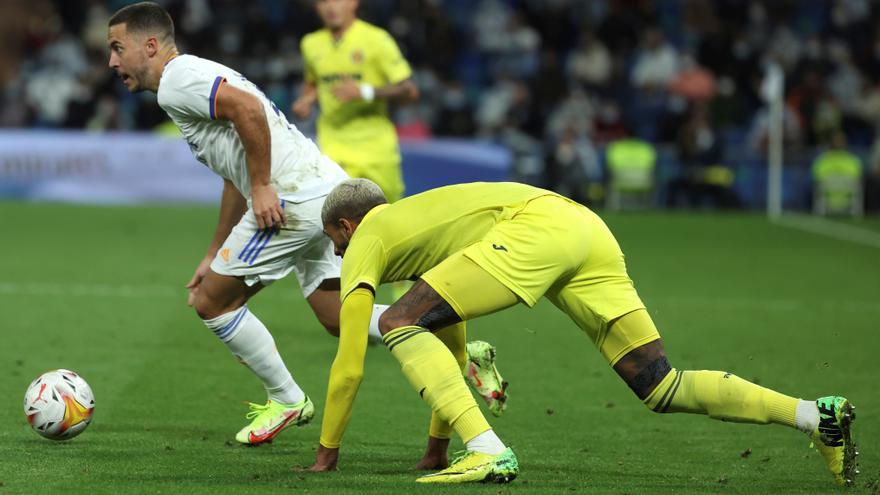 Eden Hazard I was happy in London. There he spent seven seasons on his own, without the coaches pressing him too hard. Nobody in the Chelsea He was concerned that he would come into the preseason overweight or his winter sluggishness in training. Rafa Benítez gave him freedom to get his best version, and with Mourinho had a tug of war for his lack of intensity. Although the day the London club fired the Portuguese coach, the Belgian sent him a conciliatory message.
The insistence of Zidane and the prestige of Real Madrid they convinced him to move to the capital of Spain, where he felt uncomfortable from the start. Hazard landed, before his surprised companions, out of shape and planning to use, as he did in Stamford Bridge, the first quarter of the season to get in tune and thus dazzle in the final stretch. But the demand of Real Madrid did not allow Zizou give it carte blanche.
Play and score
Hazard has repeated like a mantra an affirmation: "I am happy when I play, and when that happens, the goals arrive". Neither of the two premises has been fulfilled at Real Madrid. Two seasons and three months after his arrival, Eden accumulates 416 days off and 58 games lost due to injury. Seven muscle injuries, four due to blows, a fibular fissure and another in the foot, make up, together with the coronavirus, a disturbing medical 'record'.
This season Carlo Ancelotti talked to him to encourage him. Hazard started the season well, starting against Alavés and giving an assist. Eight games later, he has lost the title at the hands of Vinicius. For Ancelotti, Benzema and the Brazilian are fixed, and with Bale injured, that's where the Belgian should shine. But the reality is that Carletto he's tired of waiting for you. Of the eight games in which Hazard has participated, he has started five, in all of which he has been substituted. Accumulate 371 minutes, not 50% of what he could have played, and in attack only adds the assistance of Vitoria. Because you haven't scored yet.
Atypical situation
Real Madrid and the club have also gotten tired of him. Also, messages arriving from Belgium, where Roberto Martinez continues to give freedom to the back of Lukaku, they have not liked in Concha Espina. "His in Spain is a very atypical situation. We are all concerned. He is a player who needs to play matches in order to reach the highest physical level. What I have seen is that he was medically perfect ", warned the Belgian coach after the defeat in the semifinal of the Nations League in view of France, in which Hazard retired injured.
The next day it was confirmed that Hazard was only suffering from an overload, but the Belgian preferred to go to Brussels and start treatment with doctors of your choice. Something that has not sat at all well in the white club.
First classic?
Next Sunday, Real Madrid will travel to Camp Nou to be measured at Barcelona in the first classic of the season. It will be Hazard's fifth chance to make his debut in this type of match. The previous four were lost due to injury. Some annoyances have prevented him from traveling to Kiev to be measured at Shakhtar, but Ancelotti has pointed out, however, that "Hazard only suffers an overload and could be for the Camp Nou".
An encounter in which to test if the Belgian is still unhappy or, really, has his life changed, as he maintains, after moving in Madrid to a luxurious mansion with ten bathrooms with his wife Natacha and their children Yannis, Leo and Samy.