Hazard: "I don't see myself outside of Real Madrid"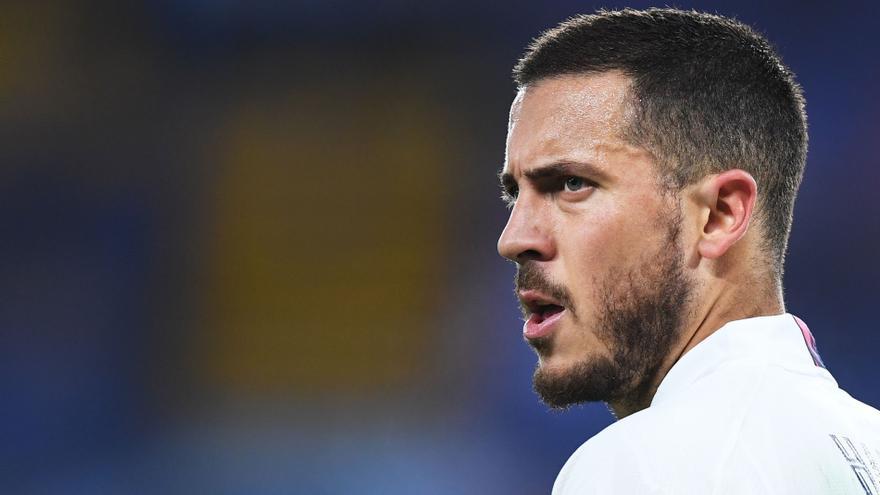 The captain of Belgium, Eden Hazard, declared this Monday that he does not plan to leave Real Madrid, club that he arrived at two seasons ago and in which he has barely been able to have due to injuries, and that just think about doing a good Eurocup and return to its highest level.
"I don't see myself outside of Real Madrid now. I have three more years of contract and we all know that the first few years have been bad. Now I have to think about the Eurocup and then be perfect for the club next year ", declared the captain of Belgium in a virtual press conference on the first day of concentration for the Eurocopa.
The player, who acknowledged that he still felt pain in his leg in his last game with Real Madrid, expects to get ready in the two weeks of preparation before the tournament starts, although he still does not know if he will train with the rest of the tournament. group or solo, and then get continuity that you haven't had during the season. "I know I'm close to my best level. I just need to chain matches (…). I am not one hundred percent, but mentally I am fine and physically I think it will come little by little", assured the captain of the 'Red Devils'.
Hazard also elaborated on the nature and state of his most important injury was to his right ankle, which required surgery and a badge that the player considered removing. "Not by taking it off you will be less injured (…). Although I wanted to take it off, taking it off was not the good decision (…). It is more psychological than anything else," said the 30-year-old player, who recalled that in the past he had a plaque and it did not prevent him from playing at the highest level without injuring himself.
"We have changed the rehabilitation system a bit, with other more knee-based exercises and it is true that in recent weeks the sensations have been better," he added.
Zidane and Benzema
The player also referred to the news of recent days at Real Madrid, with the exit of Zinedine Zidane from the bench and the return of Karim Benzema to the French team.
On the technician, whom he said to profess "admiration "as a player and as a coachHe regretted not having been able to be of greater use to him due to his physical problems. "I am grateful for what he has done for me" but "I feel somewhat frustrated that I was not able to give him more," he said.
On his teammate at the Real Madrid forward, who will play the European Championship with France after a decade of absence due to extra-sports controversies, he said he was happy for him and defined Gallic striker as "one of the best players in the world". "We already lost a semifinal against France without him. Now it will be more difficult," he said in reference to the duel between the two teams at the 2018 World Cup in Russia in which the "Bleus" were proclaimed champions.
Chelsea
Asked if Chelsea celebrated the victory in the Champions League final of his former team on Saturday, after some controversial images joking and smiling with his players after that team removed Real Madrid from the competition, Hazard settled the issue. "Of course not, I'm a Real Madrid player, so I was not happy", He said.
De Bruyne
Hazard also referred to the other great star of Belgium, Kevin de Bruyne, Manchester City captain who retired injured after suffering a violent blow to the face in the final of the Champions League and suffering a broken nose and left orbit. "He had had a magnificent year and coming out of a Champions League final injured in the face is very hard. He will have a few days of rest. If I can give him some advice, it is to take advantage of those days," Hazard said. "We will see if it is more serious or less serious. I hope he can be 100% with us," he added.