Have you left Erasmus? Descalarlo in the curriculum because companies are looking for you | Economy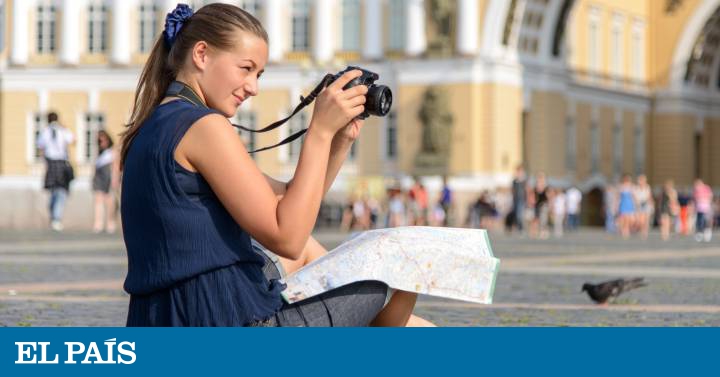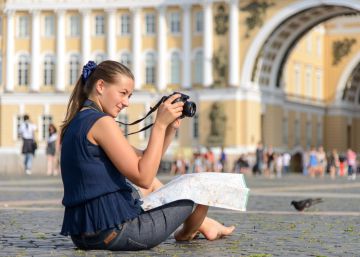 The famous soft skills, or soft skills, are a term that in record time has gone from anonymity to dominate any conversation on how to find work. Especially in the case of young people. They are asked for technical knowledge, yes, but also that they know how to communicate, adapt, work your creativity… The problem is that in the university there are no books for Learn to work together nor exams that evaluate whether one knows or does not empathize. Skills, as opposed to knowledge, are learned primarily through experience. And there is no more important experience in the university than doing an Erasmus. Who goes a few months to study abroad, comes back with a backpack full of good memories and also good perspectives: young people erasmus They are more likely to find employment than those who choose to stay at home, according to a recent study by the European Union.
Each year, 40,000 young Spaniards pack their bags to spend a season of exchange at another European university. Spain is the first student receiving country (48,595) of the Erasmus mobility program –that in 2017 he turned 30– and the third in the list of issuers, behind France and Germany. This despite the fact that the Spanish game for the program has been cut to 29 million euros (less than half of what was invested in 2011) and that the scholarships, which vary according to destination and are between 200 and 300 euros per month, do not arrive to cover expenses.
"My Erasmus was magic. It changes all the schemes and expands your vision, "sums up Laura Fides, 24, her experience. He studied Business Administration and Management at the Universitat Politècnica de València and did his exchange in Paris. On the way back, he got an internship in China in the most improbable way: searching the Internet on his own. Now he has asked for a scholarship for the European Parliament and his next step is to study international relations. "Companies value it because you have been responsible for yourself, you have more ability to read the environment and also interaction with others."
Laura is not the only one who is as clear as she wants her future to be. 70% of the erasmus returns with more certainty about what will be his job destination, according to the report of the European Commission, published in May and measuring the impact of the program from 77,000 surveys. In addition, they start with an advantage: 79% find work in less than three months after finishing their studies, four points more than in the case of university students who do not leave their country.
They also have better prospects for professional growth, greater recognition and a better disposition to develop an international career, according to this same study. That is precisely the first step taken by Arturo Marqués, 22 years old. After studying Political Science at the Complutense University of Madrid and doing an Erasmus in Copenhagen, when he finished he decided to go to work in Finland for seven months. Now he is about to enter the Diplomatic School. "You return with much more capacity to adapt to the environment, communication and responsibility. There is no one in charge of you, you have to make your own decisions. "
"The data shows that students who participate in international mobility programs access employment more quickly, are less unemployed and are more valued by companies", seconded Alfonso Jiménez, managing partner of PeopleMatters. This human resources consultant created the program 11 years ago Recruiting Erasmus to connect university students erasmus Y companies looking for young people with international experience. In the last four years, there has been a 133% increase in searches for this type of profile. "It's due to the market situation," Jiménez explains. "In the last decade we have lost 20% of young people. At the same time, there is a process of renewal in companies because they begin to retire many baby boomers"
But why the profile erasmus arouses a special interest in human resources teams? The first keyword that explains it is skills. "When a student goes out, begins to develop certain differential skills that will accompany his whole career," says Jimenez. "That makes it very useful for companies to use these profiles. And it's also very important in Spain, where we have the problem that young people leave home too late. "
An Erasmus is an open door to travel and to savor independence for the first time. But freedom entails responsibility. And maturity. Almost unconsciously, they begin to develop all those skills that are demanded again and again in any job offer. The language is taken for granted. But flexibility, adaptability, the ability to solve problems and manage complex situations also come into play. And, of course, diversity. "They work and live with different people, so they learn to understand other points of view," says Pablo Flores, director of talent and leadership at Heineken. "That moves to the company, because we move in a context in which everything is increasingly uncertain and the solutions are more complex. The teams that win are those made up of different people ".
It is the myth that surrounds the Erasmus program. Several months alone in another country and with enough land in between automatically equates to a party course instead of a course of studies. Or not? Arturo Marqués, 22 years old and erasmus in Copenhagen, denies the major. "It is true that there are people who go with that mentality, but at least in the northern countries you have to take it very seriously. The educational system makes you feel totally responsible and you have to give your best. "
"It's a preconceived idea that we would have to carry between everyone," criticizes Pablo Flores, director of talent and leadership at Heineken. "What is not talked about is that person who has to work to complete the scholarship. Or the student who does not have some credits validated and has to do an annoying exercise for the academic experience to tell … In addition, the day has 24 hours. Someone has to explain to me why it is incompatible to learn and take advantage of the experience with having fun and enjoying it ".
Marta Muñiz, dean of the Faculty of Social Sciences and Communication of the European University, summarizes the gain in three concepts: "Cultural intelligence, development of a maturity that allows them to face problems with more ease and greater commitment, in all the axes: political, social, environmental …". This mixture, he explains, makes them future professionals more complete, "with skills that go beyond the practical application of the knowledge they acquire in the career".
Skills out, but also inwards. The erasmus they return home with a chute of self-esteem. The European Commission's study measures the behavior of students, before and after Erasmus, in four areas – self-confidence, goal orientation, cultural openness and social openness – and compares it with that of students who stay in home. Before leaving, the young people who pack their bags are already "exceptional in their openness to new ideas, have more tolerance towards other cultures and are more willing to meet new people," says the study. During your stay, the levels of self-esteem grow significantly.
The second word that explains why companies look favorably on the erasmus It is experience. And links with that leap from the theoretical to the practical that has to be given in a first job. Because if knowledge is learned in the classroom, with books and exams, does the same thing happen with the skills? "On the part of knowledge they do not escape, it is much more controllable. But when they go out they develop skills and values ​​that do not have much to try to provoke in the classroom, "explains Marta Muñiz, of the European University.
In this dichotomy between knowledge and skills in which the labor market moves, erasmus They have found their perfect storm. "We have seen a change in the demand for professionals that companies have today," Muñiz adds. Access to knowledge, he explains, has been democratized. The Internet has opened the range of tools to learn, while the speed that prints technology forces to be in a continuous and lifelong learning. "But for that to happen, you need to have a set of skills and competencies. That's why companies today need to guarantee, more than knowledge, skills and professional skills. "
"Having an international experience is crucial in a process of selecting a candidate for internship. Companies value it well above the file, "says Carmen Palomino, talent director of the University-Business Foundation. But how to translate all that experience into a resume or an interview? Experts point out that the important thing is to focus on what you have learned during Erasmus, beyond the purely academic. The successes, the errors, the gains and the obstacles.
"I always start an interview with that question. I know you've had a good time, but what have you learned? "Says Patricia Martín de la Riva, from the Altadis talent area, who turned to Recruiting Erasmus A few years ago, when the transformation of the company from monopoly to multinational forced them to take into account the international factor in their selection processes.
It is, on the one hand, to identify that added value that you have acquired in your Erasmus to codify it in skills that differentiate you from the rest of the candidates. And on the other, to do a bit of market research. "We must also identify in which companies you are interested in working, know what they are asking for and think about how you can satisfy them", says Alberto Martínez, academic director of the Madrid campus of the business school ESCP Europe, in which students move during their studies between the six countries in which the center has its headquarters.
Maturity, in any case, it shows. "What happens with the erasmus is that they develop, mature and have that transformational change. And that is seen in the interview. They have a point of self-confidence and empathy with the interlocutor who shows, "says Marc Calero, director of planning and culture at Banco Sabadell. "This program concentrates a certain type of young people. If you look at it from the perspective of traditional training, it is as if you were looking for lawyers to go to the law school. So if you are looking for people with a restless and diverse profile, here is a relevant body. "
The improvement is not, however, automatic. It is not enough to put one foot outside, you have to focus the experience well. "The learning can be very different. Maybe there is someone who has been in a more closed group of Spaniards and has had less exposure. But then you meet someone who has gone to the last town in Finland, where life has made it a bit more difficult, "explains Pablo Flores, of Heineken. "There is no need to go to a very glamorous place, the experience you can have in a lost corner can be much more powerful in terms of employability."
(tagsToTranslate) have (t) go (t) erasmus (t) highlight (t) curriculum (t) company (t) search (t) 79% (t) young (t) participate (t) program (t) mobility (t) European (t) start (t) work (t) three (t) month (t) finish (t) study



Source link