Harvey Weinstein: now his victims are the protagonists | Culture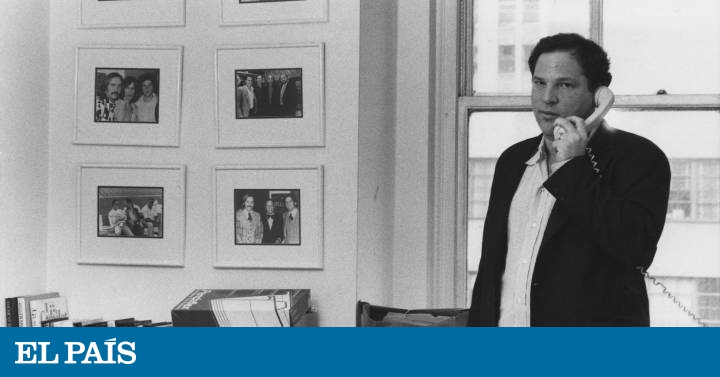 For almost four decades, he never accepted a no. Not even in his office leading the producer and distributor Miramax, or in a hotel room, in which he quoted employees and actresses to ask them, first, for a massage and then something else. Harvey weinstein (New York, 67) built a film empire based on his passion for cinema indie and the foreign author who distributed in his country, and in his portentous campaigns for the Oscars, and he himself undermined his foundations with his behavior as a sexual predator. The outbreak of Weinstein scandal In October 2017 - not even two years ago - society's perception of sexual abuse changed, cracked Hollywood and started the movement Too me
Up to 80 women - from employees to actresses and stars like Rosanna Arquette, Annabella Sciorra, Peace of the Garden, Mira Sorvino, Ashley Judd, Rose McGowan, Angelina Jolie, Asia Argento or Gwyneth Paltrow- They have accused the tycoon of sexual abuse. Many others have testified to how they escaped by very little from their meetings in suites. And in those cinematic lights and deep shadows of Weinstein delves the documentary Untouchable, of the veteran British filmmaker Ursula Macfarlane, which opens in Spain this Friday after being screened for the first time in January in Sundance, and which has the testimony of half a dozen assaulted women, journalists and several Miramax employees - some, pieces company key-, statements that coincide on one point: everyone knew it, nobody for fear did anything. "Remember that he defined himself as 'the fucking sheriff of this fucking town', and you will understand his power," Macfarlane emphasizes.
On Monday, September 9, the trial against Weinstein was scheduled to begin in New York for a violation in 2013 - it has not transcended the name of the plaintiff - and for the assault on a production assistant in 2006. However, its start has postponed - at the request of the defense - until January 6 as the complaint has been added to the cause for Sciorra violation. A month ago, justice denied Weinstein's request to travel between August 12 and 22 to Spain and Italy: in Spain he said he wanted to meet with designers, directors and investors, in Italy he was going to negotiate a television series based on Cinema Paradiso, Giuseppe Tornatore's movie whose US premiere in 1988 was Miramax's first big hit. "I am impressed by his lack of awareness: working with him today is impossible, it is toxic to any audiovisual product," Macfarlane said by telephone last Thursday morning, before going to class. "His brother Bob (co-founder of the company and director of the Dimension horror label) must live in a similar limbo. He confirmed that he would speak to my camera and a few days before he canceled the appointment. I guess the lawyers would tell him where he was going."
In Untouchable, Macfarlane shows Weinstein's cinephile passion, for better and for worse. He knew how to choose projects, release movies in the United States; on the other hand, he understood that the films were his and traced them as he pleased, hence his nickname Harvey Scissorhands. All New York cinematic of the nineties wanted to work with him, and in his shadow grew Steven Soderbergh, Quentin Tarantino and the young puppies of the cinema indie In 1993 Miramax was absorbed by Disney, but the brothers maintained absolute control of the company. Until in 2005, the Mickey mouse empire fired them (a collaborator says on screen that they lost 1.2 billion euros in shares) fed up with their economic excesses. At that time, Bob and Harvey founded The Weinstein Company, and tried to continue with their theoretical good star ... until October 2017.

In Untouchable Several of Harvey Weinstein's closest collaborators speak, many of whom acknowledge living a moral dilemma: their careers have been positively marked by having worked at Miramax, a cinema banner indie; but everyone knew what was going on in there. John Schmidt, Miramax's chief financial officer, confesses that he should have resigned when he learned that Weinstein abused a worker in his department, Schmidt's personal friend. He was afraid: "Harvey worked like the Mafia, which protects his people and kills the rest." Mark Gill, the head of the Los Angeles office, and therefore the executor of the Oscars campaigns, knew the appointments at the Beverly Hills Hotel, Weinstein's hunting ground. But he says: "The conception of cinema changed indie and we achieved ten consecutive Oscar nominations for best film. We set up parties, private screenings, dinners of academics with directors and candidate stars, we sent gifts ... It worked. The problem is that Harvey always wanted more. "
Victim Testimonials
Meanwhile, Weinstein maintained his predatory behavior. Before the camera of Macfarlane speak, for the first time, half a dozen women that the producer abused. In 1978, when he was a music promoter in Buffalo, he went along with his employee Hope D'Amore, who remembers how the producer got naked in his bed at a hotel in New York ("at reception they told us there was only one room left") before forcing it. Then collaborators appear as Zelda Perkins: hired for the London office at age 23, first remember how Weinstein tried to rape a friend of his at the Venice festival before procrastinating with herself. With her, he reached, after resigning, a confidentiality agreement, and that is the case with which he crossed in 1998 Ken Auletta, of The New Yorker, who at that time wrote a profile about the tycoon. The journalist says that he could not obtain testimonies that were not anonymous "of a behavior that clearly was not just a rumor of someone who incredibly looked like a warrior against established power, although he had absolute control of the culture of silence."
Among the actresses who count various humiliations - in hotel rooms in both the US and Canada and in Europe - and many initiated with Weinstein's excuse of needing a massage, Rosanna Arquette appears. But the most painful testimonies are those of Nannette Klatt-May (Weinstein used to manipulate her severe visual impairment), the Canadian Erika Rosenbaum, which I abused twice ("He put his hand on the back of my neck and forced me to look at myself in the bathroom mirror while he touched. I thought: 'If I stay still, maybe everything will disappear or maybe I will disappear") and Paz de la Huerta, who was emotionally devastated. As one of them says: "Harvey never accepted a no, so for him all his sexual relations have been consented"
"The Weinstein case it is also the history of our generation, it is the reflection of the abuse of power in other institutions: the music industry, the theater or the Catholic Church, "Macfarlane says. "There are changes, cases are reported, but there is still a glass ceiling that the filmmakers do not transfer, some budgets that do not allow us to reach. But, as Rosanna Arquette says, nobody is going to silence us. "
(tagsToTranslate) harvey weinstein (t) victim (t) be (t) protagonist (t) documentary (t) untouchable (t) give (t) voice (t) actress (t) employee (t) vejar (t) producer (t) collaborator (t) confirm (t) abuse (t) report (t) initiate (t) move (t) me too (t) meet (t) company



Source link