Hard setback for Granca, who says goodbye to Khalifa Diop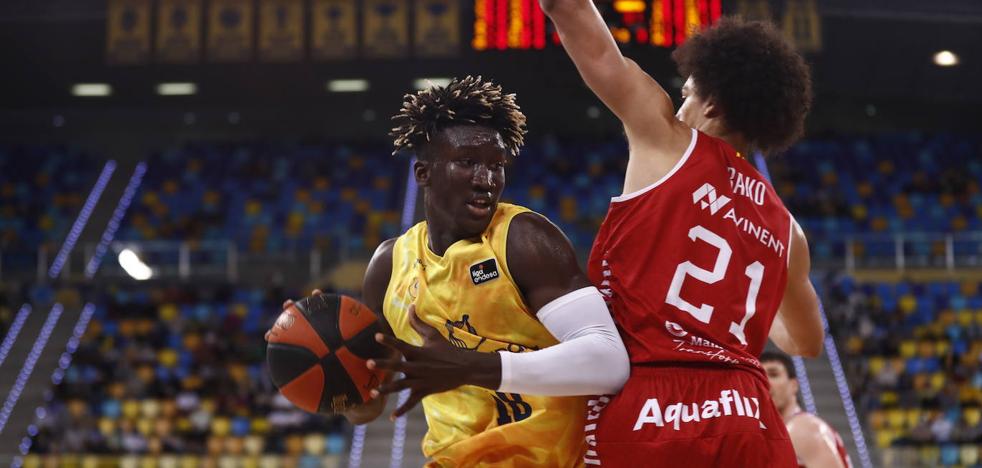 basketball
The youth squad was chosen in the second round of the NBA Draft by the Cleveland Cavaliers and will leave some 500,000 euros in the club's coffers
Confirmed what was an open secret.
Khalifa Diop and CB Gran Canaria separate their paths in the year of explosion of the pivot forged in the yellow quarry. The Senegalese, who
last year he took a step forward and left sensations of tremendous power in the Arena,
will head to the Cleveland Cavaliers of the NBA being selected in the second round of the Draft.
Khalifa, who
He will leave around 500,000 euros in the club's coffers islander, will leave a tremendous void under the painting, since
Willy Villar had hopes that he would be capital in the projectbut it is also a solution for the economic losses of Gran Canaria in recent seasons.
The Senegalese tower, which arrived on the island in 2017 and is still only 20 years old, will make the leap thanks to its perseverance, good work and knowing how to be. The work to reach the top has been hard and it should be noted that
was chosen the best young player of the EuroCup and also a member of the best fifth youngster in the Endesa League.
Now we will have to see the plans of the Cavaliers with him, but with a contract until 2025 at CB Gran Canaria, he will give a plus to the coffers of the Claretian entity.
Your destination before moving to the NBA may be Valencia Basketteam with which the Euroleague would compete.
"Behind this there is
a huge job; proud of all the teammates of the Gran Canaria bade and of the club in general who have helped him during all these years, but, above all, proud of
Khalifa because
is a exelent people and a great professional", praised Juanmi Morales, director of the club's training categories, on his social networks.