Hamid Ben Daoud equals Spain's record in the Valencia marathon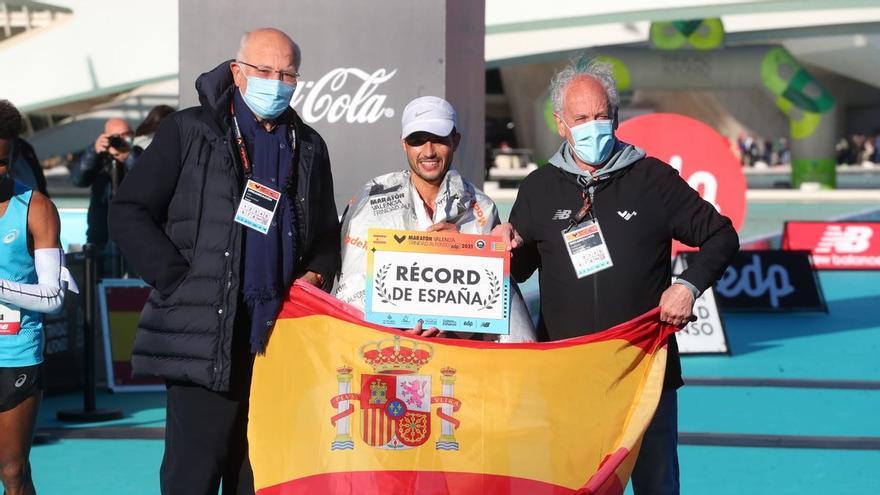 One of the happiest men this Sunday at the finish line was Hamid Ben Daoud, who equaled Spain's record with a time of 2:06:35, the same one that Ayad Lamdassem did last year also in the Valencia Trinidad Alfonso EDP Marathon.
"I am very happy to have improved my personal brand, it was my goal. I have been fighting and I have given everything to the end. I've found the second group holding out as long as I could, "he confessed to À Punt's microphones.
"I am very proud, and delighted to return to Valencia, it is a pleasure. Here I started my career as a marathoner in 2017 and every year I have progressed, grown and improved my personal brand. I am very happy, I have no words ", highlighted the athlete, who arrived at the age of 14 to Algeciras tucked in the underside of a truck.
After that, and after settling in a youth center in Bilbao, he began his career in athletics debuting in the marathon world in Valencia in 2017. That's why, at the finish line, I kept thinking "about my family, the people who have been behind me all this time, my coach, my physio… to get the best out of me. I am very grateful. For me to be here is an honor ", highlighted Hamid Ben Daoud.
"Here I started my career as a marathoner in 2017 and every year I have progressed"

A spectacular date
For the athlete of Moroccan origin "Running with these people again is something spectacular, with people in the street cheering and else. It's true that it was windy but you always have to fight until the last moment ".
Finally, this great mark of 2:06:35 with which he equaled the Spanish record he wanted to dedicate it "to the organization first and to all the people of Valencia, and those who have come out to cheer on the street. Also to the father of a friend of mine who passed away on Monday. I want to thank him and my family, my friends … "he concluded.