Half a century of Glastonbury, the festival that changed British pop | Babelia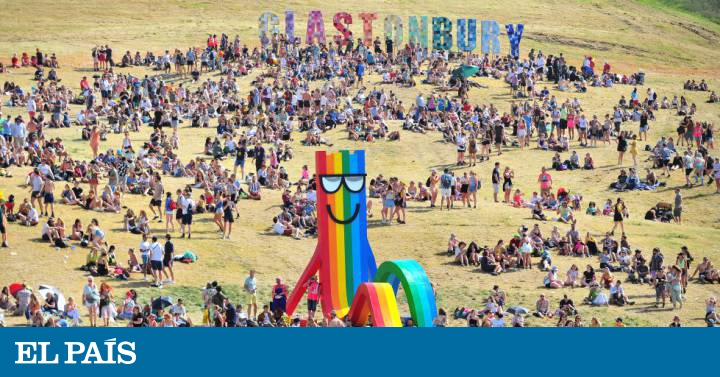 The origins: it all started with the Pilton Pop, Folk & Blues Festival in 1970. Marc Bolan was the headliner. 1,500 people attended and the entrance cost a pound. In 2019 the subscription for the Glastonbury Festival of Performing Arts It was worth £ 250 and all sold, £ 135,000, in 36 minutes. Actually, the headliners on the main stage, the gigantic 30-meter-tall pyramid, were eclectic but not unlike any other mid-sized festival: Stormzy, The Killers, The Cure, Vampire Weekend, Liam Gallagher, Kylie Minogue, Janet Jackson, Tom Odell, Proclaimers or Björn Again, the veteran group honoring Abba. Of course there were 21 more scenarios. One can spend three days in that huge open-air Somerset meadow without getting close to the pyramid. In fact, many do.
The biggest festival in the UK, and possibly the world, celebrated its 50th anniversary in 2020. Like all others, it has been suspended by the coronavirus. But even so, thousands of words have been written from an annual event that the British already consider part of their national spirit. Glastonbury is part Sanfermines, part Ascot racing, part celebration of one of the great British industries of the past 75 years: pop music. An industry that, like that of English as a foreign language, does not tremble with the fluctuations of the stock market or suffer with the increase in the prices of raw materials. British pop's success is based on its ability to compose songs to sell to the entire world. UK national pride, and much of the revenue, no longer depends on how many millions of tons of steel come out of the Sheffield furnaces, but on how many millions of song downloads are from groups in Sheffield, Manchester, Bristol or Glasgow .
And one of the highlights of that industry is a festival that spends more than half of its profits to charitable causes, run from the very farm it was originally intended in 1970. Glastonbury remains in the hands of Michael Eavis, 84, to which his daughter Emily and her husband have joined. Performing on the big stage is a milestone for any world artist, but especially for the British. A concert there can create a new myth or revive careers left for dead. Eclecticism is total; the delivery of the public, unique, and the attention of the media, absolute.
Fifty years is not the same as 50 editions. From 1971 to 1981 it was held sporadically. Thereafter it is annual, with a break every five editions, the so-called "fallow year", to allow the land to recover. Because even today the Glastonbury festival is the personal project of Michael Eavis, a local farmer. His father, a Methodist shepherd, owned a 61-hectare farm and 60 cows 150 kilometers from London. Eavis, who had dropped out of school at the age of 15, having freaked out at a festival in Bath in 1969, launched a festival in those grounds in 1970. Mix of hippy Idealist, pragmatic farmer and leftist militant, Eavis assures that he never thought about the festival in the long term. A lifelong Labor candidate, he was a candidate for the party in 1997 and although, disillusioned with Tony Blair, went on to ask for a vote for the Greens, in 2017 he made Jeremy Corbyn a pop icon by taking him to the main stage of Glastonbury to give a speech before the hip hop duo Run The Jewels' performance. Eavis receives a salary of £ 60,000 a year from the festival (he claims to be less than the person who takes care of his cows), which has a budget of £ 40m a year, and a profit of less than £ 1.5m after discounting the two million that it gives to non-governmental organizations.
For 20 years Glastonbury was chaotic. Inside it was dirty and disorganized and the infrastructures were minimal and overflowing. No one cared, because in return freedom was absolute. Outside, an area was kept for the travelers, a kind of tribe of nomadic hippies. In 1990 that ended in a war between the police and the travelers. The call Battle of Yeoman Bridge 250 people were arrested. There was always something going on at Glastonbury. Let's put any year, 1994. It was the first time that the festival was televised and the last time that indie music and dance were confined to small stages. It was also the only year that the Pyramid caught fire (before the site was opened to the public) and in that edition five people were wounded by bullets (none died).
It was not until 2002 that he became professional. Before, the lax door policy that allowed those without tickets to sneak in was part of the contest. But it went too far in 2000, when it is estimated that 100,000 people (15,000, according to Eavis) entered without subscription. That same year at the Rolskilde festival in Denmark, nine attendees died in an avalanche. Pressured by local authorities, Eavis had no choice but to partner with the developer Mean Fidler, the company then led by Vince Power, which years later would take over the Benicassim IBF. The construction of an impenetrable fence caused the 124,000 available tickets to be sold in hours, whereas in previous editions it had taken months. Because Glastonbury created many things, among them the concept of an experiential festival, in which the claim is the same event and not the bands that go. Now it is usual for tickets to go on sale before the poster is known, but that was a creation of this festival in which getting a subscription is already a success. In the last edition, 20 requests were received for each available ticket.
For many, the idea of ​​spending a fortune traveling to a gigantic field, crowded with people, with a sign so monstrously large that it is impossible to see even 5% in conditions, is not the most attractive thing. More with the possibility of making it soaked and muddy to the knees. Climatically that area of ​​England seems to attract rains. Also, since the mid-1990s, if you wanted to suffer like this, you had many more options to do it closer to home. But the funny thing is that the festival legend, which was born when there were not many more options available, has continued to increase when the competitors number in the thousands. His fans assure that there is something special there.
It was described by a journalist from The Guardian in an article in which he recalled his 22 consecutive years of festival views: "I have spent many of the happiest days of my life in this corner of Somerset. It is where I become my best self. There is always a moment on Sunday when I am so in tune with the festival that it seems that this is my life; that all I have to do is eat, drink, walk, talk and dance. Maybe I have low expectations, but I consider it a kind of happiness. " Eavis says that if Glastonbury is not celebrated in 2021, there is a risk that the festival will go bankrupt. Of course, he also assured that this would be his last year in command, and he does not seem to want to retire. We will see.